CAPTAIN'S CORNER: Carl Shuck '20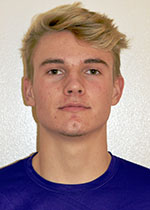 Team: Men's squash 
Hometown: Rye, N.Y. 
Residence: Spencer
Major: Economics & English  
Snack bar order: Black bean burger
What do you enjoy most about squash?
It teaches you how to work hard. Plus, I think squash is an inherently fun game. There are a lot of valuable lessons squash has taught both me and my teammates. You really work hard and will sometimes still lose. It builds a lot of mental toughness and has become a game I will play for the rest of my life.
Squash is all Div. I, so what is it like playing schools that are so much bigger than the College?
You know, it's tough. When you're playing a team that's much better, a kid that's much better, it can be tough. Although we train pretty hard, a lot of the teams that we play have a lot more experience than us. But it's actually a good lesson. It builds acceptance and mental toughness. There are a lot of things in life that are out of your control. You can work as hard as you can and still lose. But I think that also makes the wins more satisfying. If you could win every single match during the season, winning would lose its magic. To work really hard and lose, but then to work really hard and win makes the wins all the more special.
Your team has had a pretty successful season, considering you're currently 8–5. What are your goals for the rest of the season, both as an individual and as a team?
My individual goal is to just stay healthy. I've been pretty lucky to have played all four years without an injury, but I am currently dealing with an injured hamstring. For the team, we must play to the best of our ability, but it's tough because there are some matches you will probably lose. So we have to play our best, have fun, and win those contentious matches I was talking about. It's also a long season, almost four months, so a lot of it is not getting burned out. Right now, when it's a little quieter in the season before nationals and NESCACs ramp up, people need to rest. Longevity is important.
What do you view your role is as captain both on and off the court? How do you execute this?
On court, it is making sure that everybody understands that this is a sport that sees the most success when everybody takes it seriously. We have to make sure everybody shows up on time and gets their training in. People have to take care of their bodies, stretch and go to the trainer. We have to set an example.
I think, off [the] court, Williams can be a tough place, [so it's] making sure that freshmen understand the lay of the land academically, whether it's with their major, a class or a professor [and] making sure they know what's going on before they are diving into it. I want to make sure they know they have somebody they can talk to, whether it's athletically, socially or academically. Captains don't have it figured out all the time, but we have to do what we can to help them.
I know that you're in the Octet acapella group. Are there any other clubs or organizations you are involved in on campus?
I help our assistant coach, Tom Hodgson, with teaching squash to the faculties' kids. I think it's fun. It's fun to teach and give back in some way.
How are you able to balance all of your extracurriculars on top of your schoolwork and still remain a present leader on the team?
I think that the best way to balance things is to be really honest. People appreciate honesty, and a good way to be a leader is to not only appear strong and know what's going on, but also be willing to let them know if you are having a tough day. People really look up to vulnerability. My best advice to anybody on campus is that honesty is a leadership quality, even if that means you can't appear as if everything is hunky-dory before a squash match or an Octet rehearsal.
Do you guys have any unique pre-match rituals?
Like most teams, we have a huddle before the match where each captain gets to say a few words. We also do a team warm-up where we listen to music. It's interesting though, because squash is a team sport, but it's also very individual and everybody has their own little thing they do before a match. I meditate for about an hour before my match. Squash is a fine balance between being excited and also being relaxed because if you're too pumped up, that nervous energy can drain you. I try and calm the body and mind down until I get on the court. Then I try to rev it up.
What will you miss most about the squash team after you graduate?
I obviously love the guys a lot, and this year we have a really hard-working, earnest group. I think that I'll really miss the structure of it too. I think it's something to look forward to and something to keep you active. But I'll really miss that communal feeling, knowing that you're part of something bigger than yourself. It's easy to get caught up in your own individual life at Williams, and I think it's important to be part of a group working towards something outside of yourself.