Pentathlon Pair: Hearon '20 and Marshall '20 take on five-part feat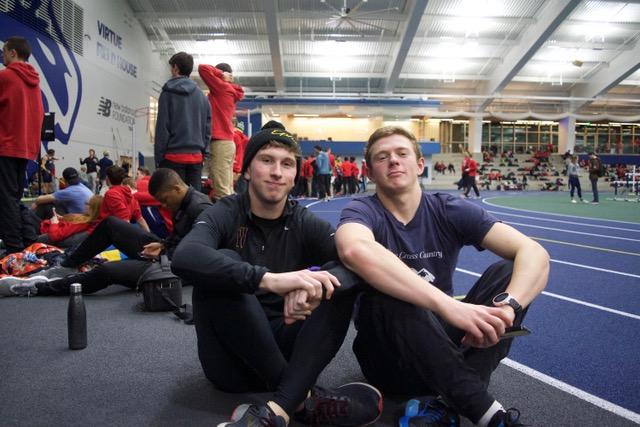 Benjamin Hearon '20 once approached his friend and cross country and track teammate Kenneth Marshall '20 to float the idea of learning how to fly planes together. Unfortunately, Marshall's mom put the kibosh on that dream before it took off. The next best thing in Marshall's eyes? The modern pentathlon, an exhausting two-day competition consisting of five different events: fencing, freestyle swimming, equestrian show jumping, pistol shooting and cross country running.
Marshall said his interest in the pentathlon arose when he first watched the event during the Olympics. Although the event's origins are disputed, the leading theory posits that Pierre de Coubertin, the father of the modern Olympics, conceived the event. The original pentathlon in the ancient Olympic Games consisted of a foot race, wrestling, long jump, javelin and discus, events that supposedly modeled the skills required of a soldier in battle. The updated, modern pentathlon includes the skills required of a 19th century cavalry soldier who finds himself behind enemy lines, such as riding an unfamiliar horse, using a pistol and sword, swimming and running back to his own soldiers.
Marshall figured he ought to give it a try while he metaphorically stood behind enemy lines in Oxford, England. During one Oxford cross country practice, after Marshall mentioned that he fenced in his youth, a teammate invited him to try the pentathlon. According to Marshall, many pentathletes start out as swimmers or riders, not fencers.
Upon returning to the College, Marshall sold Hearon on the idea of taking on the modern pentathlon. They got to work on the unfamiliar events, namely horseback riding, and joined the equestrian club together as "kind of a package deal, but then the package fell apart." While Marshall never attended a practice, Hearon embraced the new sport. He said that it has been fun to "meet new people and try new things," but "learning to ride horses is a lot harder than [he] thought." In the most recent competition, Hearon was one of approximately 102 total participants. He placed last in his section but recognized that he was competing against many riders with more experience.
Although they're not "building the postgraduate life around the modern pentathlon," Hearon and Marshall agree it would be a "fun coincidence if it did work out," according to Marshall.
"It is an especially cool thing for a liberal arts student to participate in because it's like being the generalist of athletics," Marshall added.
Although the modern pentathlon appears to be a tempting ride to the Olympics, the two friends keep getting sidetracked by another ultra-competitive, extremely painful, little-watched sport: running. "The idea is that you are a dilettante at everything… unless you love one [event] more than the others, like us," Marshall said.