EphMatch launches on WSO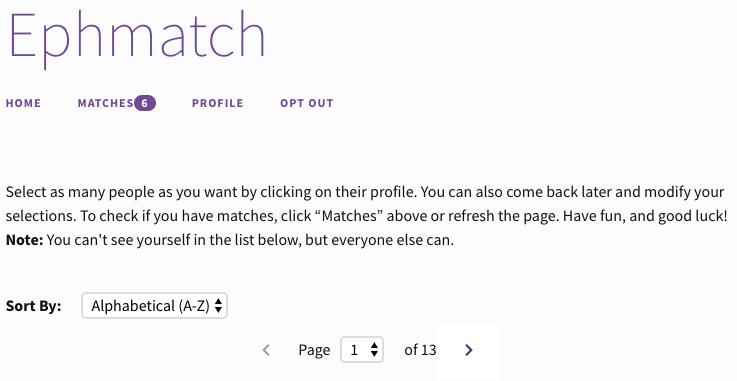 Move over, DMs: email is here. "My hair is now much longer. Slide into my unix to find out more," wrote Rafay Kazmi '23. "imagine sliding into someone's unix…" wrote Caitlin Han '23. "send that email" wrote Mahesh Saha '22. These are just a few of the bios on EphMatch, the newest service on the Williams Student Online (WSO) website.
The relationship-building service, which launched this month, currently accounts for about one third of all web traffic on WSO, competing with services such as Facebook and Factrak, according to Aidan Lloyd-Tucker '22, lead back end developer of this new feature.
The EphMatch page has been receiving about 600 daily visits and has 356 active users as of Jan. 24. "That means people like it — they're going back onto the app every day," Lloyd-Tucker said. So far, the service has yielded approximately 1,500 matches.
In general, students said they found that EphMatch to be a good way to connect with peers who they might not otherwise interact with. "Am I going to find true love on EphMatch?" Maya Principe '23 asked. "Who knows — maybe. Probably not. Am I going to have fun seeing all my friends' first-day-of-school pictures? Absolutely."
This reaction is precisely what the developers hoped for, according to Lloyd-Tucker, who described EphMatch as an app meant more for matching than dating. "[It is] more of a way to connect with fellow students, for friendships and, sure, relationships too," he said. "There are plenty of people on EphMatch who have stable, healthy relationships and are just looking to be on there, just to check it out."
Students looking to join EphMatch need simply log on to WSO and click on the right-hand tab reading "EphMatch." Once there, students have the opportunity to opt in, change their WSO photo and add a short message describing themselves.
"I was looking on EphMatch the other day with some of my friends, going through to see who was on it, to see their bios," Principe said. "One guy put that he was on like 12 sports."
Many students used their bios to attempt a clever comment or highlight their interests, often jokingly. "Match with me, I dare you," wrote Amanda Wager '23. Henry McGrew '21 said, "EphLink didn't work, so now I'm on here," and Mimi Campbell '23 wrote, "don't respond if you're not timothee chalamet."
But of course, the only way to respond to a person currently is by email, and they must have a Williams unix. "The main goal we have is simplicity. That's why we don't have a chat feature," Lloyd-Tucker said, adding, "That might change soon."
Because EphMatch is a relationship-building service, Lloyd-Tucker and his fellow WSO collaborator Garett Tok '22, lead front end developer of this project, did not want it to resemble dating apps like Tinder. "We don't have a weird sorting algorithm that will prioritize people, no match limit, and we don't track gender or sexuality," Tok said.
Furthermore, the developers wanted EphMatch to be something for students to look forward to during Winter Study. They feared that it might fizzle out if left up all year, but in January, "People's schedules are freer… [so] our big focus was getting it deployed before Winter Study," Lloyd-Tucker said.
EphMatch is not to be confused with the pre-existing EphCatch, a similar WSO service available only to seniors during senior week, just prior to Commencement. Lloyd-Tucker said a major difference between the two is whether participants are automatically enrolled in it. "EphCatch is opt-out, so the whole senior class is [automatically] part of it," he said. "EphMatch is opt-in."
Opting in also means that only those who want to participate are shown, though that often means making some changes to their original WSO profile. "It's funny to see who changes their picture and who doesn't," Principe said. "I was thinking, like, how bad can it be? But then my one friend who changed her picture showed me the original." Principe told her friend, "OK, you can change it."
The developers said they want to continue to improve all these features and more each year, and they hope that people will continue to be excited about it.
"WSO [is] by students, for students, so we're here to do things for the students," Lloyd-Tucker said. "And if anyone has any feedback [for] what they want on WSO or any new features they want — we're totally down."