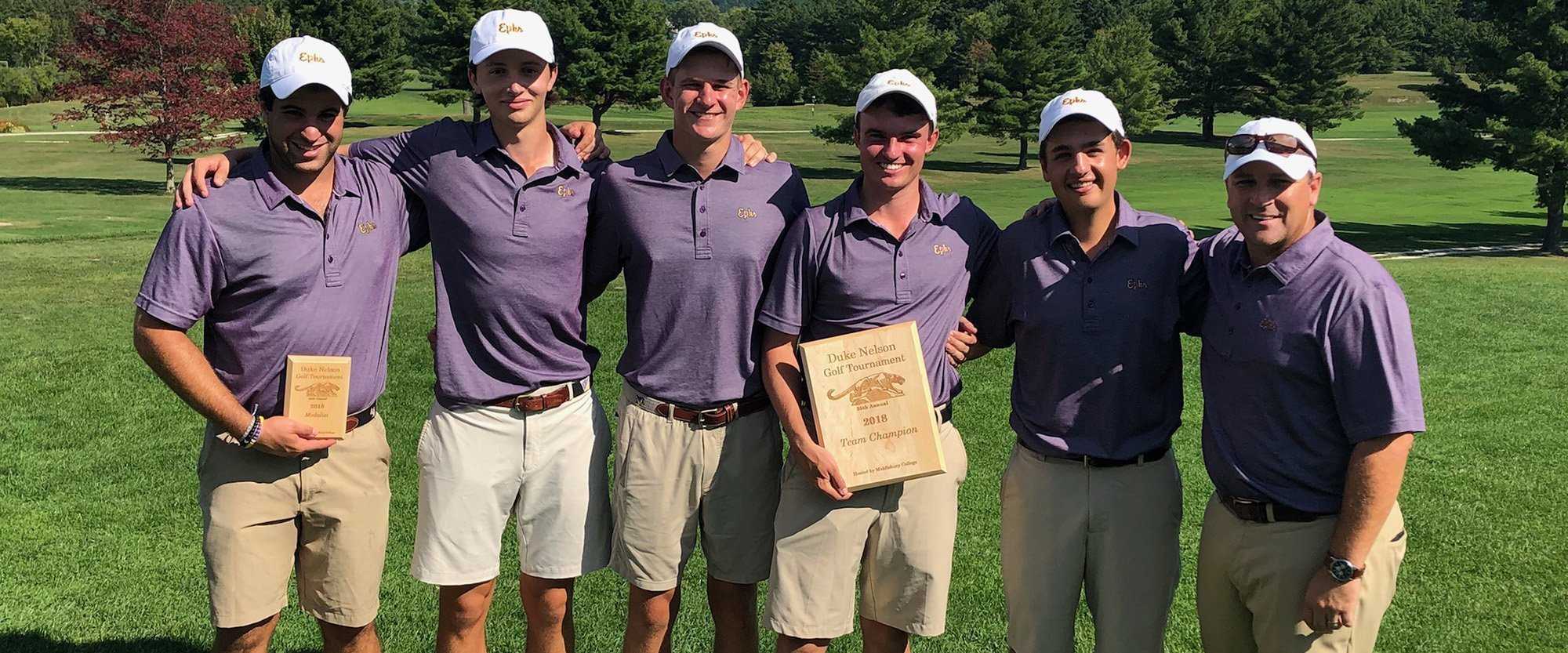 Over the weekend, men's golf scored a total of 584 to finish first at the Duke Nelson Invitational, its first meet of the season.
With hopes of an early season victory, the Ephs finished the first day with some strong plays, heading into Sunday with a score of 293.
Co-captain Sam Goldenring '20 led the Ephs charge with an impressive two-under 69 that left Goldenring in the lead of the individual scoring by one shot. As the Eph's No. 1 player, Goldenring had a characteristically steady round, highlighted by an eagle on the par-five first and two birdies. Goldenring demonstrated some strong play leading into the season.
Co-captain Jake Foehl '19 turned in another solid performance with a two-over 73. Foehl similarly played a steady round from start to finish with two birdies alongside four bogeys. Foehl sat tied 10th on the individual leaderboard.
In his debut for the Ephs, David Brewer '22 demonstrated his value to the team with a four-over 75. Brewer had a rough stretch on holes 11 to 14, making four consecutive bogeys. However, Brewer rallied to play the rest of the round even par.
Ben Beiers '20 turned in a five-over 76 to round out the score. Beiers found trouble on the 15th that eventually led to a double bogey.
Beau David '21 rounded out the game with a shot of 79.
"We got off to a slow start and really dug in and fought to get it back," Foehl said of the round. "That's a good sign early on that we're going to be a tough team to shake."
The first round total of 293 left the Ephs at nine-over par and in second place, trailing leader NYU by two shots. Behind the Ephs sat Johnson and Wales University at 294 (10-over), followed by Trinity and Amherst at 296 (12-over).
The condensed leaderboard meant that it was anyone's game heading into Sunday, and the Ephs hoped for another strong day to give themselves a good chance for an early victory.
Coming into the day two shots behind overnight leaders NYU, the team got off to a slow start, at one point falling more than 10 shots back of the lead and into 10th place on the leaderboard. Despite falling behind, the men never let their heads drop and through grit and determination, un-leashed a furious team charge to the No. 1 spot on the leaderboard, where they would end the day.
As has so often been the case, Goldenring was once again rock solid both in the shift he put in for the Ephs and his own pursuit of the individual title. Coming into the day with a one-shot lead in the individual competition after a two-under 69 [on Saturday], Goldenring started the day with a birdie on the first but found trouble on the third, which ultimately led to a double.
Not to be denied, he played the rest of his round in two-under fashion to finish with a one-under score of 70 for the day, leaving him at three-under for the tournament and three shots ahead of the nearest challenger.
Foehl's day was typical of the Ephs' fighting spirit. After flying out of the gates with a birdie on the first, Foehl endured a slump, which featured six bogeys over the next seven holes, leaving him at five-over on the day through eight holes. In need of a spark, Foehl dug in and rattled off three birdies in his next seven holes before eventually finishing with a crucial four-over 75.
David's round closely mirrored that of Foehl in the fight he showed to come back after another slow start. After five bogeys in his opening nine holes, David turned things around with a pair of birdies on his 10th and 12th holes, both par-threes. Following this strong run, David managed to par out and get in the clubhouse with a two-over 73, another strong round for the Ephs.
Brewer once again displayed his cool composure by following his debut 75 with another solid round of two-over 73. While his teammates' rounds ebbed and flowed, Brewer plugged through his 18 holes in a relatively low-stress manner with one birdie, three bogeys and 14 pars.
Brewer's 73 rounded out a very solid Sunday score of 291 (seven-over) to take the Ephs' two-day total to 584 (16-over), four shots better off than the next competitor. Trailing the Ephs was second-place finisher Trinity at 588 (20-over), followed by Saturday leader NYU at 590 (22-over).
The team could not have hoped for a better start to the season, highlighted by Goldenring's exceptional individual play, Brewer's impressive debut and the team's ability to battle through tough stretches all around. After the round, Goldenring remarked, "The team fought really hard today and never gave up. I think we dropped down to 10th place after a slow start on the front nine, but we kept chipping away and came out on top."
Determined not to rest on this weekend's accomplishments, the Ephs will look to continue this run of form with another strong performance at their home tournament, the Williams Fall Invitational, this weekend from Sept. 22 to 23 at the Taconic Golf Club.