Debate over Mount Greylock HS turf construction intensifies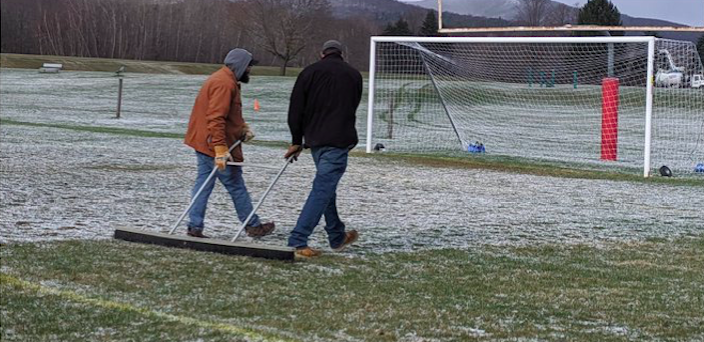 In late September, the Mount Greylock Regional School District School Committee (MGRSDSC) voted to reject three bids from local contractors to install a turf field at Mount Greylock Regional High School (MGRHS) in Williamstown, a project that has spurred significant community debate in recent years.
The conversation about constructing a synthetic field at the high school, which serves Williamstown and Lanesborough, began in the fall of 2016, when the committee formed several sub-groups focused on improving the MGRHS campus. The committee recognized athletic facilities as a possible site for improvement, in order to ensure ADA and Title IX compliance. The project then became known as "Phase II" in a two-step plan, the first step being the construction of a multi-use building on MGRHS' campus that would house public bathrooms, district offices and storage.
The Phase II subcommittee, chaired by community member John Skavlem, took a step toward construction this fall, calling for proposals for athletic field improvements, including the installation of an artificial field. The committee planned to use $2.1 million of a $5 million gift from the College to fund the project, but contractors' bids came in at much higher – ranging from $2.8 million to $2.984 million.
After the rejection of the initial bids, the subcommittee began evaluating possible modifications to help reduce the project's cost. The group also solicited alternative plans involving a natural grass field.
The debate over installing real grass or artificial turf has ramped up in the three years since the subcommittee's formation. At a community forum in July, some local residents advocated passionately for the installation of an artificial field.
The need for turf comes from both an increasing demand for field time by the school's athletic teams and maintenance difficulties that accompany grass fields, often forcing teams to compete at turf fields at the College or MCLA, according to the committee's website.
"Fall and spring sports … have been unable to play their home games and often not conduct practices due to unsafe, poor field conditions resulting from overuse and adverse weather conditions," a document released by the school committee reads. "Teams are being bused or driven by parents off-site to play their home games … representing cost implications and causing disruption for players, staff and parents."
At the forum, MGRHS physical education teacher Brian Gill voiced his support for the project. "All spring, we don't get outside until April vacation on a consistent basis," he said. "With the turf field, we could be outside all winter, when there's no snow."
Many others, however, voiced strong objections to a synthetic field, citing health and environmental concerns. In a Letter to the Editor of the Bennington Banner published in September, Williamstown Select Board Member Anne O'Connor '86 outlined her criticisms of the plan to install an artificial field.
"In the case of artificial turf, the negatives far outweigh the positives," O'Connor wrote. "Do we truly believe we need to replace our native grass and soil with an infrastructure of chemical-leaching plastic and toxic crumb rubber, with a shelf-life of 10 to 12 years? And are we really doing this just to give PE students more time 'outdoors' (which is to say: on a coarse, hot expanse of plastic and rubber pellets they must avoid ingesting, inhaling or reclining upon)?"
The school committee now must decide whether to approve funds for changes to the project's architectural design, according to Chair Dan Caplinger. "The Committee could decide to go back out to bid, defining the scope of the project as it sees fit based on information and feedback from multiple sources," he explained.
While the approval and planning processes continue to progress, there are still no definite plans to start construction. "The Committee hasn't set a firm timeline for reaching a final decision," Caplinger said.