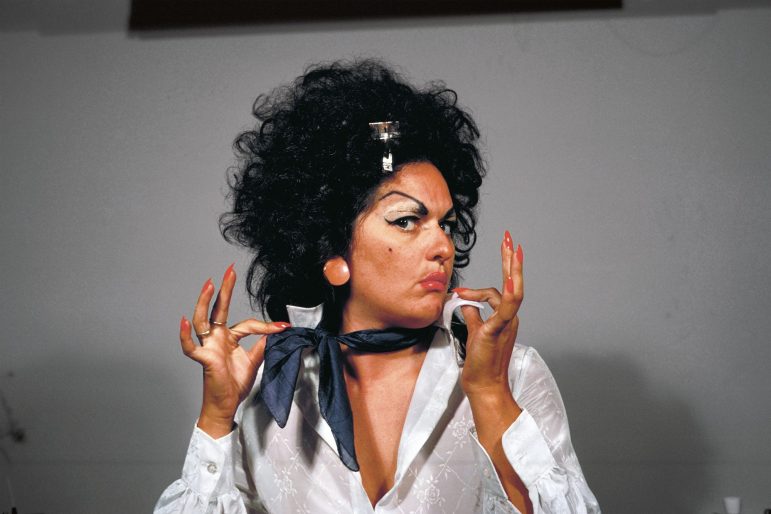 There is a photograph in "Axis Mundo: Queer Networks in Chicano L.A.," a new exhibit at the Williams College Museum of Art, of Pauline Oliveros and her performance group ♀ Ensemble. It is 1970, and they are playing their instruments, including a bassoon, cello and accordion, on a grassy field while people meditate in a small circle in front of them. Eventually, ♀Ensemble would begin practicing a collection of text-based scores Oliveros would publish in 1971 called "Sonic Meditations." The scores guide mental and physical activity towards intense awareness, as in "Meditation" No. 5: "Take a walk at night. Walk so silently that the bottoms of your feet become ears." The goal of these pieces, according to the exhibit label, is "to expand consciousness and to provide healing."
In general, I would argue, this is the ideal outcome of any interaction with art: If a piece encounters a viewer who is ready to interact and forge meaning with it, there is an opportunity for expanded consciousness and even healing. And the same ideal goes for education; as soon as students escape the fetters of reluctant duty and disembodied notions of success, formal-ized learning is a playground for consciousness. There is expansiveness and healing in knowledge of moss and of Russian literature. It broadens the mind; it reorganizes the worldview. Learning literally raises awareness.
But, of course, art and learning, even at a place like Williams, are fundamentally influenced by the dominant power structure. Its clamp reaches every facet of life and limits, particularly in mainstream institutions, the number and types of channels through which conscious-ness may stretch. That is a large part of why "Axis Mundo," which opened at WCMA on Sept. 6 and will run there until Dec. 9, is such a crucial contribution to this campus.
"Axis Mundo" traces the productions and collaborations of a network of queer Chicano artists between the late 1960s and early 1990s. It is the result of nearly five years of research on the part of curators C. Ondine Chavoya, a professor of Art and Latina/o Studies at Williams, and David Evans Frantz, an Associate Curator at the Palm Springs Art Museum. The exhibit is part of Pacific Standard Time: LA/LA, a Los Angeles-based initiative sponsored by the Getty Museum that organized a series of exhibits in 2017 for the purpose of exploring Latinx and Latin American art histories. It features works across a range of media, including painting, video, fashion and photography.
Axis Mundo is the first mainstream art exhibit to honor the queer Chicanx artist community in Los Angeles — not only highlighting its artistic production but also centering lives that glittered and shone even through systemic subjugation, neglect and violence. Indeed, political activism sits right up against deep personal emotion in the exhibit through artworks that wrestle visually and conceptually with the artists' own trauma and the systems that perpetrated it. Activist movements of the second half of the twentieth century flow through the exhibit, from the women's liberation and gay rights movements to the Chicano civil rights movement to HIV/AIDS activism.
But while oppression was always present in these artists' lives, it did by no means dictate their creative output. Even the overtly political art seemed more an effort to push life up to the sun, like a strong green sprout, than to wail from under the soil at concrete that tries to block its growth. Across the works, there is joy and desire, rage and sorrow, love and beauty playing to the tune of human life, singing the complexity of the individual and the power of the community. It's stunning to experience, it's rich and magnificent and it could easily have been lost to us.
Supported by the Getty, Chavoya and Frantz mined fifteen archives across the United States, Canada, Mexico, the United Kingdom and Spain in pursuit of the histories "Axis Mundo" now displays in all of their sound and fury. They also spent a lot of time working in people's homes, as they described at the exhibit's opening on Friday. Many of the works in the show had been sitting, unknown to the public, in the storage units, attics, basements and living rooms of the artists and their friends and relatives before the curators found them. Most of the works on display are being shown in a museum for the first time.
In 1976, Joey Terrill's beautiful, profane t-shirts made their debut at the Christopher Street West Parade in Los Angeles. On the front of each shirt he had hand lettered either the word "malflora" or "maricón," two homophobic slurs. Visitors approaching WCMA's entrance will see one of these tees on the wall being sported by a young man with a relaxed frankness about him that belies the seeming insult on his shirt.
While the young man outside the museum reclaims a slur, doing a kind of sociolinguistic aikido with heterosexual power, the exhibit seems more about claiming for the first time. As Terrill mentioned at the opening on Friday, dominant art institutions have been negligent and indifferent to Chicano artists from the beginning, as exemplified in the Chicano art collective Asco's rejection by a curator at the Los Angeles County Museum of Art in 1972.
Asco made sure to document the abomination in a graffiti tag and a now-famous photograph of it called "Spray Paint LACMA," but even so, without the photograph the graffiti would have been forgotten immediately, painted over, shut down. "Axis Mundo" opens it back up. It allows all of this smothered history to finally receive the endorsement of the dominant establishment on its bed of money and fame. This new relationship between Chicanx artists and the mainstream art world of course benefits the artists and their legacy. But it does something perhaps more important to the art world and the people who use it to broaden their horizons: It provides a previously hidden trove of opportunities to learn, grow and feel – that is, to raise consciousness and to heal. Every time a voice is silenced, the rest of us miss out. Terrill's message at the opening on Friday is that of the artists in "Axis Mundo," and one that every student of the world must continually heed. "Hey," he said. "We're here, too." 
Correction: Sunday, September 15th at 5:53 p.m. – An earlier version of this article said, in paragraph seven, "Chavoya and Frantz mined fifteen archives across the United States." The correct number is fifty archives.