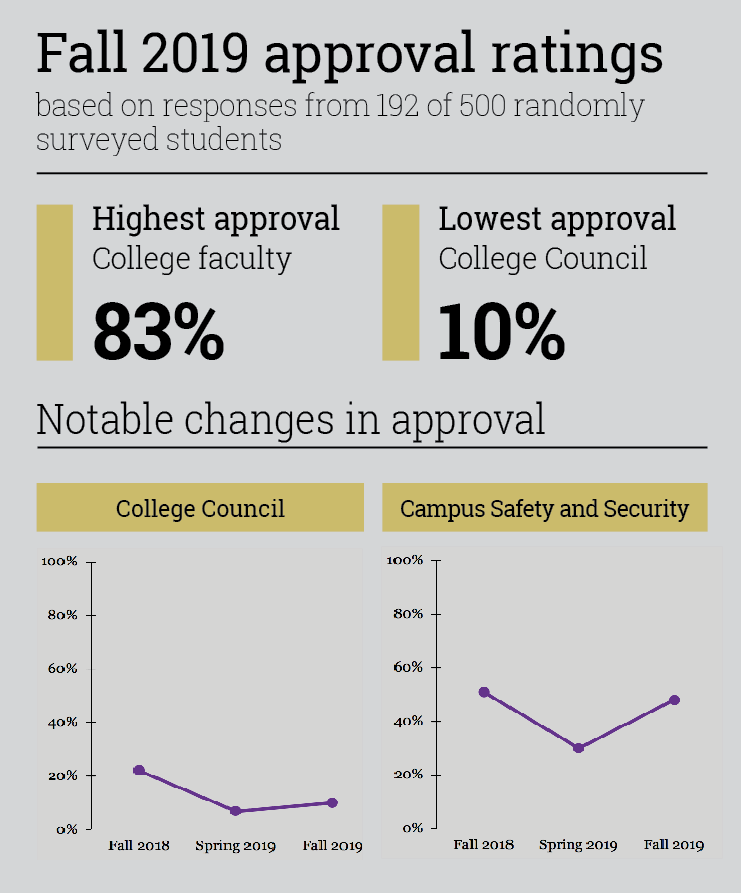 This past week, the Record sent out its semiannual approval ratings survey, giving students the options of "approve," "disapprove" and "neutral" for a variety of campus institutions. Of the 500 randomly-selected students to whom the survey was emailed, 192 responded, a response rate of 38 percent.
For consistency, the fall 2019 approval ratings survey will be compared to the fall 2018 survey rather than spring 2019, unless otherwise noted.
Just as in fall 2018, the faculty received the highest approval rating of any institution, with 83 percent of students approving. Other highly popular institutions included the College as a whole (71 percent approval), President Maud S. Mandel (67 percent) and academic resources (60 percent).
College Council (CC) was by far the most unpopular institution, with a 41 percent disapproval rating and a 10 percent approval rating. While this low approval rating is a 12 percent drop from fall 2018, it represents a slight increase from spring 2019, when CC was embroiled in several controversies.
Other relatively unpopular institutions included the entry system (25 percent disapproval), the health center (23 percent disapproval) and dining services (19 percent disapproval).
Besides CC, no institution experienced a double-digit change in approval or disapproval ratings from last fall. Institutions that had the largest increase in approval ratings included the athletics department and the Record.
Institutions which saw their approval ratings decrease significantly from this time last year were CC, the Davis Center and Mandel.
Campus safety and security had an approval rating of 48 percent and a disapproval rating of 14 percent, representing a 13-point increase in approval from the spring, while integrative wellbeing services had 45 percent approving and 8 percent disapproving.
The sample for the survey included 24 percent first-year students, 28 percent sophomores, 23 percent juniors and 25 percent seniors.