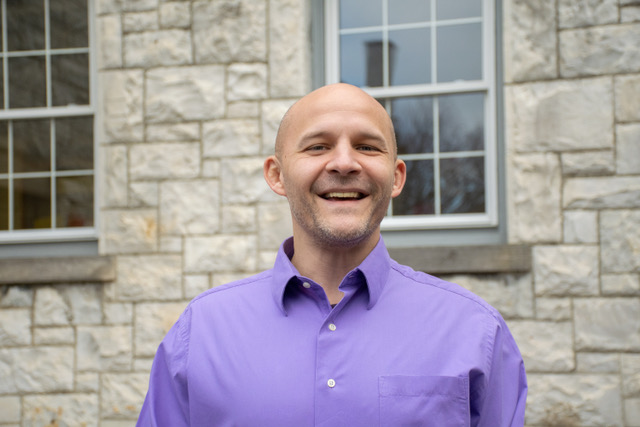 The Record's sports section has long published "Captain's Corner" interviews, but this week, we are mixing it up with our inaugural "Coach's Corner," giving readers the chance to get to know the coaches of their favorite Eph teams.
The team just had its first meet of the season last Friday. How do you help first-years get ready to compete during their first semester of college?
We get a few weeks to help prepare them, but, you know, probably the best prep for competition is going [through] the grind of preparing and competing every week [during the season]. And they're going to make huge jumps over the remainder of this first semester, because we have two significant tournaments. Wrestling is an interesting sport in that it really does all come down [to] the end of the year. We can afford to have some ups and downs as we go, as long as we use that as a launching pad for a really strong postseason, a strong February [and] a strong March. Unlike football, for example, where a week one loss and week nine loss, you know, will have the same impact, we can overcome early season struggles with a strong performance in the postseason.
What did you first think when you found out that our mascot was the unique, and not incredibly threatening, purple cow?
We've embraced the cow, [but] a mascot or a color scheme doesn't define your culture. What defines your culture is its leadership, the young men and the values in your program. So, we could be a donkey, a unicorn, we don't care. We like the cow. We'll slap it on our stuff. But our character and our values define our culture — it couldn't be enhanced by making it something more threatening. It couldn't be enhanced by making it something less threatening. It couldn't be more enhanced with a smiley face and couldn't be more enhanced with the Blue Devil. That window dressing is window dressing.
What is your favorite wrestling team tradition?
My favorite wrestling team tradition relates back to what I said earlier [about] the season's developmental process in wrestling. The postseason can right a lot of wrongs, you know, and there can be ups and downs [in our regular season]. But if you use [them] as a springboard to the most important part of the year, you can redefine and change a season in one or two weekends. So, my favorite tradition is that we never compete in purple until the postseason. [Normally], we compete in black or gray. In the postseason, we strap on the purple because it's a shift. The postseason is the final exam. It's just like when you sit down for a final exam in the class, and you've had 12 weeks about learning material, and it's no longer about learning. It's about showing who you are and what you've accomplished.
Is there anything that goes into wrestling that people wouldn't expect?
The beauty of wrestling, to be honest with you, is that there's no trick. There's no secret formula. There are these four things: cardiovascular technique, combative ability, your willingness to fight and strength. Get yourself in shape. Get yourself strong to prevent injury. You'll learn the skills and get ready for a fight. And so there's nothing else to it.
Wrestling is obviously incredibly physical. But it sounds like there's also a pretty significant mental component. How important is that mental engagement?
You can't have one without the other. You can't compete well if you're not physically prepared and you can't compete well if you're not mentally prepared. But mental preparedness is linked to physical and technical preparedness. If you haven't managed your weight well, if you're technically deficient and you're out of shape, it can be hard to go out there and expect to win.
How does the program sustain a team culture, a team mindset, when all the athletes are competing alone and, sometimes, against each other?
It starts in recruiting. You have to recruit guys that share a common goal, that are passionate about maximizing their ability as wrestlers. If you can build a group that shares the same values, they're going to start really caring about one another. The key is bringing in kids that share positive values, reinforcing those values through positive leadership and then the rest happens pretty naturally.
As a coach, is there something that your wrestlers know about you that other people in your life don't?
I don't have other people. I've got my wife and two kids and my wrestling team.
Do your kids ever come watch wrestling?
Oh yeah. My son likes to wear his wrestling singlet to the matches. Every single one. He poops his pants still, though, so he can't start wrestling till he stops pooping his pants when he gets excited.
Is there anything you do to get your wrestlers in the competitive mindset before a match?
It's so much bigger than that, [because] it can't be defined by a pre-match ritual or motivational speech. These guys live that life for 24 hours a day, seven days a week, if they really want to achieve the peak of their potential. The idea is to recruit guys who really want to maximize themselves as wrestlers and then we need to provide them with the tools to reach the peak of their potential.
There's this narrative in wrestling that I am firmly against, and it's a common narrative, that wrestlers sacrifice. Like during Winter Study, you know, the other sports teams are drinking beer and Juuling all Winter Study long and, you know, my guys don't get to do that. And there's this narrative of sacrifice. They work out twice a day and all they sacrifice, sacrifice, sacrifice. I say that is nonsense, cause you get these guys together [and] they work and condition themselves to reach the peak of their potential. And they learn some lessons that will stick with them for the rest of their lives. And they build bonds that [last]. And it makes you a better man, husband, father, community member, future employee, citizen. You know, and we want to use the word "sacrifice" and talk about the sport of wrestling?
I think wrestling gives you 10 times as much as you put into it, as long as you really do put yourself into it.
A lot of what I hear about wrestling does fit into that narrative of deprivation.
Yeah. So they have to be disciplined, and they have to learn to perform when they're not feeling great? OK. And guess what? You're going to get a job, and you're going to be sick and down. You're going to have reports due, or you're going to have to show up.
We are conditioning young men to rise to the occasion, regardless of the circumstances. Wrestling is teaching things that can't be learned in other places. And I really believe in that.