Darafshi, Cook uncover history of mysterious human skull found in Clark Hall basement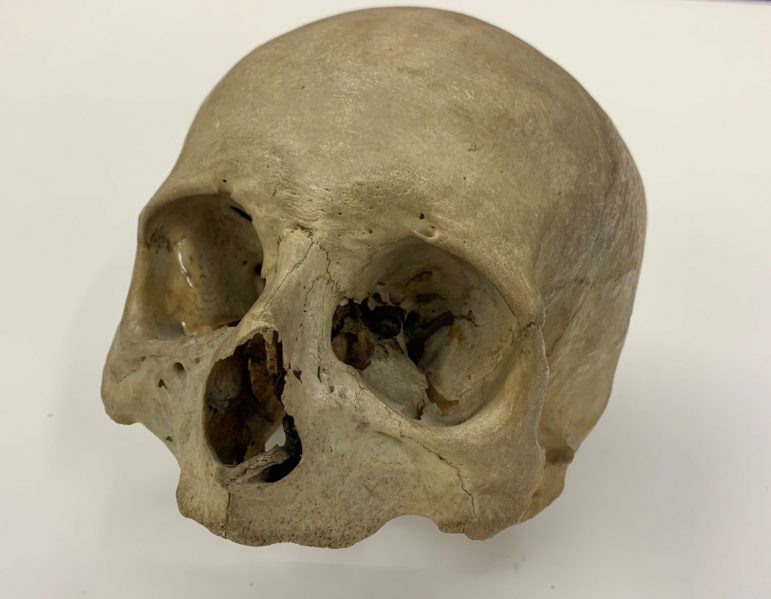 "This isn't something you usually do, especially at a school like Williams," Niku Darafshi '21 said of her semester-long investigation of the origins of a human skull found in the basement of the geosciences building.
Spring cleaning at Clark Hall began early this year in anticipation of the geosciences department's move into the yet-to-be-completed North Science Building. This February, Daniel Donahue '19 was in the basement of Clark Hall working to inventory and label artifacts when he came across what appeared to be a human skull among some rock samples in a cabinet.
According to Darafshi, Donahue had a feeling that it could have been a human skull, but no one believed him.
"Why would we have a human skull in the basement? That's crazy," Darafshi said.
It was not so crazy after all. Donahue had been right: It was a human skull. But its origin was initially far from clear.
Chair and Associate Professor of Geosciences Mea Cook enlisted Darafshi because of her experience interning at a museum for Winter Study, where Darafshi engaged with curated artifacts to learn about their procurement, investigation and preservation.
"The two of us worked to try to figure out where the heck this skull came from," Darafshi said.
Through carbon dating, Cook and Darafshi narrowed the skull's origin to sometime between 1719 and 1826. They also tested its DNA and found out that the skull belonged to someone of Druze origin, an ethno-religious minority population in Israel, Jordan, Lebanon and Syria, according to Darafshi's report.
After discovering when and where this skull was from, it was time to figure out how and why it was collecting dust in the basement of Clark Hall in the first place — and what the geosciences department should do with it.
True to the identity of the College as a liberal arts institution, Darafshi and Cook sought an interdisciplinary approach to answering these questions. They relied on the College archives to situate this skull in the history of the school and collaborated with the Arabic studies and anthropology and sociology departments to figure out best practices on what to do moving forward.
According to Darafshi's report, the College archives "show 3 male skulls donated by Charles Williams Calhoun [Class of 1873]. Charles… was born in Abeith, Syria. At Williams, he was the vice president, secretary and curator of Lyceum."
Lyceum was born out of the first secret society at Williams, Phi Beta Theta. Its members gave up their secrecy pledge to establish The Williams College Lyceum of Natural History and dedicated themselves to the study of the natural sciences and the pursuit of antiquarian research. The Lyceum's natural history museum was located where Clark Hall stands today.
After his tenure at Lyceum, the report continues, Calhoun "went back to Syria for a few years, teaching pathology at Syrian Protestant College. Afterwards, he studied medicine at the University Medical School in New York City in 1879 and was a missionary physician in Syria, taking residence in Mount Lebanon. One of these three skulls was specified as coming from the city of Abrih and labeled as the 'skull of idiot, son of Druze Shaik.'"
Can we tell with 100-percent certainty that the Druze skull donated by the curator of Lyceum to the College and the Druze skull found in the Clark Hall basement this year are the same? No, but Occam and his razor would say the evidence for this scenario is much too strong to deny.
Given the information on the skull's historical ties to the College, Darafshi and Cook said they were aware of and working to address the ethical implications of having this artifact.
Darafshi is trying to figure out what spiritual or cultural practices this population of Druze people used — or use — to lay remains to rest. "I don't expect to give it to the right person — that's impossible — but understanding what that may have looked like and seeing what is possible here so we can properly put this skull to rest," she said. "We shouldn't have it."
"We want to do right and treat this artifact with respect," Cook agreed.
As such, Darafshi said she has been in contact with professors at the University of Pennsylvania who do research on the Druze people. "We're trying to figure out what to ethically do with it now," she said.