Profiles of Presidents Past: Morty Schapiro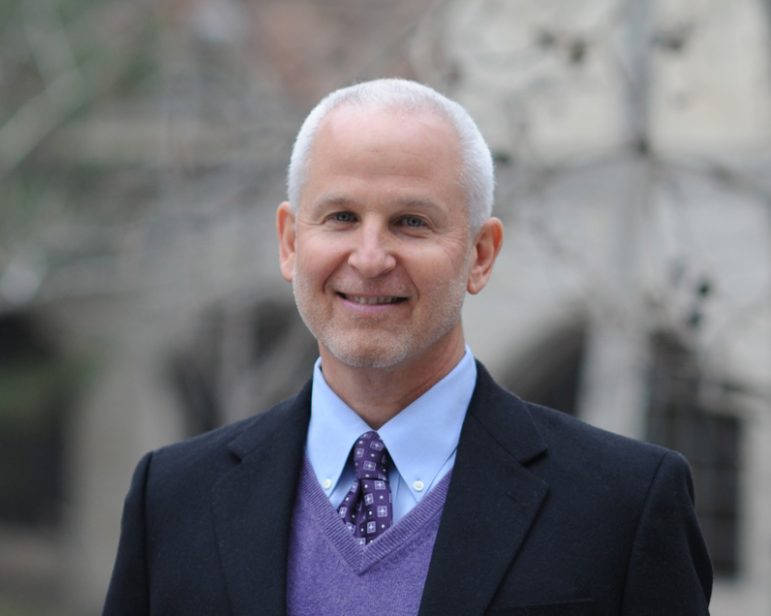 For Morty Schapiro, the best part of being president of the College was entry Snacks.
"I did Snacks every Sunday night for nine years," he said. "My favorite part of being president at Williams was Sunday nights, doing Snacks, sitting there for two hours and chatting with everybody, hanging out afterward, listening to what's going on in their lives."
But well before serving as president of the College — a role he held from 2000 to 2009 — he was a professor here, joining the faculty in 1980 after receiving his doctorate in economics from the University of Pennsylvania.
At first, his academic specialties were labor and development economics. As part of his research in the latter field, he was set to travel to Indonesia for the 1989-1990 academic year, but his wife was reluctant to travel, since the couple had two young children.
"She said she wasn't interested in going, so pick a new field," he said.
Schapiro then began to work with Professor of Economics Emeritus Michael McPherson, a former dean of the faculty, in a different area: fittingly, the economics of higher education.
In 1991, Schapiro moved to the University of Southern California, where he chaired the economics department and later served as dean of the College of Letters, Arts and Sciences. When he returned to the Purple Valley in 2000 as president, he found the atmosphere at the College had shifted during his absence.
"When I left in 1991, everything was going great," he said. "Frank Oakley was not just the most brilliant scholar and best teacher on the faculty; he was an unbelievable president. Everybody was so positive and excited about Williams and its future. When I came back in 2000, there was a lot of unrest."
Schapiro said the primary challenge of his first few years as president was rebuilding a sense of community amid tensions between different groups on campus.
"There was a lot of anxiety about the future of Williams, and a lot of confusion about the role of the board versus the faculty versus the staff and the students, and then there's the town and the gown," he said. "These are fragile communities."
The connections he had made during his time on the faculty and as assistant provost served Schapiro well as he adjusted to the job.
"I had the great advantage of having been [at the College] for 11 years before I came back," he said. "A lot of the faculty who had prominent positions — as department chairs, or on the CAP [Committee on Appointments and Promotions] — were people I had gone through tenure track with in the mid-'80s. They gave me a break — I wasn't the greatest leader, and didn't always know what I was doing, but they wanted me to succeed because they knew me and knew that I was a decent person."
One such colleague was former provost and professor of economics Catherine "Cappy" Bond Hill '76, who worked closely with Schapiro for many years before becoming president of Vassar College in 2006. They shared an area of academic interest and a love of golf; she said that her golf game "got much better when we worked together," though she couldn't say the same for his.
"Morty was fantastic to work for, because he supported the people that worked with him by trusting people to do their jobs, backing them up when needed," she said. "It was also really fun for me to work with him, since we are both economists doing work on the economics of higher education, and there were lots of interesting issues during that period of time relating to admissions and financial aid."
Schapiro said he jumped at the opportunity to reenter the purple bubble and revive those old connections after almost a decade elsewhere.
"I feel like I was really lucky that Williams hired me," he said. "It was a great joy and opportunity to come back to a place that I loved and missed. And to come back as president — it was a dream come true."
Under Schapiro's leadership, the College's student body became significantly more diverse, a change he eschewed credit for.
"Anybody could make a college more diverse," he said. "If you don't do it, you're not doing your job right… I mean, I think we struggled to make it more inclusive. And I think that struggle continues today."
Other notable changes during Schapiro's tenure included the construction of the '62 Center for Theatre and Dance and the Paresky Center. In addition, Schapiro consolidated first-years into the northern end of campus, in Frosh Quad and Mission Park; previously, half had resided in Frosh Quad and half had been spread out in other dorms across campus. He was pleased to hear from the Record that all first-years still live in Frosh Quad and Mission.
Meanwhile, the College climbed through the rankings under Schapiro; its vaunted 17-year streak at the top of U.S. News & World Report's list of the best liberal arts colleges began early in his time as president.
"When I left in 1991, we were ranked No. 1, but when I came back, we had been No. 3 for several years in a row," he said. "I didn't like that."
Schapiro called himself a critic of U.S. News and stressed the importance of honesty in a ranking system that relies so much on peer reviews from other institutions. But despite his misgivings about certain aspects of the process, Schapiro said he does not doubt that the College has earned its place on top.
"If you want an incredible undergraduate education, is there a place that's better at it than Williams? If there is, I've never seen it," he said. "If they think Williams is No. 1, I'm not going to argue against that."
Schapiro credited the College's ascent in part to the resurgence of the tutorial program, which he said had diminished to around 10 or 20 courses per semester by the time he returned. "It was withering," he said. "I think it was on its way to being phased out."
During his tenure, the tutorial program expanded significantly, a move that Schapiro saw as helping set the College apart from its rivals.
"It didn't take a great educational leader to realize that we should double down on something that Pomona doesn't do, that Amherst doesn't do, that Swarthmore doesn't do," he said. "It's Mark Hopkins, a student and a log. That's what defines the College."
In 2009, recruiters from Northwestern asked Schapiro to be president of the university. He rebuffed the first few attempts but changed his mind at the last moment after talking it through with his wife. They were primarily driven by the conviction that Chicago would be a better place for their family, though it was not an easy decision.
"I wasn't in the search until the very last weekend," he said. "I would have been happy to have stayed at Williams… I love the place. My family loves the place. I didn't leave because I didn't love Williams."
He said he has enjoyed his 11 years at Northwestern, where he still serves as president, and isn't thinking much about what might come next in his career.
"It's been a really good run, and it's still continuing," he said. "I've never thought about my next job, and never have. It always just seems to appear: Some opportunity comes up, and I try my best not to mess it up."
Schapiro has been known to review a select group of several hundred application files each year, an unusual practice that began during his time at Williams. At Northwestern, those applicants include children of alums, donors and connections of his who request that he read the application himself.
"I just got one today from a student I had last year who said, 'My little sister's applying!'" he said. "We have 45,000 applications, so 550 or 500 isn't an enormous percentage, but it takes a lot of time."
At Northwestern, Schapiro has taken on more of a symbolic role than he had at Williams. "I'm sort of like Mickey Mouse," he said. "You walk around, and everybody knows me, a little, non-threatening, gray-haired old guy, so they do this cheer: 'Morty! Morty! Morty!' It's very much like a Disneyland kind of experience." The larger size of Northwestern has turned Schapiro into a "minor celebrity, more like a cult figure than a real-life human being," he said.
Still, he clarified that he does enjoy his work at Northwestern. "I love my teaching, I love my research, and it was a great move for us," he said. "I play a different role in the community: You show up, give a talk, and then you leave for the next one. At Williams, you never leave, you know?"
Schapiro, who described himself as "a fanatic about Williams," still watches livestreams of Eph sports games on his phone. He said he frequently discusses the results with Sports Information Director Dick Quinn, and used to go to games with former athletic director Harry Sheehy '75. The two of them were a distinctive duo, he said: "I'm 5-foot-7 and he's 6-foot-7, and we'd walk around campus together, run from one event to another, cheering on all our teams," he said.
As much as he enjoys leading Northwestern, he said he misses the sense of community that naturally arose at Williams.
"It's my 11th year [at Northwestern]," he said. "I spend a lot of time with faculty and staff, and I teach my classes and all that, but I'm never going to have that feeling of being an integral part of a big community the way you get in a small community, especially a small community where I spent 20 years of my life."