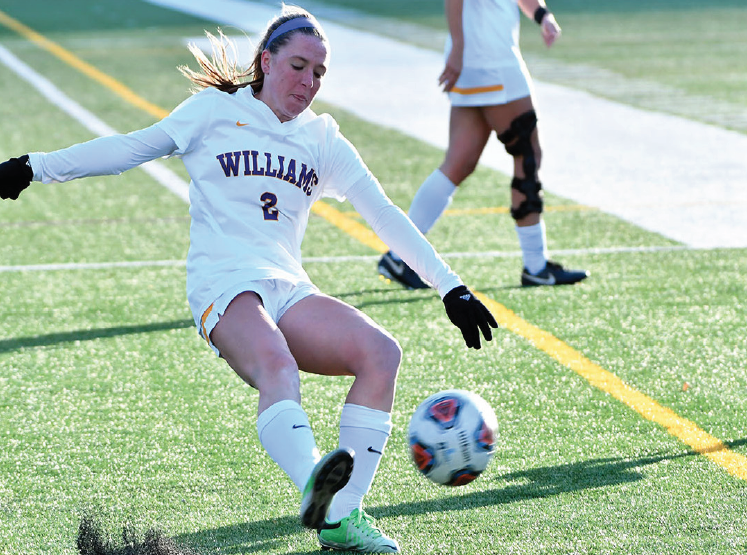 No. 24 women's soccer (9–5–2, 6–3–1 in the NESCAC) fell 2-0 to No. 9 Middlebury in Saturday's NESCAC semifinal. However, the defending national champions earned an at-large bid to the NCAA Div. III tournament and will return to competition next Saturday. This marks their 13th straight appearance at Nationals.
"At this point in the season, we are just happy to be playing," head coach Michelyne Pinard said, after the announcement. "Only 64 teams in the country are able to say that, and we don't take that for granted; we're thrilled to be playing, and we're looking to do whatever we can do to earn another day together."
During Saturday's loss against the Panthers, the Ephs created more opportunities to score than their opponents. However, the Panthers took the advantage on a 21st-minute goal from Gretchen McGrath and doubled their lead on a 69th-minute header by Isabelle Hartnett.
"[It was a] tough one today," Pinard said after the game. "We created a handful of chances and just couldn't convert. We started the game strong, but couldn't hang onto the momentum."
Midway through the first half, Middlebury co-captain and midfielder Olivia Miller chipped a pass through to McGrath. Eph goalkeeper Chelsea Taylor '22 rushed out to meet McGrath to no avail, allowing the Panthers to take the lead.
The Ephs had a chance to get on the scoreboard in the 38th minute, when Rain Condie '22 knocked a through ball to Aspen Pierson '21. However, Panther goalkeeper Eva Shaw saved Pierson's low shot. The Panthers finished the half with a 1-0 lead, even though the Ephs finished the half with a 9-5 edge in shots.
Middlebury appeared to score in the 48th minute, but the goal was waved off due to a foul in the box.
In the 69th minute, however, the Panthers extended their advantage. Middlebury midfielder Eliza Robinson sent in a cross from the left corner flag, which Hartnett met near the post and headed into the net.
The Ephs threatened late and hit the post twice but did not score. In the 73rd minute, Claire Tolliver '23 drilled a hard shot in from the left side of the box, but Shaw made the save.
Liz Girvan '22 also hit the post in the 82nd minute after getting onto the end of a free kick at the far corner.
The final whistle blew with Middlebury up 2-0. While the Ephs outshot their opponent 15-8, Shaw saved all six of the Ephs' shots on goal. Taylor saved two of the Panthers' four shots on goal.
The Ephs will take on Gettysburg on Saturday at 1:30 p.m. in the first round of the NCAA tournament.