Football kicks off season opener with away victory over Bowdoin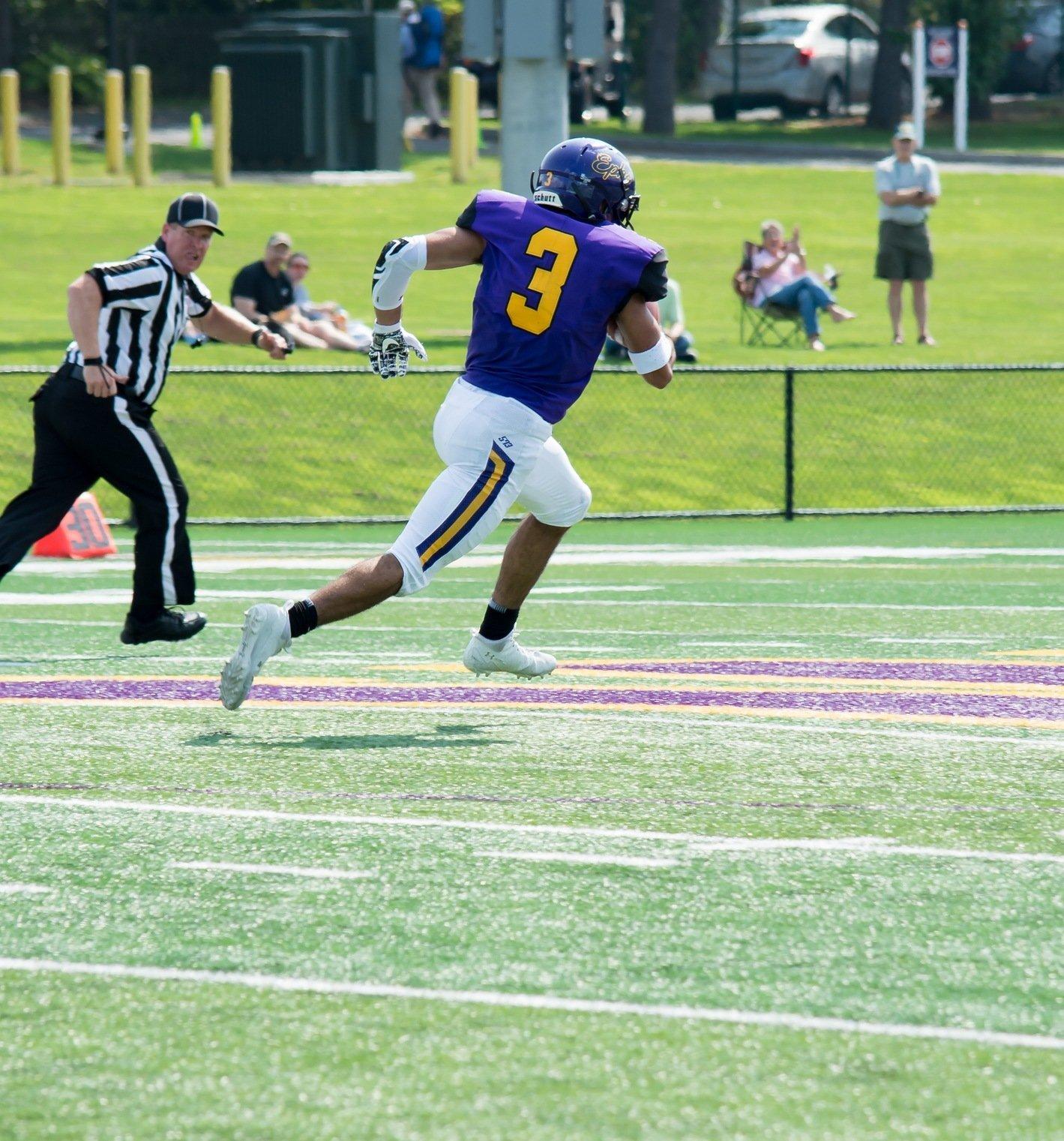 Football (1-0 in the NESCAC) scored the first 41 points of the game and totaled 476 yards on offense to beat Bowdoin 41-6 in the season opener.
The sophomore class shined, with quarterback Bobby Maimaron '21 scoring four touchdowns, two of which were caught by receiver Frank Stola '21. Running back TJ Dozier '21 rushed 21 times for 128 yards (6.2 yards per carry) and one touchdown and linebacker TJ Rothmann '21 recorded a team-high eight tackles.
Today's victory was the Ephs' sixth consecutive win over the Polar Bears and second straight season-opening win over them.
Maimaron connected on 13 of 23 passes for 146 yards and two touchdowns and he added 73 yards and two scores on the ground. Stola led the team in receptions (eight) and receiving yards (82), and made two beautiful touchdown catches in the second quarter to help the Ephs pull away.
After an exchange of punts, Williams scored its first touchdown when Dozier weaved his way through the Bowdoin defense for a 20-yard score at 8:50 in the first quarter.
Bowdoin managed to pick up a first down on its next series, but the drive stalled due to an illegal forward pass penalty, which resulted in an eight-yard loss and a loss of down. On their next drive, the Ephs converted twice on third down, the second of which was a 38-yard touchdown run by Maimaron – the quarterback's longest run of the game – to put Williams up 14-0.
In the second quarter, the Ephs scored touchdowns on back-to-back drives and added a field goal right before halftime to extend the lead to 31-0.
On third-and-nine from Bowdoin's 28-yard line, Maimaron found receiver Joey Volpe '19 for a 17-yard gain. Maimaron followed the third-down conversion with a beautiful fade to Stola in the back of the end zone for their first touchdown connection of the year.
Five minutes before halftime, Maimaron orchestrated a 13-play drive, featuring quick handoffs to Dozier and a 10-yard sweep run by receiver Rashad Morrison '21. However, the Ephs were fortunate not to turn the ball over in the red zone, as a fumble by running back Kyle Horihan '20 was recovered by offensive lineman Patrick Watson '21.
The Ephs capitalized on the fumble recovery by running what may have been Maimaron's best play of the game. Rolling out to his right to evade defenders, the quarterback hit a wide-open Stola in stride in the front-right corner of the end zone for the touchdown.
The next Bowdoin drive, which started with under a minute to play, ended in just three plays, as linebacker Luke Appuzi '20 picked off Bowdoin's quarterback Austin McCrum's pass. Apuzzi returned the interception to the Bowdoin 25-yard line. The Ephs cashed in on the turnover, driving inside the 10-yard line where placekicker Andrew Schreibstein '22 converted his first collegiate field goal.
Bowdoin made its first trip inside the Williams 40-yard line in the third quarter, only to see its field goal attempt miss wide left. Williams then continued its first-half momentum, with Maimaron running in yet another touchdown on third-and-goal to make it 38-0. The play turned out to be Maimaron's last, as quarterback Jackson Bischoping '22 came in and led a field goal drive of his own.
Late in the fourth quarter, Bowdoin managed to score a touchdown but the ensuing extra point attempt was blocked, resulting in the final score of 41-6.
Williams held Bowdoin to 245 total yards and it was also a near penalty-free day for the Ephs, who recorded just two penalties for 10 yards, compared to six for 44 yards for the Polar Bears.
Williams was particularly strong on third downs, leading to touchdowns rather than field goals. The Ephs were extremely efficient, converting nine of 15 tries (60.0%) compared to just six of 18 (33.3%) for the Polar Bears.
But perhaps the most striking difference was each team's ground attack. Although Bowdoin rushed for a decent 108 yards, Williams ran for an impressive 305 and with its strong running game, Williams dominated time of possession, holding the ball for over 33 minutes.
On special teams, Schreibstein was a perfect seven-for-seven on his kicks, making two field goals and five extra points.
Head coach Mark Raymond was impressed by the way his team set the tone and played an efficient, mistake-free game. "I was really happy with the way our guys played today," he said. "We prepared very hard, and it showed today. I was really pleased with the way they came out, played physical, tough football, and stayed away from big mistakes. They just played a real solid game."
On Saturday at 1:00 p.m., the men will host Colby in their 2018 home opener on Farley-Lamb Field.