Captains' Corner: Liz Webber '20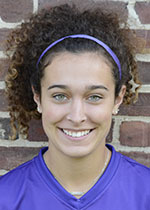 Team: Women's soccer
Hometown: Natick, Mass.
Residence: 63 Hoxsey St. 
Major: Psychology 
Snack bar order: Nachos with white sauce, bacon and tomatoes
You were on the team as a first-year, but you weren't able to play, right? 
I actually had surgery freshman year, so I didn't play freshman year. I had surgery this year, so I'm not playing this year. But I got a good two years in the middle.
So what was it like being on the team as a first-year and not being able to play?
It was definitely really hard to feel connected to some of the upperclassmen on the team. I got to know the [other] freshmen really, really well because they're in my class, and we spend a lot of time together. But I think it was harder to get to connect with the upperclassmen just because there's little moments that you share on the field that, when you're on the sidelines, you just aren't really a part of in the same way.
What's it like being a captain while sustaining an injury this year?
I think it definitely has its challenges. I think a lot of being a captain, at least for our team, is very logistical, like you're really tuned in to the things that are happening on the team. From the sidelines, I can get a decent amount of it because people come off, and they say what's on their mind. I can kind of pick up on all of that, but I think there's definitely an element of not being able to lead on the field. The moments where it's going really well, I don't mind that I can't play, I'm like, 'Well, everything's great and I'm just happy to be here.' But I think the moments where I wish I could step up are moments that are really challenging, and I'm just on the sidelines cheering people on. I think it'd be awesome and helpful if I could be on the field leading by example.
Do you do anything to make up for feeling like you can't really do much from the sidelines?
Normally, on the field, I would give directions to people playing in front of me. I play defense, so the people in front of me are mostly midfielders. So instead of doing that, because I'm on the sidelines, I'll talk to people who are playing my position, especially underclassmen, and give them pointers about how they can do that role better and also what they can say to the people in front of them. So I've tried to take on a role as a mentor to the first-years just so they can understand how our system works and how the defense works together.
Speaking of fields, what's the weirdest thing you've seen on a soccer field?
A couple of weeks ago, there was a snapping turtle on the field. We were walking back, and I saw a bunch of people huddled and one person standing. I thought she was yelling at them, but then I got closer and realized that they were all huddled around a turtle on the field. We [also] get a lot of dogs on our field, which is fun. It's not strange, but it's fun. Our coach gets mad when everyone gets distracted, but at the end of the day, when there's cute dogs running around, it's hard to stay focused.
What do you think is the coolest position?
I mean, personally, defense is the best. Offense wins games, defense wins championships [Laughs.]. But I think it definitely depends. There's definitely a personality type for each position. I think defense are people that really like the physical aspect of soccer, and the forwards are really technical players. [They're] the ones who are composed and good at goal scoring. Not to say that defense can't do that, but I think that each position comes with a different skill set and it's almost like a different personality, which is kind of funny. It all somehow works together.
What do you think about goalies, then?
Everyone always jokes about how goalies are a breed of their own. My brother and dad both play goalie, and I joke about that with them all the time. You have to have an incredible amount of focus to be a goalie because you have to stay checked in the whole time, even if the ball is not anywhere near you. You also have to be kind of crazy for wanting to have people kick [the ball] as hard as they can at you. I think all the goalies are a little quirky, but nothing too bad. We still like them.
What are team traditions?
We're really big into singing and dancing, even though we're all terrible at it. Before games, we have a bunch of dances that we do in the locker room or songs that we sing, which I think is part of the fun and what gets people really hyped up for the games. When we have home games, we do a dance literally on the field before the game, which I'm sure is really annoying to the other team. But it's a really nice way to have fun and kind of forget about whatever stressful moment might become of that game.
Is there a team go-to song?
We have like four or five songs that we play on pretty heavy rotation before every game, like the song "Everytime We Touch" by Cascada. We have our own words to that, and I think that's probably one of my favorites that we do.
What will you miss most about playing soccer at the College?
I think mostly the team. I think it's really great to have a place where you can go down to hang out with people who are all focused on the same goal and you have to push and demand a lot of each other. [I'll] also [miss] being able to have fun and play and not really having to focus on school, like everything else goes away when you go down to the field. Even if I play soccer recreationally, I don't think the same thing will happen after college. Having the team is something that I'll really miss and having our own little space on campus, which is really awesome.