A look back on historic '89 football season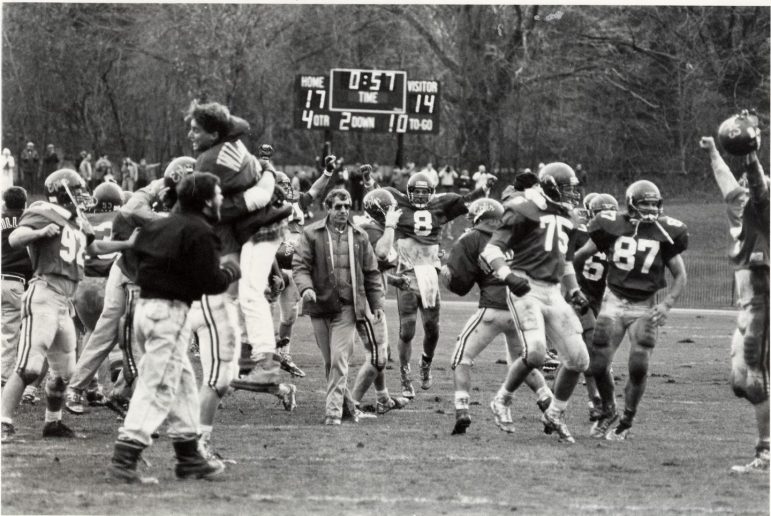 Thirty years ago, a homecoming bout with Amherst was all that stood in the way of football's first perfect season.
In then-head coach Dick Farley's third season at the helm, the Ephs dominated the conference on defense, led by Ted Rogers '91. The standout defensive end had been in the Health Center with a 103-degree fever the night before the game, but on Nov. 11, 1989, Rogers made the big play in the final minutes, forcing an Amherst fumble to preserve a 17-14 lead. Ken Dilanian '91, the other defensive end, recovered the fumble to seal the win and complete the perfect season. 
That year had begun with a bold preseason prediction from the team's captain, Brian Stevens '90. On a radio show, Stevens declared, "We're going to go undefeated and untied and be the best Williams football team ever." Farley remembers, "I almost swallowed my tongue when he said that."
The team had finished the previous season with four straight shutout victories, and it believed from the start that it could achieve perfection, according to safety Rich "Remo" Williams '90. "From a defensive standpoint, we had the mindset that no other team really was going to score," he said. "We had a sort of hop in our step, especially defensively."
The team won its first two games in 1989 before a test against Trinity, one of the conference powerhouses at the time. Down 21-14 late, the Ephs scored a touchdown in the final minute but failed a two-point conversion. Rogers, however, recovered an onside kick, and the men scored with 13 seconds left and held on for the 26-21 win.
"It felt like we had a shot [at] a perfect season after we beat Trinity," Rogers said. "But Coach Farley is not the type of guy to allow people to start talking about having a perfect season after three games. In fact, he's not the type of guy to allow players to start talking about a perfect season after seven games. That's just not the way he coached because it's so easy to get distracted with something like that."
The Biggest Little Game in America got national attention that year, with players being interviewed by publications such as The New York Times in the leadup to the game.
"All of a sudden it was this hothouse atmosphere where journalists were coming to the practices, and alumni were writing letters with all this interest," Dilanian said. "It was an incredibly intense atmosphere and a lot of pressure, actually."
The Ephs went into the game as favorites but found themselves down 14-0 after two early turnovers. They scored a touchdown at halftime and tied it up in the third quarter, before making a field goal to go ahead 17-14 just before the start of the fourth quarter.
"We had this confidence all year where we just sort of looked at each other to make plays. There was always this confidence among everybody," Williams said. "I knew the other 10 guys would do everything they could to make the play. That just instills the view – you know the saying, 'You're not going to let those guys down.'"
Yet Amherst threatened to strike back in its final-quarter drives. On one, the Mammoths completed a deep pass to the left sideline, and after two Eph players missed their tackles, the wide receiver had an open field between him and the end zone. In what Quinn calls "the greatest tackle in Williams football history," Williams, an All-American at strong safety, chased down the receiver at the 6-yard line.
"Dick Farley told me, 'Rich Williams is a heck of a player but he can't run a lick. In a race with a pregnant woman, Remo finishes third,'" Quinn said. "Remo would say, 'I wasn't fast on paper, but I would always get there.'"
"The reason I was in the right place at the right time – a lot of the time – was Coach Farley and the preparation," Williams said. "I laugh and I told [Dick Quinn] all the time, 'My hardest class at Williams was, you know, Friday afternoon film session from two to three with Coach Farley.'"
Amherst was forced to settle for a field goal attempt but missed and failed to tie the game.
With just over a minute left, however, Amherst mounted another strong drive and had possession at the Eph 12-yard line.
"The game's on the line. I just remember saying in the huddle, 'We have to make a play because the defense has been making plays all year,'" Dilanian said. Even though like they were about to win the game from a 12-yard line – I don't know what the oddsmakers would say about that, but it was not looking good – but we still believed that somehow it was possible, and the next play, it happened."
With the Amherst quarterback looking to pass, Rogers blew by two blockers and knocked the ball loose from the quarterback's hand. Dilanian was the first to the ball and jumped on it.
"I just remember seeing this football lying there, and literally it was like time slowed down," Dilanian said.
"He cradled it with two arms, and the emotion of the moment and the whole season and the pressure that had built up to have a perfect year and all the work that everyone had put in – that released," Rogers said. "In that moment I felt pure jubilation."
Quinn, who was in his first year as Sports Information director in 1989, ranks that year's edition his third-favorite Amherst game behind the 1997 and 1996 contests. Dilanian said he has a copy of the game on VHS tape, and he goes back to watch from time to time. "I have trouble finding a VCR that works anymore in my house. But every once in a while, I will watch it and just relive it because it was just pure joy," he said.
Football followed up that perfect season by going 8–0 again the next season. Rogers, who received a Super Bowl ring as a development squad player in 1992, still considers the 1989 homecoming win his favorite moment on a football field. He said players from that team still spend time together, and several of them will be on campus for the homecoming game against Amherst on Saturday.
"It's hard to capture everything that was going on that week. It was a really special moment, and I'm really grateful for it, even 30 years later," Rogers said. "And I think all of us were blessed to be part of something like that. There were a lot of great teams before us that for whatever reason had a tie on their record or lost a close one. So we were just fortunate to be the [first] one that made it all the way."