Glynda Carr speaks on voter supression, political activism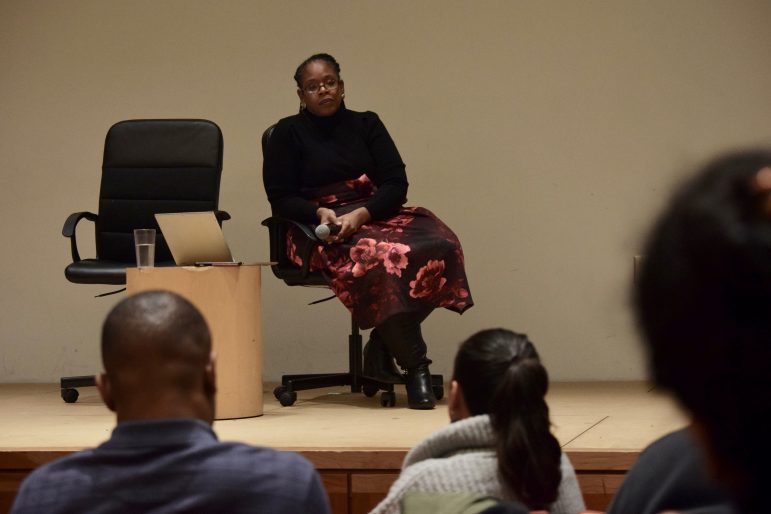 A special screening of Let My People Vote, a documentary highlighting the effects of voter suppression on the 2016 election, was held in Paresky Auditorium on Monday as part of special programming to observe Martin Luther King Jr. (MLK) Day. The film, directed by Gilda Ann Brasch, was followed by a talk with guest speaker Glynda Carr, an activist and co-founder of "Higher Heights," a national organization aiming to "invest in black women's political leadership."  
Overall, Carr's remarks centered around a question that she repeatedly posed: "How do we find and activate our political voice?" "Use your time here at Williams to figure out your political voice," she urged the students in the audience.
Carr began the discussion by tracing her own experience with political action. Although she was fairly politically apathetic growing up, Carr learned the importance of being active through her mother, she said. "She put me in her car and drove me down to register to vote, and until the day she died she called my brothers and I on every election day," she recalled. She made clear that her years at the University of Hartford, however, were truly what sparked her into action, citing the fight over South African apartheid and the Rodney King riots as her formative battles at school. "The black student population was like 4 percent and we lost our minds over Rodney King… My political activism was born on that college campus," she said.
Let My People Vote, a 20-minute documentary follows Desmond Meade, a voting rights activist working "to assist people in exercising their democratic right to a vote" during the 2016 election. Meade is an ex-felon who has since obtained a degree from Florida International University's College of Law. However, due to Florida's felon disenfranchisement, at the time of the movie's release it appeared he would never again have the right to vote or the chance to practice law. The audience witnessed his inspiring yet heartbreaking attempts at getting members of his community to the polls, sometimes only to find that a person had been barred from voting for life because of past mistakes, some which had been unfairly qualified as felonies. Meade described these kinds of disenfranchisement laws as remnants of Jim Crow, specifically designed to keep political power from black voters and their communities.
Well into his story, viewers found out that as president of the Florida Rights Restoration Coalition (FRRC), Meade led an effort to restore the voting rights of 1.7 million disenfranchised voters in Florida through the passing of a state-wide amendment. His work, as well as that of many contributing activists, ultimately led to the inclusion of Amendment Four, the Second Chances Voting Restoration Amendment, as a ballot measure to be voted on by Florida residents in the 2018 midterm election. The amendment passed with a resounding 64 percent of the vote.
Following the film, Carr asked audience members for their initial reaction to the events documented in the film. "Sad," "angry" and "embarrassed," were among the replies.
Regarding the obstacles students face in trying to solve issues like voter suppression, Carr detailed several ways in which young people can get involved. "Many of the voter suppression laws have actually started at the state level," she said. She also talked about the important role that secretaries of state, who are elected leaders, play in voter suppression laws that are taking hold across the country. "Encouraging, recruiting and supporting innovative candidates to run for Secretary of State … can change some of these laws," she said. "Are we holding our election officials accountable on the issues that we are concerned with, like voter suppression?" she asked. "Are we helping create the environment for our champions to lead boldly?"
Carr's organization, Higher Heights, is mainly concerned with the political representation of black women, and when asked about how the Democratic party is responding to their concerns, she explained that she helped write a letter addressed to the Democratic National Convention. Signed by 30 black women leaders, it demanded more from the party and its platform. "Although we are literally the building block to the winning coalition for the Democratic party, we are underrepresented and underserved," she explained. "If you want to continue to see us vote, we need to demand a return on our voting investment and I think that's what our letter did."
"What's exciting about the 2020 presidential election cycle is that you will see the most diverse group of candidates in our country's history from a racial makeup, ethnic makeup and gender makeup and their [professional] background," she said. Earlier that day, Kamala Harris, a black woman, had officially announced her candidacy for President of the United States, and Carr spoke to the historical significance of Harris' making this announcement on MLK Day. "I am personally excited about seeing candidates that look like me," she said. "As an informed voter, I am going to do my due diligence to learn about her record," she added, speaking to a number of concerns that have been raised about Harris' criminal justice record during her time as California's attorney's general.
Addressing the future of black female leadership and women of color who may be considering politics but are at risk of being discouraged by countless systematic obstacles, Carr quoted Shirley Chisholm's famous phrase: "If they don't give you a seat at the table bring a folding chair."
Carr ended by urging young women of color to participate in politics. "You have a voice that needs to be heard at this time and in this season," she said.
Editors Note: This story was updated on Feb 19 to include the name of the film's director