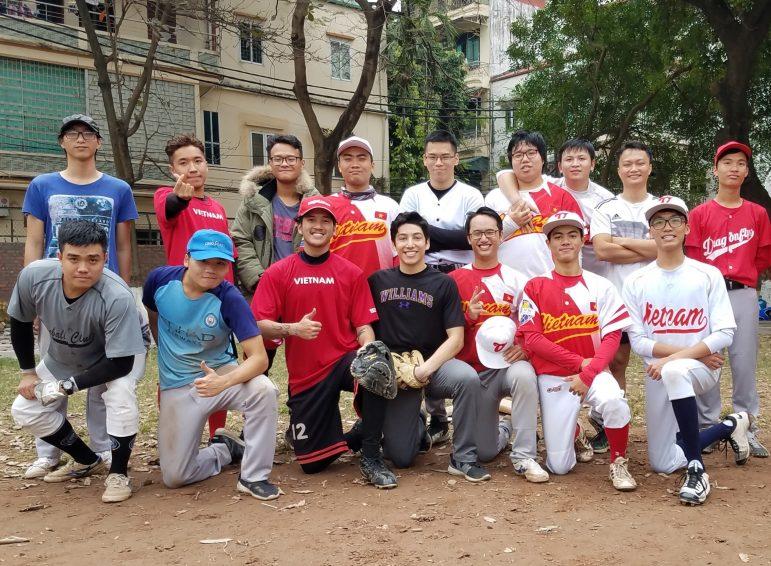 There are no umpires or fences in sight, and instead of leather baseballs, dimpled rubber balls are tossed around the dirt field.
John DiGravio '21, a utility player on the baseball team, is spending his Winter Study in Hanoi, Vietnam. As part of the political science course "Fieldwork in Public Affairs and Private Non-Profits," he is volunteering with Bedrock Educational Consultants to provide academic mentoring to Vietnamese high school students.
Though unable to train and practice with the rest of his team in Williamstown, DiGravio contacted two Vietnamese teams, the Fishanu and Merlins Baseball Clubs, through Facebook and offered to help coach them. "I actually had no idea that baseball was played in Vietnam," DiGravio said.
DiGravio explained that, while not as popular as well-established sports like soccer and badminton, baseball "has a small but enthusiastic following." Most Vietnamese fans support Major League Baseball (MLB) teams like the Boston Red Sox, New York Yankees and Los Angeles Dodgers. Vietnamese-American MLB player Tommy Pham, an outfielder for the Tampa Bay Rays, is also a fan favorite.
In addition to prioritizing the development of basic fielding techniques and team cohesion, DiGravio relayed the teams' hopes to increase baseball's popularity by representing the country in international tournaments and introducing the sport to Vietnamese youth.
Due to limited equipment and support, however, the players are sometimes left to improvise. DiGravio said that most of the equipment had to be imported from countries like Japan, and the team captain, Chien, turned to YouTube to learn specific pitching and batting skills before teaching the rest of the team. Nevertheless, DiGravio spoke highly of the teams' level of play. "Though their resources may be humble, these players have a genuine passion for the game that is truly inspiring to watch," he said. "There was a strong sense of sandlot authenticity that can be hard to find in American baseball."
Besides enjoying the warmer weather, DiGravio identified a unique opportunity: to be able to make new friends who, despite being from a geographically-distant region, share the same interests, from music to baseball. DiGravio also expressed appreciation for the chance to apply his academic interests in history, anthropology and sociology outside the classroom to supplement his liberal arts education.
In addition, DiGravio has found that the experience has had value for his own baseball career. He mentioned that, amidst the challenges of being a student-athlete at the College, he sometimes fell into the habit of treating the sport like a chore.
He said that he will approach the upcoming season, however, with enthusiasm. "Celebrating baseball with these young men and women reminded me of the importance of simply enjoying yourself and having fun, and I'm excited to bring this positive energy back to Ephs' baseball," he said.
DiGravio expressed excitement for the progress of Vietnamese baseball. "Coaching these players was one of the most rewarding athletic experiences of my life, and I'm looking forward to the bright future of baseball in Vietnam," he said.