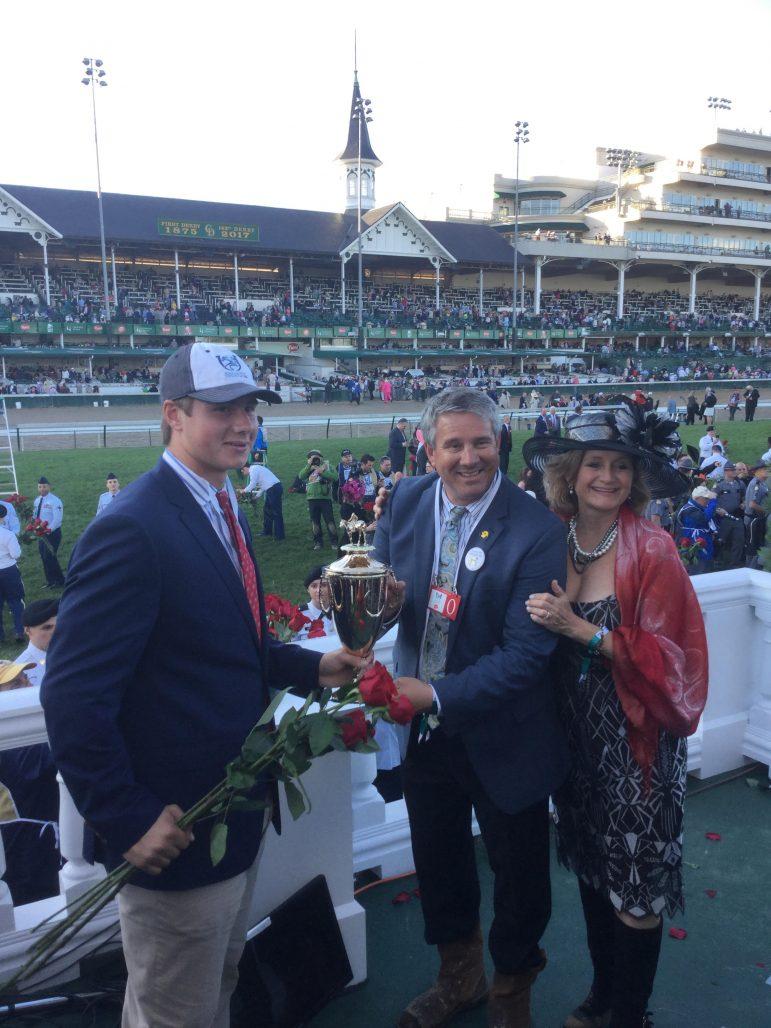 While the Kentucky Derby has been dubbed "the most exciting two minutes in sports," most of the world sees little of the sport beyond that brief glimpse on the first Saturday of each May. For Jeff Lifson '86, however, horse racing is a year-round job.
"The best part about our game is not just what happens on the race track for a couple of minutes," he said. "It's all the behind the scenes stuff."
Lifson, the executive vice president of the Midwest division of West Point Thoroughbreds, has spent almost the last 15 years of his career buying and selling racehorses. One of those horses, Always Dreaming, earned Lifson a prized trip to the Derby's Winner's Circle in 2017.
To get to Churchill Downs Racetrack, the home of the Derby, Lifson took what he called a "circuitous" path. Originally a football player, the Iowa native thought he would end up playing football for Yale. "[That plan changed] my very first time coming down that hill with the hairpin turn coming up to the [College's] campus," Lifson said. "This place felt right, so I [applied] early decision and the rest is history."
While at the College, Lifson majored in history and played two years of football ("badly," he quipped). At the end of his sophomore year, he transitioned to rugby, playing three seasons for the Williams Rugby Football Club. Upon graduating, he knew that he wanted to stay on the East Coast but was not sure what he wanted to do; he eventually took a consulting job with Bain and Company in Boston.
Lifson did not stay in the consulting world for long, however. He attended graduate school at Northwestern, where he got his master's in journalism, and became a television reporter. The switch in careers brought him to Louisville, Ky., where he discovered his passion for horse racing.
"While I didn't grow up riding horses or even working with horses, I think the horse as an athlete is just an unbelievable animal," Lifson said. He described horse racing as an entirely different professional world: "The people in horse racing are very generous with their time, and with their knowledge… They want you to learn, and that's a pretty unique experience. For all those reasons, I fell in love with it."
Lifson took a job with the startup Television Games (TVG) Network, which he described as "the CNBC of horse racing," as an on-air host and analyst. Fully immersed in the sport, Lifson began his work for West Point five years later in 2004. Lifson's line of work requires him to attend public auctions, size up the competition and purchase the horses with the highest potential to perform.
"It's a little like the NFL combine," Lifson said. "The same thing kind of applies to horses. You go to these auctions, you evaluate the athletes and you pick out the ones that you think are going to be the best for your stable."
In some respects, buying and selling horses is similar to selling any other commodity in that large investments also bear large risks. Lifson warns, however, that those interested in buying a racehorse solely for the purpose of turning a profit should think twice. When it comes to looking for buyers, detecting a passion for the sport is key.
"If [buyers] are doing this for the 'right reasons,' meaning they love the sport or they're looking to take a major-league experiential escape from what they have in their lives: their jobs, their frustrations, their day-to-day kind of things they want to escape – that's a good reason [to buy a horse]," Lifson said. "A bad reason is that they come to you and say, 'I want to win the Kentucky Derby' … or 'I want to make a nice profit on buying a percentage or a piece of a racehorse.' Then you tell them to run like crazy away from you."
When it comes to acquiring a horse at a public auction, there are a few key things buyers look for. Indicators of a strong contender can be found in data and biomechanics, which is why Lifson and his team look at stride analysis scans, the horse's overall appearance (or "conformation") and lineage when considering a purchase. Still, even the most educated of decisions have a degree of ambiguity.
"You never know everything about horses. They can't talk," Lifson said. "So, you're constantly trying to second-guess yourself."
These limits to knowledge of a horse's potential may diminish over time, however, with expanding access to genetic information. Whether these approaches are too intrusive, however, remains up for debate.
"If we can really determine if there is a 'fast' gene, then I think blood and DNA analysis will be a part of the equation, but you've got to convince people that you can draw blood from these racehorses that are available for purchase at the auctions," Lifson said. With people interested in purchasing the horse in question, "taking blood … might be beyond the pale in terms of intrusiveness."
One of Lifson's main accomplishments at West Point was participating in the acquisition of 2017 Derby winner Always Dreaming.
"This was a unique deal, and something we have started to do a bunch more over the past couple of years," Lifson said. "This was a horse that was already racing, so we didn't go to the auctions and buy this horse. This was a horse that we bought because we have a lot of relationships with other top owners and trainers in the business."
His company then sold shares of the horse to clients interested in partially owning a potential Derby winner.
For Lifson, winning the Derby was an "out-of-body" experience. Watching the race at Churchill Downs, which he described as his home away from home, "Always Dreaming hit the top of the stretch … and sprinted away," Lifson said. "It looked like he was going to win, and my son Josh started jumping up and down, [saying,] 'Dad, we're gonna win the Derby! Dad, we're gonna win the Derby!' which you're never supposed to do. From the most meaningless of races to the Kentucky Derby, you're never supposed to say, 'You've got it.'"
Always Dreaming won regardless, and Lifson and his family were able to spend a few rare moments inside the Derby's storied Winner's Circle. "I wouldn't say it's the greatest thing that's happened to me because, very typically, the birth of your kids and their graduations and your wedding day – those are all the kinds of things that you put up there, but it's right below."
As far as the future of the sport is concerned, Lifson is interested in seeing how those within the industry can introduce horse racing to an even broader market using mobile technology. For now, however, the sport continues to be fairly unfamiliar to most.
"Every once in a while we poke our head out of the elective secret society we're a part of, typically during the triple crown part of the year," he said. "That's when the rest of the world gets a very small glimpse of how unbelievably fun and cool horse racing is."