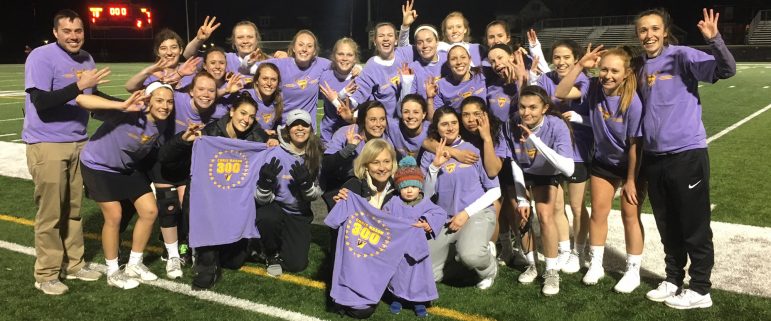 Long-time women's lacrosse head coach Chris Mason is travelling to Springfield, Mass., today to be inducted into the Western Mass. Lacrosse Hall of Fame.
Mason, who retired at the end of the 2016-17 season, coached women's lacrosse for 33 years. As a field hockey player, Mason won a bronze medal at the 1984 Summer Olympics. She also served as an assistant coach for field hockey at the College.
While Mason's career at Williams was unparalleled, her impact on Berkshire County was perhaps even greater. To understand why she – a coach at a small, rural liberal arts college – left such a lasting imprint on the Western Mass. lacrosse scene, it is necessary to look to her childhood in the Philadelphia suburbs.
When Mason was growing up in the 1960s, there were few opportunities for girls to play organized sports. "The boys could go play Little League Baseball or football or things like that, but the girls' option was to be a cheerleader for them," Mason recalled. Not one to stand on the sidelines, she would go out anyway and play games with her friends from the neighborhood.
Although girls could not participate in Little League, beginning in seventh grade, Mason could compete for her school. Because the fall season came around first in the school year, the first sport she played competitively was field hockey. "It was really exciting," Mason laughed. "I'd be in class bouncing off the walls, probably, because I remember not being able to sleep at night when I had a game the next day."
At Interboro High School in Prospect Park, Pa. – where she is now a member of the Hall of Fame – Mason was a three-sport athlete, lettering in field hockey, basketball and softball. Mason's high school, however, did not have a lacrosse team. It was not until Mason followed her older sister to Penn State to play field hockey that she took up the sport that she would later coach for 33 seasons at the College.
"Good decision," Mason joked.
When she graduated from Penn State in 1978, many colleges and universities were just starting to create full-time coaching positions for women. Mason took a part-time job at Boston University and helped guide its women's field hockey and lacrosse programs from club to varsity status.
Yet as the NCAA opened its doors to women's sports and created the now-familiar structure of three divisions, Mason began to think that she wanted to coach at a Div. III college. She liked that Div. III schools gave her the chance to coach both field hockey and lacrosse, and she appreciated that academics always came first.
Looking to apply for coaching positions, Mason, who was also a member of the U.S. women's national field hockey team during the time, found out about the job at Williams from teammate Leslie Milne '79. "When I got there, I just automatically loved the town," Mason said. "Loved the school, loved the people I met, loved the mountains."
Though the Purple Valley quickly won Mason over, the women that she worked with soon left an even stronger impression. When asked what stood out about her teams, Mason highlighted their work ethic and their contributions to game-planning, a very collaborative process under her leadership that always involved both student-athletes and coaches. "They were driven, and they were hard-working," Mason reflected. "They were obviously smart, and we could really work together and figure things out."
On the field, Mason's teams enjoyed an unprecedented run of success. The Ephs posted undefeated records in 1989 and 1996, placed second in the NCAA Championship in 1998 and 2000 and won a NESCAC title in 2010. She coached 34 All-Americans, including one National Offensive Player of the Year (Alana Teutonico Brock '98) and one National Defensive Player of the Year (Alyse Clayman '96).
However, Mason's induction into the Western Mass. Lacrosse Hall of Fame is a recognition of not only her achievements with the Ephs. As her daughters were getting older, Mason encountered the same problem that had delayed the start of her lacrosse career: Mount Greylock Regional School, the public middle and high school in Williamstown, Mass., did not have a lacrosse team at the time.
With a group of four other women, Mason set out to fix that.
"We had plenty of people to come and play right away," she said. Encouraged by the results in her school district, Mason then sought to grow the game across Berkshire County, where even in the early 2000s, very few of the public high schools had girls' lacrosse teams. "We helped the other schools in the county get it started," Mason said. "I would go and give clinics to them, meet the coaches."
Mason credited her family for inspiring her lifelong love of athletics. For many women who have played for her teams at the College and girls who have learned the sport of lacrosse throughout Berkshire County because of her tireless efforts, Mason has provided that same inspiration.