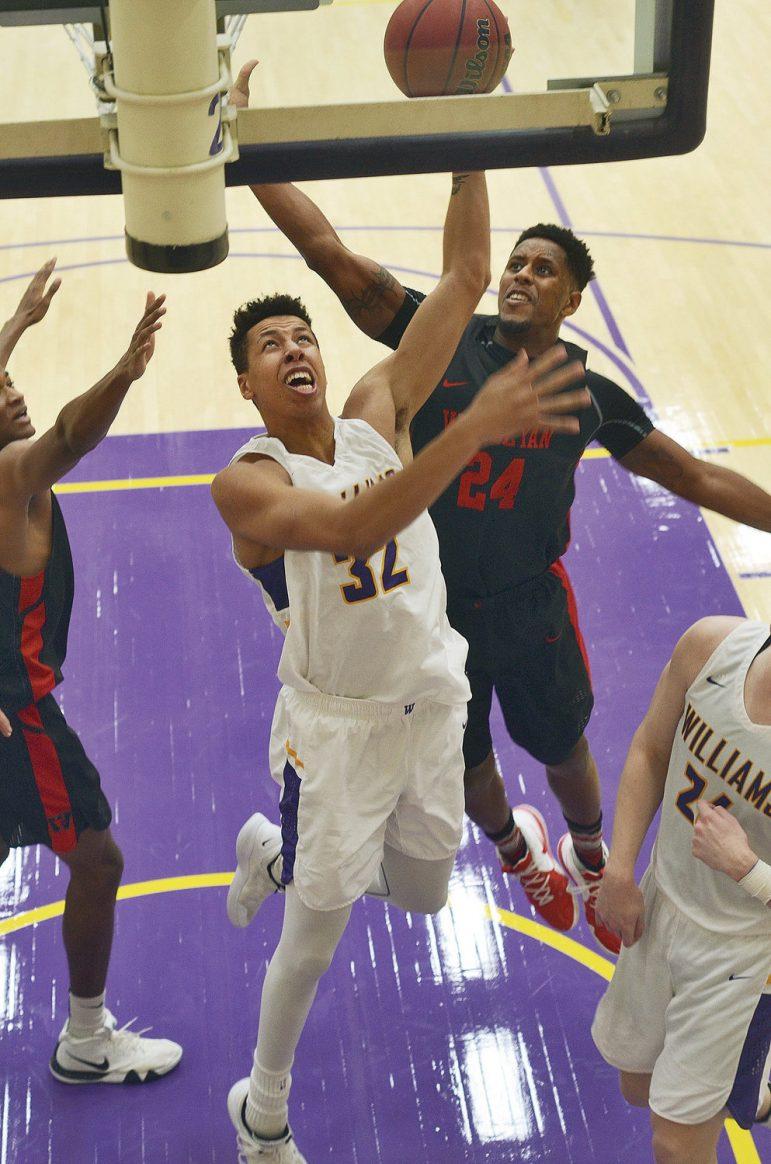 On a cloudy December evening in 2017, 300 fans piled into the Woodward Center as Westfield State hosted Williams in a non-conference matchup. All eyes from the Westfield State sidelines focused on Kyle Scadlock '19, the 6-foot-7 forward who helped lead Williams to an improbable Final Four run the year before. Averaging a NESCAC-leading 20.7 points and 9.5 rebounds six games into the season, Scadlock had quashed any doubts that he was the Ephs' go-to option.
Late in the first half, however, those same eyes were trained on No. 32 for a different reason. During a routine baseline out-of-bounds play, Scadlock took a bump while receiving the pass and crumpled to the ground in intense pain.
"I immediately started freaking out," Scadlock said. "I think deep down I knew that I had torn – I was thinking, 'Holy shit, this might have just happened again.' I remember screaming, and I was just so angry."
***
Scadlock didn't want to think about the last time he had felt his knee pop out of place, but the similarities between the two moments were too great to ignore. Three years earlier at Cleveland University School in Hunting Valley, Ohio, Scadlock was ready to spend the last year of high school playing with some of his closest friends.
"[My teammates and I] just spent so much time together," he recalled. "So for me, going into my senior year, I was so excited because I knew, one, I was going to be the best player on the team and I was going to be able to have a lot of fun and have a lot of freedom. But also … it was the last year I get to play basketball with my best friends."
During the first scrimmage of the year, Scadlock had a scare after catching a pass, getting bumped and landing awkwardly on the floor. After the initial pain subsided, the forward brushed it off as just a temporarily-displaced kneecap. "I was telling my coach, 'I'm good,' he said. "I remember getting up and running around. And I was worried because that was a lot of pain, and you know – what if I tore a ligament? And so I [said to myself], 'Well, I'll know if I can't cut or jump.' So I was running and cutting and jumping on the sideline."
But during the bus ride home, Scadlock felt his knee swelling and stiffening enough that he went to get an MRI.
Several nerve-wracking days later, the results came in, and his hopes and dreams of competing in his final high school season vanished. "My little brother was on the team that year, which was going to be so cool because I'd get to play with him," he said. "And we were in the car driving to practice, and my mom called me. And she immediately started crying, and I was like, 'Okay, so what is it?' And she said, 'The doctor said you tore your ACL.' And then I told my brother. It was a silent car ride."
Still numb with the news, Scadlock walked into the training room and broke down in front of his then-head coach, Terry Lipford. "I remember I was just crying and crying," he recounted. "And [Lipford] said to me, 'Hey, you still have a lot of basketball to play in your life. We're gonna be okay.'"
Lipford wasn't wrong. On Nov. 20, 2015 – after nine exhausting months of rehab – Scadlock debuted as an Eph, scoring 14 points in 18 minutes off the bench. Late in the game, he threw down an emphatic two-handed dunk to put the Ephs up five, proving not only to the crowd but also to himself that he was as explosive and athletic as ever.
It took only three games for Scadlock to crack the starting lineup, where he would remain for the rest of the season. By his sophomore year, Scadlock's knee injury was long behind him. The Ephs put together an inspiring NCAA Final Four run, and Scadlock saw the opportunity to take on a larger offensive role, averaging 15.1 points during the tournament.
"Kyle was playing at just an unbelievable level, with a lot of confidence and making plays on both ends of the floor," Eph head coach Kevin App said. "And one, our success at the end of that year, plus his confidence in stringing 10 just really, really great games together, I think propelled him into the summer to put in the time to get even better. His teammates saw that, and he came back junior year at an incredibly high level, leading us in scoring and rebounding before he got injured."
***
Back at Westfield State on that December evening, Scadlock limped off the court and boarded the bus home. It was a win on the scoreboard, but the team atmosphere was somber. Scadlock sat icing his knee on the bus ride back to Williamstown with a growing fear that it was a severe injury – a feeling eerily reminiscent of that silent ride back from the high school scrimmage.
A few days after an MRI, Scadlock was limping through the halls of Lasell Gym when his phone buzzed in his pocket. He picked up and heard his doctor going over the results. Scadlock tried to listen, but two words kept echoing in his mind – two words that ended his season three years ago and would end his season once again. Torn ACL. Scadlock hung up and laid down by the stairs of Lansing Chapman Rink, staring at the ceiling. At that moment, he could not have felt more alone, with only the hum of the nearby vending machines to comfort him on the cold cement.
"I remember I was crying myself to sleep for a week straight, and it was just really rough at first," Scadlock said. "Before you get surgery, and you're in that time when you don't have anything to work on or you can't make yourself better, is really devastating."
Still lying by the stairs, Scadlock tried to come to terms with the reality that his goal now was not to advance past the Final Four, but instead to get through another nine months of grueling physical therapy.
"There was never a moment where I didn't want to play basketball again, or that this was too much," he said. "I think the second time was like, 'Holy shit, that was so much rehab and I had to work so hard to get back.' I was just like, 'I don't know if I'm ready to handle that mentally and emotionally again.' It's just such a grind. You have to get up every day and rehab multiple times a day. I was overwhelmed by knowing how much I'm going to have to go through these next nine months – even though I knew I could get through it."
***
While Scadlock dealt with his personal struggles, the team also had to find a way to fill a void of 20 points and 10 boards every night. "I think we all realized that when you lose a player of Kyle's caliber, you all have to step up individually," James Heskett '19 said. "We had to come together and find time for a new identity and have some people step up… We grew a lot as a team from that." In the absence of Scadlock, Heskett would put together an All-American season, and Bobby Casey '19 would earn All-Northeast honors en route to a NESCAC title and a second-round NCAA tournament appearance.
While the team strung together huge victories night after night, Scadlock found himself at the end of the bench grappling with mixed emotions. "It's kind of like, 'Well damn, if I come back next year, will I mess this up?'" he wondered. "That's when a lot of self-doubt creeps in… When we lost, I was like, 'Okay, I can come back and help this team get to the next level.' But when you're winning, you aren't thinking about that as much. And yeah, I was a little bit nervous even though I knew that I had been a successful player here. This team is so good. I don't want to mess anything up."
In the next three months, the Ephs would rattle off 17 wins in 22 games. Sitting at the end of the bench practice after practice and game after game, Scadlock found other ways to contribute. "He was one of those guys that admits the struggles he was going through and really stayed positive," Heskett recalled. During practices, Scadlock stayed engaged in the team's strategy, pointing out the weaknesses of the opposing defense and analyzing particular plays as his teammates came off the floor.
Casey specifically recalls the text message Scadlock sent to the team after learning of his injury. Addressed to the "Family," it lamented the circumstances but also read, "I wanted to tell you how excited I am to still be a part of all of the great things this group is going to accomplish and let you all know I'm gonna be each and every one of your biggest fans. Happy to be a permanent member of the bench squad! Let's keep this thing rolling tomorrow with another W."
The men's run of success peaked in a thrilling February victory over Wesleyan as the Ephs took home the NESCAC Championship for the first time since 2010. Yet, as the team celebrated the win on the court and in the locker room, Scadlock was in the midst of processing difficult, conflicting emotions. "I vividly remember just sitting kind of outside the locker room at Amherst when we won the NESCAC Championship, and everyone was celebrating in the locker room," he said. "And I just couldn't really bring myself to go in the locker room because I didn't feel like I was a part of it in the same way, which sucked."
Scadlock thought back to all the days he spent alone in physical therapy and rehab. All the days he sat on the bench while his teammates put up shots and ran through drills. All the days he wished he could be out there shooting and dribbling.
"And as much as I was happy that we won and happy for the team, I just knew I just didn't have the heart to celebrate in the same way because I wasn't out there playing with them," Scadlock said. "That was pretty difficult to handle."
***
Fast forward to the present. Scadlock warms up against Salem State on Nov. 17 – his first game in 11 months. He looks over at the Salem State sideline and catches glances directed at not only him, but Heskett and Casey as well. He comes out aggressively, knocking down a couple 3s and earning 17 free-throw attempts. Playing 30 minutes, Scadlock would lead the team with 26 points, putting his name back on the map.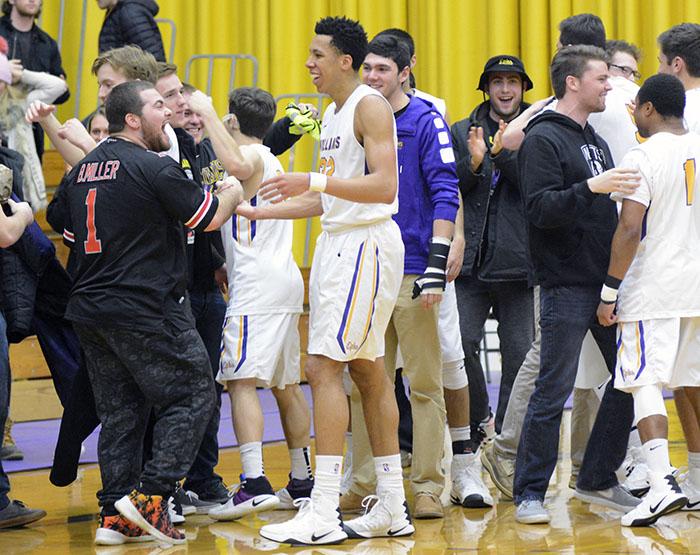 This year, there's a different feeling in the air. The third-ranked Ephs strut out a starting five that includes a trio of 1000-point scorers (Casey, Heskett and Scadlock) and have perhaps one of the tallest rosters in Div. III basketball. They opened the season with 15 straight wins, a school record, before dropping close games to Amherst on Jan. 16 and Middlebury on Jan. 19. When "national champion" is mentioned, Scadlock immediately replies, "We don't shy away. That's the goal, and that's where we want to end our season."
Something else is different as well. When the phone rings, Scadlock is no longer afraid of hearing those two dreaded words: Torn ACL. He's experienced it. He's recovered from it. And now he's ready to move on.