Suiyi Tang '20 discusses debut novel, 'American Symphony'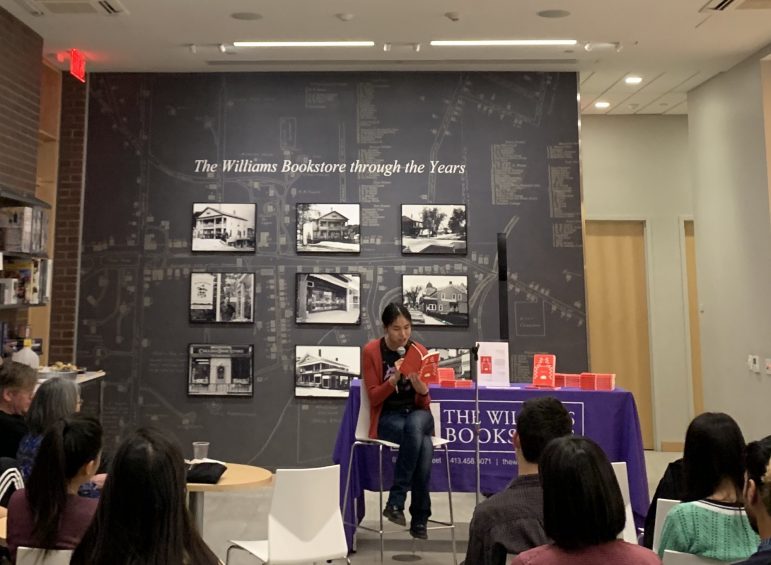 Among all the papers, GLOW posts and take-homes that students have to write, one found time to write a novel as well: On Oct. 7, Suiyi Tang '20 published her debut novel, American Symphony: Other White Lies.
This novel is about a girl who goes by the name S. She has disappeared, leaving behind only journals, letters, unpublished pieces and a small chapbook titled "American Symphony." Her friend, who also goes by S, compiles all these writings to form a body of text. In the process, she tries to uncover where S went.
"The reader undergoes a similar experience as the editor S," Tang said. "They track the evolution of S's friend, and follow [her] until her last days."
The novel is the compilation of S's writings, spanning a range of genres, from stories in the first and third person to a short play. As metafiction, Tang said, the novel casts doubt on the identity of the author. It has received praise from Asian American writers, including K-Ming Chang and Grace Shuyi Liew. The cover illustration was done by Tang's friend Dawn Wu '18.
Tang started writing the novel the summer after her sophomore year at Williams. She continued writing it while taking the next year off. During Tang's year away, she traveled on a Wilmers fellowship to Singapore and backpacked around Europe for four months. Throughout this time, she read the works of many modernist, surrealist and arte povera (Italian for "poor art") writers, as well as 20th-century Black European thinkers. Writers and thinkers including Frantz Fanon, Kathy Acker, Theresa Hak Kyung Cha and Jenny Zhang also influenced Tang.
Tang described how the process of writing and editing the book was spread out over so many months that it did not interfere greatly with her school work. "My academic interests always inform my creative work," Tang said. She finished the book and sold it in the spring of 2018. Her advisor, Professor of American Studies Dorothy Wang, helped her with the process.
"American Symphony takes a torch to the myths of the ʻmodel minority,' the available female ʻOriental' sex object and the technically-brilliant-but-not-creative ʻAsian' while also ripping through our raced and gendered lies undergirding our ideas of nation and aesthetics," Wang said.
Tang, who immigrated to the United States from China in 2004, identified the titular use of "American" as sardonic. While writing, Tang was thinking about "the kinds of alienation that I face as a queer, feminine Asian American subject, the longer arc of both intellectual and cultural history that I am a part of, [and] the minority American literature that I read while studying at Williams, written by women of color." While the book is not autobiographical, she noted that both her first name and her protagonist's names begin with "S."
In her introduction on the publisher's page, Tang cites Toni Morrison's 1993 Nobel Prize acceptance speech. "Language alone is meditation," says Morrison. "Narrative is radical, creating us at the very moment it is being created." This idea resonated with Tang. "For me, language is mediation, not just meditation," she said. "The stories we tell ourselves inform ourselves."
Tang said that while women writers are expected to be "true, confessional and emotional," American Symphony challenges these expectations. The narrator is unreliable and ultimately disappears. "It is not just an account of our lives but pushing the boundaries of what our lives could look like," Tang said.
On the publisher's page, Tang elaborates on her initial goals in the writing process: "I began this project with the desire of exploring the inscrutable self, created and creating – the racialized author and her body/text – which line the scopophilic corridor of the ʻconfessional.'"
Tang hopes to continue publishing her work, which includes forthcoming publications in various literary magazines; additionally, Tang is writing a thesis on the speculative novel Babel-17 by Samuel Delaney and the literary erotica Fantasian by Larissa Pham.
Although Tang is still writing now, she is not working on any new books, instead mostly on pieces in the essay format and creative nonfiction. "I remain intensely interested in … self-narration which looks beyond the echo chamber of solipsism to incorporate historical inheritances and ancestral cosmologies," Tang said. "The question … is equally who do I write for, and what can writing do?"
American Symphony: Other White Lies is available on Amazon, at the Williams Bookstore, Barnes & Noble, Powell's Books in Portland, Oregon, and independent bookstores across the country.