Alumni qualify for U.S. Marathon Olympic trials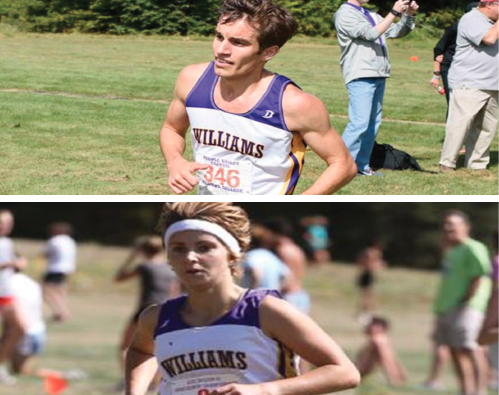 On Oct. 13, at the Chicago Marathon, Annie Dear '13 and Bijan Mazaheri '16 qualified for the United States Olympic Marathon Trials.
It was the second marathon for both runners, and Dear completed the race in 2:41:52, a personal record well below the 2:45 qualifying mark for women. She was 34th among women and 384th overall, while Mazaheri finished 28th among men and 29th overall. His personal-best finish of 2:15:26 was under the 2:19 qualifying time for men.
The trials will take place in Atlanta on Feb. 29. Runners' World Magazine predicts that 600 runners will participate, and the top three male and top three female finishers will qualify for the Tokyo games, which begin on July 24.
For the past five years, Dear has worked for Social Finance, a non-profit that raises funds for social programs and interventions, in San Francisco. She balances her career and training, maintaining a consistent running routine and increasing her mileage three months prior to marathon race days.
Dear began running in elementary youth clubs and participated in a variety of sports until high school, when she elected to focus on cross country and track. She was a member of both teams at the College but was plagued by injuries and unable to compete as a junior and senior. Nonetheless, she appreciated the inclusive team environment and how the coaches "fostered joy in running as a broad life pursuit."
Now, Dear keeps healthy by prioritizing sleep and mentioned that overcoming her injuries has made her appreciate running more. "What's most important to me is enjoying being outside and being connected to nature, friends and family," she said. She also loves to compete against herself by setting and meeting goals.
Mazaheri, who is currently pursuing a Ph.D. in computing and mathematical sciences at CalTech, also enjoys running outdoors. He often runs along mountain trails near Los Angeles. He appreciates trail running because it "speeds up a daylong hike, like watching YouTube on 1.5 speed."
Despite his love of the sport and recent success, he only began running competitively in 11th grade. He immediately excelled and participated in both cross country and track at the College. He formed a close bond with head coach Pete Farwell '73, and the two continue to exchange emails. "It's nice to have him guiding me for the past seven years of my running career," Mazaheri said.
Currently, Mazaheri serves as an assistant coach for the CalTech cross country team. "It is nice to be in mentorship role, to give back to the running community that took me in and helped me become who I am," he said.
Last May, Mazaheri ran his first marathon in Ottawa. He finished in 2:22:10 but mentioned that the warm, humid conditions made the race challenging. Dear also encountered challenges during her first marathon in Eugene, Oregon, in spring 2018. "I fell apart for the last two miles," she shared. "It was a powerful lesson." Nevertheless, she clocked a time of 2:46:40.
To avoid fatigue in Chicago, she began increasing her mileage and intensity three months before the race. "The buildup [was] pretty close to perfect," she said. At the race, she "felt awesome from the start."
"I spent most of the race trying to both channel and temper my excitement and genuinely had fun during the race," she said. "It was a nine out of 10 day, and I'm a hard grader. That doesn't happen all the time." Mazaheri added that the temperature, which hovered in the mid-40s, was ideal for racing. He also Skyped with his cross country teammates, who had gathered in Williamstown for their alumni weekend, before the race.
Mazaheri has no specific goal for the trials beyond "running well," but he looks forward to competing alongside professional marathoners. "I never expected as a high schooler starting running that I would be lining up shoulder to shoulder with them nine years later," he said.
Dear has not set her plans yet, but she intends to aim for a particular place. "Chicago was so dependent on time," she said. "It was so binary. The trials will be more of a true competition." She will also need to prepare for the Atlanta course, which includes far more hills than the Chicago route. When discussing the possibility of finishing in the top three at Atlanta and representing the United States at the Olympics, she said, "I'm such a realist — I couldn't even tell you what it would mean. It would be beyond my wildest dreams."