Captains' Corner: Mia Weinland '19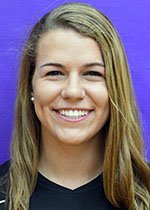 Team: Women's Volleyball
Hometown: Tokyo, Japan
Residence: 63 Hoxsey
Major: Political Economy
Snack bar order: Nachos with chicken, sun-dried tomatoes, and pesto sauce
What sports did you play as a child?
I started playing volleyball at the end of middle school. But I played basketball and ran track and field throughout high school. Then I came to college wanting to play volleyball. I did the recruiting process a little bit later than most people in the States purely because the coaches couldn't fly out to Tokyo to come watch me play.
How do you think you have progressed as a player in these four years on the team?
I think I've improved immensely. I came in with such a low volleyball I.Q. compared to my teammates. The joke was that I remember sitting in [head coach Christi Kelsey's] office during one of the first weeks of preseason and her literally having to explain to me how the rotations of volleyball worked and where I was supposed to stand on the court. I didn't know because it was pretty low-grade volleyball at my high school compared to the college scene. But it's been a lot of fun and now I feel way more comfortable playing and talking about the rules of volleyball [laughs].
Volleyball is viewed as a very team-oriented sport — what are your favorite moments with the team so far?
We have an incredibly close-knit group of girls. We have 16 people and everyone is very good friends with each other. It's been very fun to see all these relationships developing over the past few weeks. And in terms of my four years here, my class in particular has done a lot of things together like going on trips and excursions and things like that. It's a relationship that definitely transcends the volleyball court.
What are some of your personal and team goals for the season?
Personally, I want to leave with no regrets — I'm definitely not playing professional volleyball, so this is going to be the last of my athletic career. So, just have fun! And for our team, we have so much potential and talent that I know we can do well, so my goal is to unlock that potential and perform to the standard that we know we can.
Given that you are from Japan, how did you find out about the College?
My great-grandmother was actually at Sweetwood, the nursing home which is on the way to The Store on Five Corners. So we would come up there and visit her and come to the College to play frisbee when she was napping [laughs]. And my grandfather also went here, so he was definitely pushing for the Ephs.
Did you find there was a culture shock when you arrived in the States?
Most of my extended family is American, so we've been coming to the states every summer — I've never actually lived in the States besides for college, but my family culturally is pretty American, so it wasn't like a huge culture shock. The difference from going from Tokyo — a metropolitan that's massive and busy and has public transportation — to Williamstown was a little bit of a shock, but most people get that.
Your teammate and tri-captain Tess Richman '19 went to Tokyo with you this summer. How did you and Tess spend your time there?
Tess worked in a brewery there and I was doing a fellowship and working at a refugee organization.
You and Tess also went to the Yale Circle for Women Summit two years ago. What was that experience like?
The Circle of Women is a national organization that has chapters at a bunch of universities, and the Yale chapter hosted a summit for the support of the organization and the support of the knowledge of girl's education. They provide funds and support for projects in developing countries that support girl's education. The Williams Chapter that we started last year actually started a school last year in Pakistan, contributing heavily to the STEM education and computer capabilities of Pakistani girls and young women. It's really cool.
What's the dynamic with the other two captains, Tess Richman '19 and Ally Ostrow '19?
Our class came in super close right from the get-go, with a lot of love and admiration for each other. And so I think between the three of us, there's a lot of respect and we've been close friends for three-plus years now. It's been fun and a great dynamic.
What is your relationship with head Coach Kelsey like?
She's awesome. She has sort of stepped up and played this role of parent, as I have been orphaned in the United States because my parents don't live here. So [Coach Kelsey] taught me how to drive — she was my sponsor and bravely sat in the back seat of the car while I took my driver's test. And I failed that one [laughs]. But she was incredibly supportive!