Ephelia Uncensored: Jim Dunn '10 reflects on ESPN appearance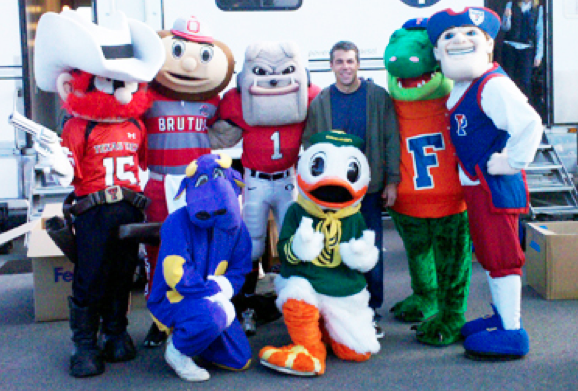 In 2007, ESPN's College Gameday came to campus for the only Div. III game ever covered on the show, football's 122nd match-up against rival Amherst. Celebrated Gameday host Lee Corso predicted a win for the Ephs, and he was proven right as the men defeated the Mammoths 20-0. In 2010, when asked to choose his favorite mascots to be included in a commercial for his birthday, Corso, who became fond of Ephelia while on campus, included the purple cow.
Meanwhile, Jim Dunn '10 was on campus, building up Eph spirit for basketball games. "He personally took on the challenge of making Chandler Gym a home court happening for Eph men's hoops," Sports Information Director Dick Quinn said. Therefore, when Quinn had to decide whom to send out to California to film the commercial, Dunn was the natural choice.
"There is no one person who had the duty to wear the cow suit, so when ESPN called, I tried to think of the student who was the most enthusiastic Eph fan," said Quinn.
When he called Dunn to ask if he would want to fly to Los Angeles to be in the SportsCenter commercial, Dunn immediately accepted and he and Ephelia's outfit were shipped on a flight across the country.
"It was a little embarrassing to show up in a piece of crap costume among all the Div. I mascots, [but] being able to represent Williams there was amazing," Dunn recalled. While on set, he wore two unmatched gloves and his Chuck Taylors, as there were no feet included in the costume. "If there are any alums reading, maybe we can toss in a couple dollars for our mascot outfit," he joked.
The purple cow costume was a far cry from the more professional costumes of Div. I schools in attendance. "Our mascot boxes were laid out for us," Dunn said. "Mine was 10 times smaller than everyone else's; a shoebox compared to television boxes. The other mascots made fun of me."
Dunn remained unabashedly proud to represent Ephelia as he stepped into the costume, countering their jokes with "It's not the size of the mascot, it's how you wear it." Despite his less impressive costume, Dunn embodied the extraordinary school spirit he brought to basketball games on campus. He said that he "loved being able to stretch the limelight of 2007 [from] College Gameday's visit to Williams."
While the experience was fun and exciting for Dunn personally, he was also incredibly honored to have the opportunity to travel as Ephelia. "It was great to be in LA because I got Shake Shack, and as a sports fanatic, it was really cool to be on the set and with the host of College Gameday," he said.
"The effect of it all was overwhelming and the whole time I had to keep telling myself that I was actually getting filmed for a commercial for ESPN," he said. "I was also praying that each take would be the last, so that there wouldn't be a chance of them realizing that they didn't actually want the cow or discovering that my costume had too much duct tape and kick me off the set."
The popular commercial aired the following August, with the purple cow in a starring role. While "the only mascot that heard of Williams College was the Penn Quaker," Dunn recognized that it was a big deal to have the Ephs represented among Div. I team mascots.
This experience reinforced Dunn's belief in the importance of Eph spirit and pride. "Sometimes, it is easy to just go to games and be social, but it is also important to stay engaged and show support as much as you can," he said. "The athletes really draw from the energy in the fields and in the gymnasium."
While Dunn, who is still an avid Eph fan, only had the chance to be Ephelia for one weekend, it provided him with "a lifetime of stories" and put the purple cow on the national stage.