Hot Sauce Club brings the heat at inaugural event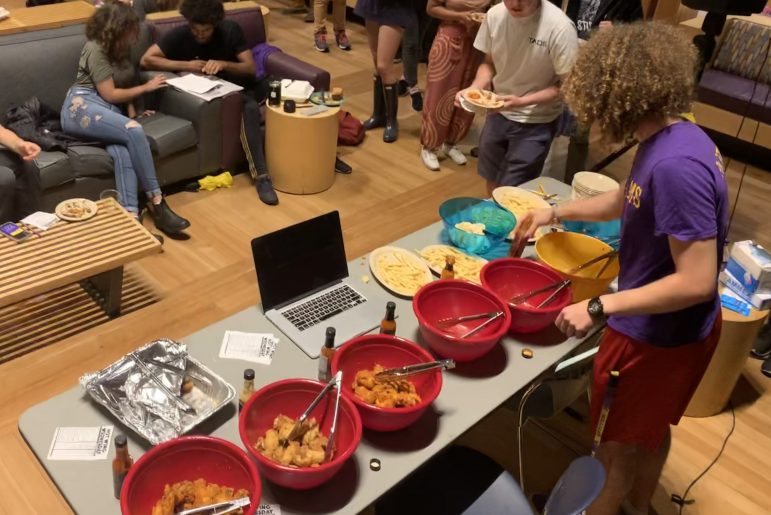 Hot sauces of all varieties are ubiquitous at the College. In fact, an entire shelf is dedicated to the condiment in Whitmans'. Huy Fong Foods' iconic Sriracha sauce is a hot commodity; spice-seeking dining-hall-goers frequently drown their pizza in the sauce. And though they may not attract a rabid crowd like pasta bowls do, '82 Grill's hot wings have a healthy following at the College.
It is safe to say that hot sauce is thriving on campus. But in the past, lovers of capsaicin at the College have not had an outlet to share their passion. Heat-heads have had to settle for casual discussions about sauces with their friends, who may or may not possess the same level of devotion to the condiment.
To bring students together over a shared love of spice, Tyler Johnson '21 and Lance Ledet '21 have created the Hot Sauce Club. The club held its inaugural meeting on Wednesday, Oct. 16, in Baxter Hall.
"You know, I think we were at dinner one day, and I was like, 'Tyler, do you like hot sauce?' and he was like, 'Yeah,' and I was like, 'Imagine a hot sauce event, a club,'" Ledet said at the club's first gathering.
Ledet said he sees the club as more than just a hot sauce forum; he hopes that it will provide opportunities for students to socialize and take a break from their studies.
"We're hoping it's gonna be an experience," he said. "A monthly time to just take a break from whatever you're doing, come try and burn your mouth off… [and] be a human for a second… put the problem sets away, close the laptop, take a little bit of time, eat some wings and enjoy the Williams community," he said.
The club's first event drew a remarkable crowd. Around 50 students packed into Baxter Hall, lining up to taste wings, tortilla chips and vegan nuggets doused in various club-provided sauces. Johnson and Ledet encouraged attendees to discuss the sauces and fill out ballots to rank their favorites.
The club provided eight sauces at the event, and attendees tasted them in ascending order of spiciness. The seventh sauce, Torchbearer Sauces' "Garlic Reaper," received the most praise with an average score of 7.2 out of 10.
In organizing the event, Ledet and Johnson drew inspiration from Hot Ones, a YouTube interview series in which celebrities answer questions while chowing down on spicy wings.
"We both love [Hot Ones]," Johnson said. "We do have the Hot Ones hot sauces coming in next month… This [club] comes a lot from [Hot Ones]," he said.
The enthusiastic crowd demonstrated the demand for hot-sauce-based events at the College. Some attendees yelled with excitement as Johnson and Ledet introduced the event, and the line to try the sauces quickly stretched to cover almost the entirety of Baxter Hall.
The event attracted attendees with various levels of experience with intense spice. Some, like Marshall Borrus '20, were less accustomed to the world of extreme hot sauce. "I don't think I'm a hot sauce enthusiast, but I really like Hot Ones," Borrus said. "I really like wings, but I don't do well with hot stuff… I've got to wake up early for [an] interview tomorrow—I'm really afraid that [Sauces] Six through Eight will destroy me."
Others, however, were more eager to try the most challenging sauces. "I like spice because I grew up with… spicy food," said Senjuti Gayen '23. "Williams doesn't have that here, so I was like, 'Oh, this'll be a good experience'… But this is pretty tame so far… I'm gonna go until my mouth is burning, like falling-off level."
Johnson and Ledet are planning on holding more events in the near future. "We plan on having our next Hot Wing Wednesday at the same time and place on Nov. 13," Ledet said. "If people want to get involved in the sauce selection process, they can look in Daily Messages or contact myself or Tyler Johnson to learn ways to get involved."