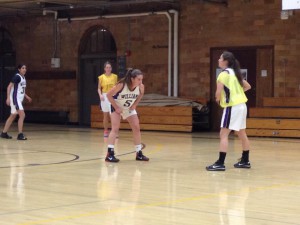 When Athletic Director Lisa Melendy came to the College in the mid-1980s, junior varsity (JV) teams were a fixture of athletic departments across the country. When Melendy coached the JV women's lacrosse team 25 years ago, she could often field three teams on a game day, splitting the group up into shifts to give all the women playing time. However, after decades of decline in JV sports due to dwindling student participation, the College now only has a fraction of the teams it once had. "That was the mid-90s," she said. "And now we can't even get enough people on a bus to go to a game. It's changed so dramatically."
Currently, only three JV teams remain: men's JV soccer, men's JV basketball and women's JV basketball. This fall, the longstanding women's JV soccer program was converted into a physical education class, after years of difficulties with participation and finding other teams to compete against. The women's JV lacrosse team underwent the same transition last spring, but was ultimately cancelled after receiving no sign-ups. There are no plans to bring back the program this spring, Melendy said.
These changes are indicative of a broader trend in collegiate athletics, Melendy said. Many of the College's peer institutions have ended their JV programs in the past decade, as participation levels and athletic department budgeting for JV teams decreased. Middlebury cancelled all of their JV teams earlier this fall, "amid concerns over a lack of scheduled games and new NCAA sports medicine guidelines that had put a strain on athletic trainers" (The Middlebury Campus, "The end of JV sports," 9/19/19).
JV programs have often been one of the first cut expenses within athletic departments during times of economic downturn. This, Melendy said, is something administrators at the College have avoided. "When we've hit budgetary crises, we try to hold onto our JV teams," she said. "We kept trying to increase participation, and reduce other things when we had to reduce budgets."
Thus, the transition away from JV teams is the product of multiple changes both within the College and in the broader world of collegiate athletics. "We could just not make those teams work, both in terms of participation and opponents," Melendy said. "It is a two-sided thing."
While the athletic department has made efforts to regain higher rates of participation, it has become increasingly difficult to field JV teams. For women's ice hockey coach Meghan Gillis, who coached women's JV soccer for seven years and now runs the PE class, this ultimately led to the adaptation of the PE class. "There is just less participation now than there used to be," she said. "It's harder to get a consistent, large-enough group to practice each time."
The College's JV program has, in the past, included teams such as men's JV lacrosse, men's and women's JV squash and JV field hockey. JV field hockey was cancelled four years ago, after a prolonged period of decline in participation. "[The team] didn't play any games for three years, because the other team would cancel or we wouldn't have enough people show up," Melendy said. "The same thing happened with women's soccer and lacrosse."
This decrease is, in part, a result of the change in student population that has occurred on campuses in recent decades, Melendy said. "We recruit more broadly now, for diversity of all kinds and for diversity of experience," she explained. "The student body looks different than it did. I think we have fewer students for whom that was a central part of their high school experience. They did a lot of other things."
The specialization of collegiate athletes has also contributed to this trend, as more Div. III athletes focus solely on one sport rather than participating on many different teams. "Now that students are now so sports-specialized, they aren't interested in playing a second sport," Melendy said. While JV sports used to be a stepping stone to varsity teams, it has become increasingly difficult and rare for student-athletes to walk on to varsity-level teams. "In the past, you could come and learn a sport at the College [and play at the JV and varsity levels]," Melendy said. "That doesn't happen anymore."
Difficulties in finding other teams to compete against have also hindered the College's JV program in recent years. Until the early 2000s, JV teams competed against other teams in the NESCAC, often travelling with their varsity counterparts. More recently, they have competed against nearby private high schools. As more and more of high school athletes become highly competitive, it has become challenging for JV teams to compete against opponents who will soon be playing at the varsity level. Women's JV soccer's cancellation comes after years of trying to find teams to play against, according to Gillis. "It's hard to keep the program going if there's no one to play," Gillis said. "We tried to get around that as long as we could, by playing high schools and local community colleges."
The transformation of JV teams to PE courses is one solution that Gillis and Melendy hope will help preserve opportunities for students to play. "We did our best to make the best of the situation," Gillis said. Ana María Picó '22, who played on the JV soccer team last year and is now part of the PE class, said the change had been beneficial. "I believe it hasn't truly changed the overarching dynamic," she said. "If anything, I believe it has made the group bigger [because] now we have girls who need PE credits in addition to those who enjoy soccer and want to keep playing it."
Changes in form from JV teams to PE classes may not be a complete cancellation of the program, but it alters the players' access to athletic department resources. While JV teams can receive treatment from athletic trainers and the sports medicine department, PE classes can not. For Roman Ruiz '22, a member of men's JV soccer, the training staff has been an important resource. "The trainers are definitely a big help, since we've had a few players get injured during games this season," Ruiz said.
There are further drawbacks to eliminating traditional JV teams, Melendy said. JV teams have historically provided students an opportunity to play competitive sports without committing to a varsity-level team. This is something that attracted Ruiz to the JV format. "I joined JV soccer because I wanted to have the competitive feeling of being on an organized team, without having to dedicate as much time as varsity players do," Ruiz said. "I'm always happy to meet some friends and have a small game, but playing against serious opponents while wearing the Williams jersey gives the game a different level of excitement."
As JV teams become rarer, fewer students will have access to the experience of playing on a team at the College. "The lessons that you get from being on an athletic team, which I think are valuable and worthwhile, fewer students get to have," Melendy said. "That's for sure the downside."