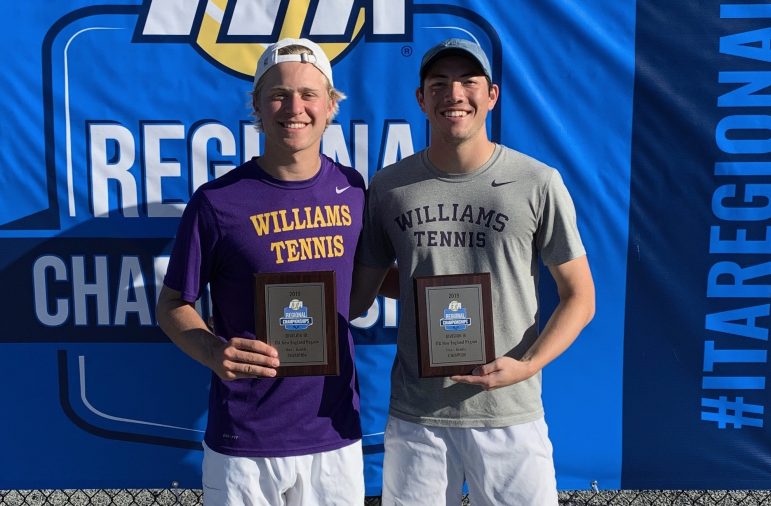 On Sept. 29, men's tennis players Peter Frelinghuysen '22 and Alex Taylor '20 defeated Tufts duo Boris Sorkin and Josh Belandres in a heated finals match to secure the doubles title in the Intercollegiate Tennis Association's Men's Div. III New England Regional Championship.
Frelinghuysen and Taylor were seeded first out of the 32 pairs from 20 different colleges competing in doubles play. They defeated duos from Brandeis and Wesleyan in the tournament's first and second rounds respectively, to advance to the quarterfinals.
Frelinghuysen and Taylor took on Amherst duo Damien Ruparel and Marek Michulka in a close victory with a final score of 8-7 (4). The match ended with a tie-breaker, in which the Ephs topped the Mammoths 7-4.
"I had a lot of fun competing against the Amherst team," Taylor said. "One, they're our biggest rival. But two, we're also pretty friendly with that team, so there was good banter going on between the two camps on the court. It was a really high level doubles and it was just a lot of fun."
After clinching a win against the Amherst pair, Frelinghuysen and Taylor played another intense match in the semifinals against the other Eph duo competing, Arturo Kam '21 and Ananth Raghavan '20. Even though it was a high-stakes match that would ultimately decide which pair would advance to the coveted finals bracket, it was reminiscent of the practice matches that they had previously played against Frelinghuysen and Taylor.
"It just felt like a much more intense practice match," Taylor said. "[Interim head coach Brian Grodecki '17] didn't coach either of us, so we were just out there, by ourselves, duking it out, as per usual."
Grodecki, who was captain of the men's team and doubles partner of then-first-year Taylor in 2017, watched from off-court. "It's nice knowing that the team is taking ownership and that I can trust them to bring great energy no matter who they are playing [against]," he said.
Before their semifinal match against Kam and Raghavan, the Frelinghuysen-Taylor pair had played them once before during practice this year, losing in a tie-breaker.
"We lost in a tie-breaker [against Kam and Raghavan]," Frelinghuysen said. "We lose a lot of practice matches. We'll drop the level occasionally in practice accidentally, but we always dial it up for the matches."
"When the match has very high stakes, the focus is automatically turned up to a 10," Taylor added.
After defeating their teammates in a 8-6 game, Frelinghuysen and Taylor moved on to their final match against Tufts duo Sorkin and Belandres. This match was their toughest in the competition, they said, especially after playing for three days and initially giving up the first set to the Tufts pair. Sorkin, Frelinghuysen explained, is one of the top players in the NESCAC and in the top five in the country for Div. III.
"[Sorkin] is a really high-level player," Frelinghuysen explained. "He won not only the regional singles this year and last year, but he also won regional fall nationals last year."
"It was also a late afternoon on a Sunday after playing eight matches on the weekend, so everyone was pretty exhausted physically and mentally," he continued. "They were a super tough team. They took the first set, which is always tough [because] being down a set [means that] if you lose a game it could be over. But we were able to get back on track and take it home."
Both Taylor and Frelinghuysen attribute the calmness and composure that they maintained, and thus their ability to achieve the victory, to the guidance of Grodecki.
"Honestly, I'd give a lot of credit to Coach Grodecki because the whole time he was very calm and very formulaic about our plan," Taylor said. "[He] took our minds off of what could have been, put them back to where we are right now and what the next step is in our plan of action.It kept us very focused."
Frelinghuysen also emphasized the importance of focusing on the basics of serving and returning the first balls when it comes to being consistent against skilled opponents.
"Those few shots really dictate the point," he said. "So I think staying grounded and just focusing on that was huge for us. [We] also always have this theme where if we're down, whether it's in a game or in a match, [we] kind of just build one point at a time, because it's easy to get lost thinking about the big hill you have to climb but if you think just step by step, it's much easier."
While Frelinghuysen and Taylor continue to celebrate their hard-earned doubles championship, they are already preparing to take to the court once again during their spring season.
"The spring season is when the team can go to nationals, play [other teams in the] NESCAC and have a chance to win that," Taylor said. "The things that we value as a team are much more prevalent in the spring, so the only thing that we would try and do is not rest on our laurels and just keep improving because you know that every team that we compete against in the fall is gonna come back even stronger in the spring."