WilliNet showcases Eph teams, coaches in weekly shows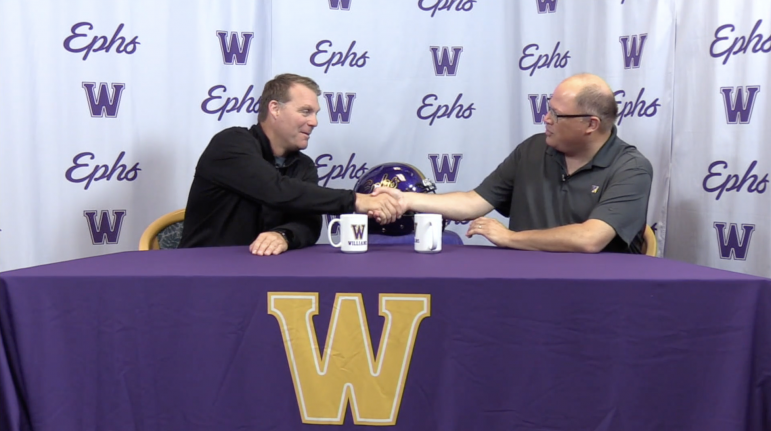 Hidden away behind the glass doors of Spring Street, next to where Mad Macs used to stand, are the WilliNet TV studios, home of Williamstown's very own community TV network.
WilliNet's programming ranges from recaps of community meetings to art and musical showcases. Two of their most consistent and beloved series, however, are the Williams College Football Show and Williams College Basketball Show, hosted by members of the College community.
These weekly shows have been on the air for 15 years and are hosted by Kris Dufour, the College's associate director of sports information. The shows' main components are interviews with coaches, highlight replays and athlete interviews. This fall, the football show has also included scouting reports from Ang Vecchiarelli '20 and information about future opponents from Sal Gualtieri, a sports information assistant.
While the focus of each show is broad, Dufour emphasized that the main goal of the shows is to provide a platform for student-athletes to connect with fans as more than just players on the field. "The most important part of the show is the student athlete portion, where we interview the student-athletes," he said. "It's a vehicle to promote and give our student athletes visibility. That's really what it's all about. That's the only reason it exists."
While the majority of the shows' airtime is geared toward game discussion and reflection, Dufour said that the student-athlete portion of the shows are focused not about the sports they play, but about the student-athletes themselves.
"They talk about internships, what they do, hobbies," Dufour said. "Sometimes we talk a bit about the games, but mostly it's about what they're doing with their lives and what their goals are. [They also talk about any] interesting stories or anecdotes they might have from their lives."
For Executive Director of WilliNet Debby Dane, the shows are also about bringing alumni together and connecting them back to the College through their dedicated and loyal school spirit.
"One thing that I've particularly enjoyed [is that] these students are part of this incredible alumni network," she said. "And the sports teams have their own alumni networks that are just avid… for the Football Show, in particular, we would have grandparents calling us from Florida, 'I haven't seen the show this weekend. Can you help me see the show now that the game is online?' And it's the sweetest. It's just the best [to connect] people around something they're interested in [and] knit the community together around things that are important to them."
Football and basketball both have established groups of alumni and locals that are invested and come together regularly to support the teams. The time student-athletes spend on camera gives student-athletes an opportunity to practice self-presentation skills, which Dane notes are important in whatever players choose to pursue after graduation.
"Even though it's a handful of minute-long interviews, when the lights and cameras go on, there's just a different energy," Dane said. "They're talking to alumni, they're talking to their family, they're talking to fellow students and it just helps them present themselves. And you only get good at that by practicing it. I think that's part of what the programs have to offer [to] the sports programs and [that's] what we can help with."
The Williams College Football show currently airs every Monday and can be found with the Williams College Basketball Show and other WilliNet TV programs on their website, Willinet.org.