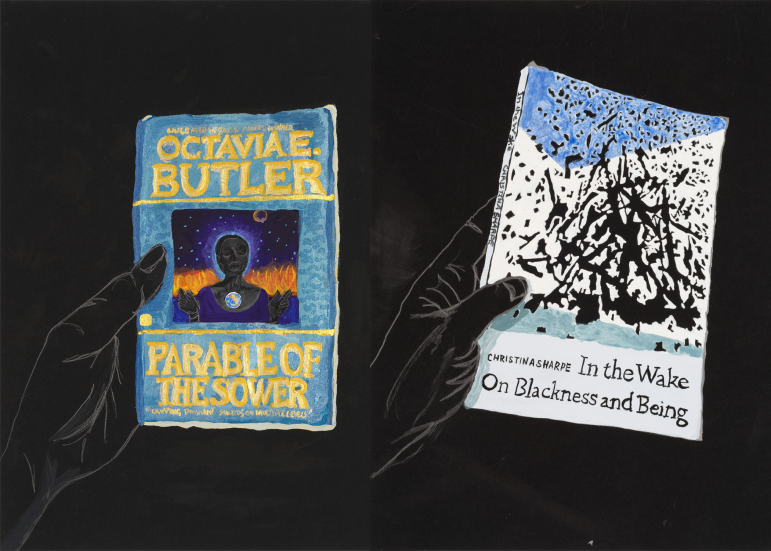 "I realize I don't know very much. None of us knows very much. But we can all learn more. Then we can teach one another. We can stop denying reality or hoping it will go away by magic."
So reads a line of dialogue from Octavia Butler's 1993 science fiction novel Parable of the Sower. In the quoted exchange, Lauren, the novel's protagonist, discusses survival tactics for living in lawless, dystopian California – however, Lauren's words could just as easily come from any individual choosing education over ignorance in times of distress.
Education is the motive behind the BLK FMNNST Loaner Library Book Club, a new discussion series at MASS MoCA held in conjunction with Cauleen Smith's exhibition "We Already Have What we Need," which currently occupies the museum's first floor. The book club draws its titles from one of the works in the exhibition, "BLK FMNNST Loaner Library 1989–2019," a set of 30 drawings of books that inspired Smith's interdisciplinary work. Parable of the Sower is the first title to be discussed, tomorrow at 5 p.m.
"Everyone loved it so much that everyone thought it was their idea," said curator Susan Cross. "It was so immediately exciting for everyone. I think we were also excited to read the books and talk about them, so we thought, 'Why not make it a community book club?'"
The interdisciplinary approach of a museum like MASS MoCA, which focuses on performance as well as visual art suits Smith's work well — Smith is a multidisciplinary artist. Smith began her career in traditional narrative film, but has since moved toward video installation, performance and assemblage in her work. "We Already Have What we Need" is the largest survey of Smith's work to date. It encompasses her early career films as well as her recent works, including her protest banner series "In the Wake," which introduced her work to many at the 2017 Whitney Biennial. Cross chose to include a selection of these banners in the exhibition. "It was really important to me to show that these banners are just one part of this full and eclectic practice, since Cauleen works in so many different mediums," she said.
"In the Wake" shares its title with In the Wake: On Blackness and Being, a 2016 work of nonfiction by Christina Sharpe which the book club will discuss on Nov. 7. Though theory is rarely on the docket for book clubs, the organizers of the BLK FMNNST Loaner Library Book Club wanted to ensure that Smith's varied interests and modes of creating were reflected in the reading list.
"The first book in the [drawing series] is a cinematography manual," said Cross. "It's an interesting mix of books – if you look at the book list, there's a theoretical nonfiction book as well as the sci-fi book we're discussing for the first one, so we tried to give a sense that the reading list has a range to it."
"BLK FMNNST Loaner Library 1989–2019" is not the first reading list that Smith has included in her work – in 2017, the Art Institute of Chicago exhibited Smith's drawings inspired by "Human_3.0 Reading List 2015–2016," which includes Playing in the Dark by Toni Morrison and The Wretched of the Earth by Franz Fanon. On the website for "Human 3.0," Smith writes that the reading list is for "afronihilists … Doers-Who-Think … the freaky and confused, the enraged warriors, prosecutors of vengeance, defenders of justice, the public enemies, the private info-hackers, the loving guardian, the haters who just gon' hate, the homo reciprocans and everybody else." The BLK FMNNST Loaner Library Book Club, however, is the first museum-led book club organized around these texts.
"Art and literature has always been so bound up – artists are often avid readers, and are influenced by what they've read, by their peers who are writers. Often in artistic circles, it's not just the painters talking to each other. It's painters talking to writers talking to filmmakers talking to dancers," said Cross. "It seems quite natural to talk about art and literature together."
While MASS MoCA has hosted literary events before in the large Hunter Center (where The Decemberists and Funkadelic have performed), Cross stresses that the book club will be a much more intimate event, happening instead in the "prow" of Building Six. Community is also front and center at the book club, which is co-hosted by Berkshire Resources for Integration of Diverse Groups through Education (known by its acronym BRIDGE, or Multicultural BRIDGE). BRIDGE, a minority and women-run nonprofit based in Lee, runs programs including an Immigrant Women's Group and the Towards Racial Justice and Equity in the Berkshires Task Force; BRIDGE's CEO and founding director, Gwendolyn Van Sant, helped choose the books and will moderate each discussion.
"I'm really hoping that lots of different community members come – college students and our neighbors down the street," Cross said. "The idea of community is such a big one in Parable of the Sower and in Cauleen's work, so I think to have an event that draws upon many different people who don't yet know each other but might have this fulfilling intellectual emotional conversation in a room together seems very appropriate."
The book club currently has three scheduled sessions – tomorrow's discussion on Parable of the Sower, a discussion of In the Wake: On Blackness and Being on Nov. 7 and a discussion of Kathleen Collins' stories Whatever Happened to Interracial Love? on Dec. 5. Cross notes that a reader can pick and choose which sessions they'd like to attend; attendance at all three is not required. On Oct. 6, Cauleen Smith will also be staging a processional as part of MASS MoCA's "Time of NOW: A Weekend of Thought and Performance."
Cross hopes the book club will help situate community members in Smith's work, which meditates on family, history and, notably, ecology. However, Cross also notes that the book club is an educational venture in its own right. "The book club is really an educational program – I think it can live alone even without Cauleen's exhibition. But for me, these books can help inform people of the ideas that are running throughout her practice, but also illustrate a lot of the idea she cares about," said Cross. "[In Parable of the Sower], there are these beautiful moments of [the characters] eating oranges and persimmons, and in Cauleen's exhibition, there's a beautiful notion about care, and how caring for the Earth is something we need to do. But also embedded in that is that caring for the Earth is also a way to care for each other; one informs the other. If we can care for people, we can care for the earth and vice versa. So for me, reading Parable of the Sower, that has come out very strongly for me, even in these dire circumstances. If you tend the Earth, the Earth will provide."
MASS MoCA's BLK FMNNST Loaner Library Book Club is giving Smith's recommendations the time they deserve, in a space that honors the conversation Smith wishes to create around her work. In Smith's words, "I share these books in the hopes that through study and conversation exchange occurs and the inoculation sticks. Resistance is not futile. RESISTANCE IS ALL WE HAVE."