Community, College join Global Climate Strike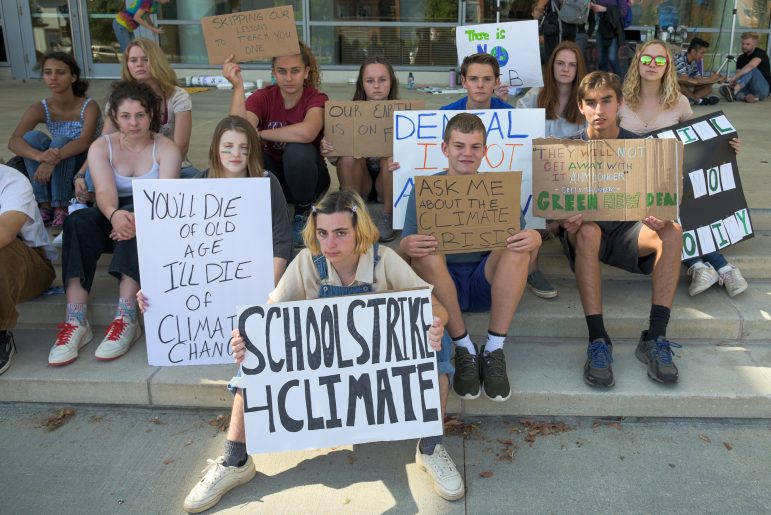 Members of the Williamstown community, as well as students, faculty and staff at the College, came together on Friday to participate in the Global Climate Strike, a coordinated worldwide movement, on the steps of the Paresky Center.
The Global Climate Strike, which is attempting to draw attention to the human-caused climate crisis, organized strikes last Friday, three days before the UN Climate Summit in New York City, and on Sept. 27, the anniversary of the 1962 publication of the book Silent Spring, an influential environmental science book. The movement encourages young people to "walk out of [their] workplaces and homes to… demand an end to the age of fossil fuels," according to the Global Climate Strike website. An organization called Fridays For Future, founded by 16-year-old Swedish activist Greta Thunberg, is also mobilizing young people for a climate strike on both Sept. 20 and Sept. 27. Thunberg first became well-known after she took time off school to demonstrate outside the Swedish Parliament every Friday, calling for greater action on the climate crisis.
Though involved groups around the world cite a multitude of reasons for public action, their actions revolve around the same idea that climate change is an emergency that politicians and corporations fail to treat with proper gravity. Climate groups assert that, through collective action, people can demonstrate the urgency of the situation and "kickstart a huge wave of action and renewed ambition all over the world," according to Global Climate Strike. According to CNN, over 4600 strikes are slated to occur in 139 countries across the two dates.
The Friday event in Williamstown came about through two different avenues. At the college, several students, led by Kofi Lee-Berman '22 and Sabrine Brismeur '22, planned to hold a climate action event. Separately, the First Congregational Church was also planning a strike on the same day. Once the two parties became aware of each other's plans, they decided to combine efforts and spread the message to the greater community at large. Students from Greylock Elementary School, Mount Greylock Regional School and The Buxton School also participated in the strike.
In addition to the strike, the First Congregational Church had a public witness in collaboration with Williams students and students from the public schools. The church flew a distress signal from the pillars that face Route 2, flying the American flag and another flag. Carrie Waara, a deacon and lay leader of the church, spoke on the role that people of faith have to play in fighting climate change. "God gave us this incredible world that we need to steward more carefully, more conscientiously, and sustainably," she said. "We've abused this incredible gift."
The church has been involved with various political causes in the past, including organizing against family separation at the border. Waara added, "It's so easy to feel utter despair, especially in the last few years. I've found that being together with people and voicing our concerns is a really uplifting thing that gives me hope."
The church will also be hosting discussion groups on a response to the climate crisis at noon on Wednesdays throughout October and November. Bridget Spann, the church's Community Outreach Organizer, commented: "We must take a stand as a community of faith to join with the youth in demanding transformative action on climate change from our leaders on global, national and local levels as well as from ourselves. Our lives and our future depend on it."
The strike was also affiliated with and supported by the Zilkha Center for Environmental Initiatives. Caroline Bruno '15, interim assistant director of the Zilkha Center, remarked on the importance of participating in the strike. "As a community centered on education, one way we at Williams can contribute is by incorporating this into our curriculum," she said. "To align with the global attention on climate action, 11 courses across six disciplines will focus on climate change between 9/20 and 9/27. It was powerful to stand in solidarity with a global movement to address the climate emergency and to be in community with Williamstown residents, activists from the elementary and high schools, and students, faculty and staff from Williams, as we rallied in coordination with millions of others around the world."
On campus, the strike began at 9:45 a.m. for all-day participants, while members of the public were invited to make signs at 2:15 p.m.. The rally for climate action officially began at 4:00 p.m. and various other community members participated in the Friday strike.
Regarding student involvement, Lee-Berman said, "At its essence, this whole movement has been [about youth] from the beginning. The organizers at the church have been very clear about lifting up young voices."
Ruby Lerman, a 14-year-old climate activist from New York and high school freshman at the Buxton School, was involved in the strike as a student organizer, student speaker, and representative of Fridays for Future. She strikes every Friday for climate justice. Lerman was a speaker representing the youth aspect of the climate crisis movement, in addition to leading the crowd in chants for climate justice. "We have so much more power than the media and mainstream culture wants us to think," she said. "Youth have been at the forefront of every major political movement since the beginning of time—the Civil Rights Movement, the Suffragette Movement… I think it's important to realize how much change we can make by just disrupting the system. And walking out of school certainly does that."
The strike also hosted speakers from various other groups who advocated viewing the climate crisis through an intersectional lens. Speakers included local elementary schoolers who read books and poems aloud, and a representative from the COOL Committee, a Williamstown-based group that focuses on reducing carbon dioxide emissions. There was also an open mic that provided opportunities for the audience to share their stories and experiences.
"I'm here to strike with all of my brothers and sisters to show that we're serious about saving our planet… There is no going back now," Cyrus Naider '23 told the Record.
Carolyn Jordan '23 shared Naider's view of the urgency of the situation. "I am here because it is one of the only things that I can do as a freshman in college," she said. "But we are running out of time, and if I don't get out here and strike with everyone else, if we don't make an impact and get our message heard, then there will be no more time left."
Lee-Berman also emphasized the urgency and seriousness of the climate crisis. "It's one of the only issues in the world that affects…every human being, every citizen of this planet," he added.
About the Writer
Annie Lu, Executive Editor for News
Annie Lu '23 is a prospective political science and mathematics major from San Diego, Calif. She is the executive editor for news and previously served...