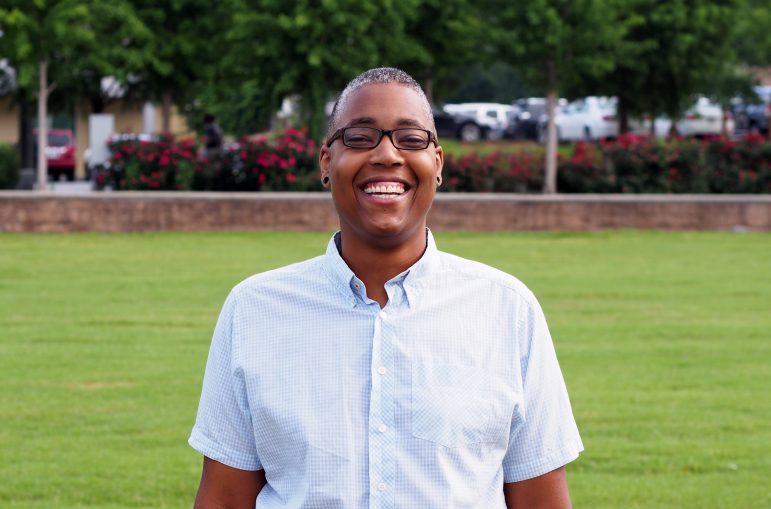 Looking back after almost two decades as an intersex rights activist, Sean Saifa M. Wall '01 said he now finds it funny that he initially intended to follow one of the more typical career paths chosen by so many of his peers. "I wanted to be a consultant because I wanted to make some money," he said. "I mean, who doesn't?"
According to interACT Advocates for Intersex Youth, an advocacy nonprofit of which Wall is the former president, "'Intersex' refers to people who are born with any of a range of sex characteristics that may not fit a doctor's notions of binary 'male' or 'female' bodies."
Wall is one of those people. He lived as a woman — the gender he was assigned by doctors at birth — until he transitioned at the age of 24. Since then, he has become a speaker, writer and intersex rights activist, a line of work that he began to explore soon after leaving the College.
"There were very few out intersex activists in the United States at that time," Wall said. "We're talking about 2001, 2002. But there was always this aspect of my queerness that was visible. I was always unapologetically queer."
After college, he came out as transgender and began testosterone therapy. He said his experience trying to navigate the gender binary around that time helped push him toward a career in activism.
"When I started taking T [testosterone], I wanted to pass — I wanted to be binary," he said. "I came to realize the limitations of my body simply because of the intersex trait that I have, and I knew that in order to create a world in which I want to exist, it was required for me to step out as an intersex activist."
For Wall, the institutionalized enforcement of the gender binary is just another example of the oppressive systems of power he studied as a history major at the College. "History is told from the perspective of the victors," he said. "I saw again and again that the people who are most marginalized are overwritten."
With that in mind, Wall said he hopes to shed light on the struggles of intersex people everywhere by sharing his own story. He said he has given a lot of thought to the importance of personal stories as tools of activism.
"At birth, a narrative for my life was prescribed for me without my consent," he said. "Doctors tried to write a narrative on my body, and it's a narrative that they write for a lot of intersex people. For me, it's important to tell my truth: the truth of what happened to my body, and the truth of what happens to so many people."
Wall frequently talks openly about the operations he was forced to undergo as a child. In doing so, he hopes to raise awareness of the traumatic surgeries intersex people often endure early in life.
"It's a peculiar kind of medical violence that doesn't really get talked about," he said. "Using my life, my body as an example — the fact that I was castrated in a medical setting because my body is different — I mean, that's egregious. More and more human rights organizations today are coming out and saying that these are human rights violations."
Though the primary focus of Wall's work is advocacy on behalf of intersex people, he approaches all of his activism through an intersectional lens.
"I'm driven by my desire for the liberation and dignity of all the communities that I care about— the dignity of Black people; the dignity of queer people; the dignity of intersex people; the dignity of all marginalized people," he said.
In retrospect, Wall said he sees many parallels between the social justice work he did as a student at the College — during which time Amadou Diallo and Matthew Shepard were killed — and the activism taking place on campus today.
"The conversations that are happening now are conversations that were happening during my time," he said. "The student demands have been echoing for years, and at this point, it's really an issue of turning the lens back toward Williams."
He said that diving even more deeply into the history of the College provides crucial context for understanding how it operates today.
"My question is always what Williams is going to do to really challenge its history as an institution," he said. "Williams has old money, and I think it has definitely been a place of the elite for quite some time. Since allowing women and people of color [to be admitted], there's been this pushing back against what Williams espouses."
Wall stressed the importance of the College administration's working to understand the needs of its students and faculty.
"The College needs to ask what physical, tangible steps can be taken," he said. "What is Williams going to do, as an institution, to put resources behind making students of color feel welcome? Students of color can holler and scream in protest, but it's going to fall on deaf ears if we're not willing to step up, to really meet the students where they're at. And meanwhile, it's one thing to recruit professors of color, but how do you retain them?"
Wall said he plans to continue pursuing social justice work long into the future, though his present focus is beginning to shift toward enabling the next generation of activists to begin filling his shoes.
"I think I will do this work as long as I live," he said. "I am committed to a vision where there will be an end to medically unnecessary intersex surgeries in the United States. It's going to take time to get there, but I'm willing to go as far as I need to go in order to achieve that, while building the capacity of activists to continue that work."