Jake Jacobson '82 works to increase accessibility in golf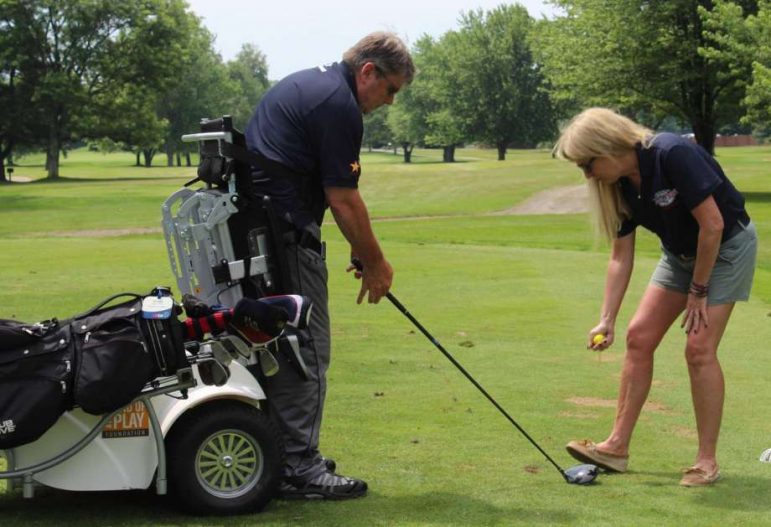 Former professional golfer Greg "Jake" Jacobson '82 had his world turned upside-down in 2011, when he was diagnosed with multiple sclerosis (MS). Since his diagnosis, Jacobson has redirected his energy to making the historically inaccessible golf world more accessible to those with both physical and mental disabilities.
After graduating from the College, Jacobson became a professional golfer, competing at mini-tours and working at a country club in Belmont, Massachusetts. During the winter, he travelled to Florida in order to keep teaching and playing. After a few years of professional golf, Jacobson transitioned into a more corporate job on Wall Street.
In 2008, he began to experience a decline in physical ability and, in 2011, he was formally diagnosed with primary progressive MS (PPMS). Unlike other forms of the disease, which can often go into remission, PPMS leads to a constantly declining neurologic progression. According to Johns Hopkins Medicine, the Food and Drug Administration (FDA) has not approved any medication for the treatment of PPMS, which accounts for 10 percent of all MS diagnoses.
As the disease worsened, Jacobson began using a cane to walk before transitioning to a wheelchair four years ago. As his physical ability declined, Jacobson golfed less and less. It wasn't until 2012, when he found the paramobile, a machine designed to help golfers with disabilities move around the course, that he returned to the golf scene. "I thought it was the greatest thing," he said.
The paramobile was created by Anthony Netto to help transition golfers from a seated position to a standing position, in order to take swings on the course. Although it was developed specifically for golfers, the machine has also been used for many purposes, including helping veterans stand at their weddings.
With the help of the paramobile, Jacobson was once again able to move around the course safely and freely. In 2014, two years after returning to golf, Jacobson organized a charity golf tournament, "The Jake," that would benefit the National MS Society. The tournament ran annually from 2014 to 2018 and brought Jacobson's friends, family and others in the golf community together on a course in Connecticut each fall. Through the tournament and other organized fundraisers such as the "Jake for Jake Golf Marathon," which he planned with a high school student named Jake, Jacobson has raised over $120,000 for the society. "I'm just an organizer," he said. "The real credit goes to all the people who get behind it. I'm just grateful for what they were able to do for the tournament for the years we did it."
Jacobson now sits on the advisory board of Stand Up and Play, a nonprofit with the mission "to provide wheelchair users and others with impaired mobility the opportunity to stand up and engage in recreational and everyday activities through access to paramobiles."
The organization works to make the expensive paramobile more affordable for public golf courses, and to ensure that golfers with disabilities can play in a safe and enjoyable way. "What gets me most excited is to see these devices out there so that anyone with a mobility issue can use it [at a public golf course] and it doesn't cost them anything," he said. "My focus now is on that part of the golf universe."
Jacobson also teaches people with disabilities how to play golf with the paramobile, allowing them to revisit a sport that few thought they'd get to experience again. He works with single and double amputees, stroke victims and quadriplegics to find ways they too can enjoy the experience of being out on the green. "My mission now is not to go out and break course records," he said. "It's all about teaching adults with severe disabilities how they can golf."
The fulfillment Jacobson has found through teaching others is now what golf is all about for him. "It's that one good shot that puts a smile on their face," he said. "The change in their expression is priceless. The reason people get addicted to golf is that one good shot."
Jacobson acknowledges that his disease has transformed his career and daily life, but he believes that the shift in perspective has been monumental for him. "It's a very, very different life than [what] I was dreaming up at Williams," he said. "My disease has changed the way I see the world. People treat me with their own discovered empathy. It's the good side of people that is presented to me every day. I'm grateful for that."
About the Writer
Sofie Jones, Managing Editor
Sofie Jones '22 is an English major from Belmont, Mass. She is a managing editor and was previously an executive editor and section editor for sports.

Email:...