From Hoxsey to hitched: Dylan Barbour '16 appears on The Bachelorette, Bachelor in Paradise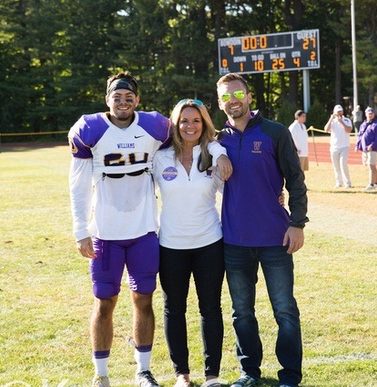 When a producer from The Bachelorette first reached out to Dylan Barbour '16 on social media and asked him to try out for the show's 15th season, he declined.
"I went and told my mom that I thought it was a funny joke, and she was like, 'Well, why not?'" Barbour recalled. "I had just broken up with my girlfriend, and my mom convinced me to do it, so I was like, 'All right.'" He called the producer back and said he would do it.
On The Bachelorette, 30 young men — including Barbour on the most recent season — simultaneously date a bachelorette, who eliminates one or more of the men each week. By the end of the season, the bachelorette chooses the man to whom she would like to get engaged.
Barbour, a San-Diego-based tech entrepreneur, was eliminated in the sixth episode of the 2019 season; he was then among nine men dating bachelorette Hannah Brown. But his time on reality television was far from over. On the day of his elimination, producers asked him to appear on Bachelor in Paradise, a show similar to The Bachelorette but with a roughly even ratio of men to women, a tropical setting and a de facto dress code of swimsuits.
Despite the fame he has recently accrued as a reality-television star, Barbour was, only a few years ago, a typical student at the College. A Los-Angeles-area native, he majored in English with a concentration in leadership studies. He played linebacker on the football team and lived with his teammates at 66 Hoxsey Street during his senior year.
"Football was really good, with being part of a team and meeting new people every single year, and just the overall experience," he said. "It teaches you a lot about multitasking, being able to juggle school, sports and all that — and the social life that comes with it."
Barbour remains a loyal supporter of the team; he watches livestreams of all the games and even plans to come to campus this fall to see one in person.
"It's going to be sick," he said. "I'm super excited."
His first post-college job was at Morgan Stanley in San Francisco.
"I worked directly under two Williams alums, which was a really cool experience for me, just to kind of meet them out in the real world," he said. "They took me under [their wing] and taught me a lot about business and about being professional and being in that environment."
In the fall of 2016, he began discussing an idea for a social enterprise app with his cousin, Samantha Pantazopoulos. He left Morgan Stanley in Feb. 2018 to pursue this project, called Vizer, full time.
Vizer's goal is "to make good health achievable," according to the app's website. If a Vizer user meets a daily fitness goal — such as logging 10,000 steps, getting 30 minutes of exercise or taking a class at a partner studio — a corporate sponsor donates a meal to the San Diego Food Bank. Although the app is limited to San Diego for now, Barbour said that he and Pantazopoulos hope to expand Vizer across the country.
"It's something I'm super passionate about: giving back, playing sports," Barbour said. "[It's] something that's really tangible, in terms of giving back to the community."
The app has found success, receiving a $500,000 grant this June and growing the number of users by about six percent a day, Barbour said.
Filming for The Bachelorette began in March, but because contestants are not allowed to have cellphones while on the show, Barbour would periodically call Pantazopoulos from a producer's phone to check in on Vizer.
"Sam really held it down," Barbour said. "She handled a lot of it. I don't think I could have done what she did if I was in her position."
In addition to not being able to use their cellphones, contestants follow a highly structured schedule, Barbour said. When he was not going on dates with Brown, he was interacting with the other men or answering questions from producers — all on camera. He estimated that he slept three hours a night.
"There's always some drama," he said. "You're just on edge. I don't know anyone who was comfortable, ever."
Even so, he found The Bachelorette to be "a really cool, surreal experience." He learned how to date, handle stress and express himself, and he befriended many of the other men. Barbour is still in daily contact with other contestants, including Tyler Cameron, Jed Wyatt, Connor Saeli and Mike Johnson.
Johnson, who appeared on The Bachelorette and Bachelor in Paradise alongside Barbour, described Barbour as "my little brother, my friend that I have so much respect for."
"The lil snot knows himself well and is incredibly intelligent," Johnson wrote via email. "I love where he's headed in life… He's definitely a soft teddy bear with a comedy central and business minded personality! I'm proud to know the homie."
And although Barbour's relationship with Brown did not last, he noted that he harbors no resentment toward her.
"We're still cool," he said. "I actually talk to H.B. a little bit here and there… We just didn't have that thing, that spark, at the end of the day."
A spokesperson for Brown declined to provide comment for this article.
On Bachelor in Paradise, however, Barbour managed to find that spark. From the very first episode, he expressed interest in Hannah Godwin, a model and social media influencer from Birmingham, Alabama. Barbour soon pulled Godwin aside. In an open-air treehouse on the beach, the two talked and eventually kissed.
"She just makes me feel super nervous," he said on the show. "I mean, I just think she's totally out of my league, to be honest."
But their relationship did not always run so smoothly. For the first six days of filming — or, as the show framed it, the first two weeks — Godwin found herself in a love triangle, with Blake Horstmann also vying for her affection.
Barbour described these days as the "most stressful six days of [his] entire life."
"I didn't drink," he said. "I was dead sober. I didn't sleep. I was actually sick — I had a sinus infection for the first six days."
At the end of those six days, Godwin chose Barbour over Horstmann. Barbour spent the rest of the month relaxing and getting to know Godwin better.
"I had so much fun," he said. "We'd hang out in the pool all day and goof off. We'd eat tacos, walk, drink margaritas, just talk – which was super cool — just have normal conversations, like what we wanted to do in life, our families, things like that. [We would] hang out with everybody, go to the beach. And, honestly, I felt like I was just watching the show after [the first six days], because we just got to see all of the drama that happened that didn't involve us at all."
The relationship between Barbour and Godwin progressed quickly. On the season finale, which aired last night, Barbour got down on one knee before Godwin. She readily accepted his proposal.
"so happy to be the future Mr. Dylan Godwin [red heart emoji]," he wrote on Twitter last night as the episode aired.
Barbour acknowledged that the path he has taken in his few years since graduation has been unusual.
"It's pretty funny that someone from Williams went and did this, not gonna lie," he said. "It's not really the traditional path."