Football falls to Middlebury 17-13 in season opener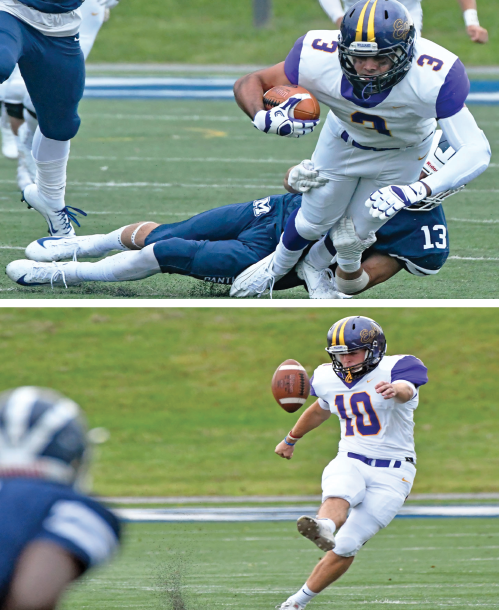 On Saturday, football (0–1, 0–1 in the NESCAC) fell to Middlebury 17-13 in its first game of the year. The Panthers scored the first 10 points in the game before the Ephs rallied to score 13 points in a row on two touchdown passes from quarterback Bobby Maimaron '21 to wide reciever Frank Stola '21. Middlebury, however, scored a touchdown with 30 seconds left to win the game.
After a scoreless first quarter, Middlebury took a 3-0 lead a minute into the second quarter, with a 26-yard field goal. Forcing the Ephs to punt on their first possession after the field goal, the Panthers went back on the attack and extended their lead to 10-0 with a 10-play, 75-yard drive.
The Panthers' Will Jernigan kept the drive alive, scrambling for 14 yards when facing a third and 4. The second Panther touchdown of the game came on Jernigan's pass to teammate Wyllis McKissick. McKissick raced into the right corner of the end zone and Carter Massengill converted the PAT giving the home team a 10-point cushion.
The Ephs answered on their next possession when Maimaron lofted a pass to Stola on the left sideline. Stola was then able to fight off the Panther defensive line for possession of the ball, jumping over a fallen defender. The Ephs' point-after-touchdown attempt by Andrew Schriebstein '22 ultimately failed, and the Panthers maintained a 10-6 lead going into halftime.
On their first possession of the second half, Maimaron threw a touchdown with a 30-yard pass to Stola. A successful PAT from Schreibstein then brought the Ephs to a 13-10 lead.
The teams then traded punts back-and-forth, until the Panthers took possession on their own 22-yard line with 2:31 left in regulation.
Jernigan connected on two consecutive passes to Panther teammate Aidan Power and contributed a 15-yard run to move the ball to the Ephs' 40-yard line. A 12-yard pass from Jernigan to a teammate got the Panthers to the 28-yard line.
Panther wide receiver Maxwell Rye caught Jernigan's next pass and was forced out at the Ephs' 2-yard line, setting the stage for Jernigan's touchdown run to secure the Panther win at 17-13.
Offensively, Stola was the leader for the Ephs, hauling in six passes for 151 yards and two touchdowns. Stola also returned two kickoffs for 65 yards and four punts for 41 yards.
On defense, the Ephs were led by linebacker TJ Rothmann '21, who made 13 tackles, and linebacker Luke Apuzzi '20, who contributed 10 tackles, forced two fumbles, and had a sack.
The men will return to competition on Saturday in their home opener against Tufts. Kickoff on Farley-Lamb Field is scheduled for 1:30 p.m.