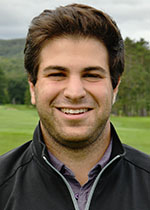 Team: Men's golf
Hometown: Florham Park, N.J.
Major: Economics
Residence: Above Tony's Sombrero
Snackbar order: Egg McWilliams with sausage
How did you get into playing golf?
I started when I was 7, because I have an older brother who also played golf here [and] graduated in 2015, and my dad started playing after college. My brother wanted to tag along one day with [my dad], so he took him to some pitch and putt course right by our house. Me being the younger brother, I wanted to go along next time, and then I somehow realized that I'm actually pretty good at this. The rest is history.
Is there a lot of competition between you and your brother?
Oh yeah, it's very intense. He's in medical school now, but he's still a very good player. We had some very fun and heated matches at home over the summer, but that's what makes it fun. That's why golf is so great.
What is the weirdest and/or funniest thing you have ever seen on a golf course?
In Little Threes my sophomore year, there was a kid from Wesleyan who let out pretty much a vulgar scream after making a 40-foot putt for an eight, which sounds pretty wild. Then also on the same hole, he hit a shot into a housing development and just waved it off like it was nothing.
How do you train for golf?
In golf, you can pretty much do as much or as little as you want. I'm still considering playing professionally after I graduate, so I model what I do after the guys on tour. I'm in the gym a lot, more than most people think a golfer needs to be. There is a lot of flexibility and core strength, stuff that you need to be able to produce a fast swing over and over again without throwing out your back. To be honest, it's all kind of injury prevention stuff. So if my body is in a good spot, I can go as hard as I want at my swings.
What are your thoughts on mini golf?
Oh I love it. I love mini golf. People always tell me, "Oh if we play minigolf, would you beat me by 20?" and I'm like, "In all honesty I don't know." I do stupid stuff, like I'll putt lefty if I'm playing with my friends. I love it, especially as a way to get people into golf — I can't think of a better thing.
Have non-golfers ever beaten you in a game of mini golf before?
Especially in the past few years, no one's ever really come close. But it's always fun bringing someone so new to the game to play mini golf and they just have a ball.
Is Wii golf a good approximation for actual golf?
Terrible. That is probably the one golf video game I am horrendous at. I can't figure it out. I've tried to swing easy; I've tried to just rip at it. That's probably the one game that a lot of people can beat me at.
What is your best or favorite golf outfit?
I'm not known on my team to have a super preppy wardrobe. But I'll just say it — I have these pair of pink pants which I think are pretty electric. I'll wear the pink shorts with a tame belt and this gray and white striped shirt. That's kind of the usual go-to for me. There's this phrase in golf, "look good, feel good, play good," and I just kind of go off of that. And you know how golf gets such a bad rep for [being for] 60-year-old retired guys with beer bellies wearing khakis that don't fit. So I just kind of like to have fun with it.
What was your experience like being a captain as a sophomore?
It was weird. It was very weird. Even though I was in a position of power and leadership, I didn't feel like the team was mine. Even as a sophomore, as a captain, you're supposed to be the guy who has got your stuff figured out. But I had a pretty hard time adjusting freshman year, so I still didn't really get things. Being one of the guys that people look up to, there is some pressure there.
Is there any advice you would have liked to tell yourself two years ago?
It's OK to not know things. Being in that position [of captain], I felt obligated to find this out for people or do all the things that people were asking of me. But in reality, I was just a sophomore who didn't really know what was going on. It's okay to not know things and it's okay to ask for help and reach out.
What is something about golf that most people don't know about?
I'd say it's pretty peaceful, especially at Taconic. It's probably my favorite place on campus just because it's so beautiful – Just the fact that, if I have a lot going on off the course in my life, I know that the golf course is a place I can go to just relax and take in the scenery and not really care about anything else. Golf is kind of my escape in that way, and it can be that way for a lot of people.
So what will you miss about playing at Williams?
I haven't really even thought about it yet, but probably just that whole family atmosphere I was talking about. It's just super cool to be putting with my headphones in and then have someone come up and tap me on the shoulder and be like, "Hey, you don't know me, and I don't know you, but that was really awesome what you did." I'll definitely miss that and just the whole team. Team golf is so different than the golf I play over the summer where it's just me, myself and I, but having four other guys to travel with, four other guys that will always have your back if you have a bad day, that's just something that you can't really find outside the college arena.