Assistant softball coach Mackenzie Keyes receives WSF grant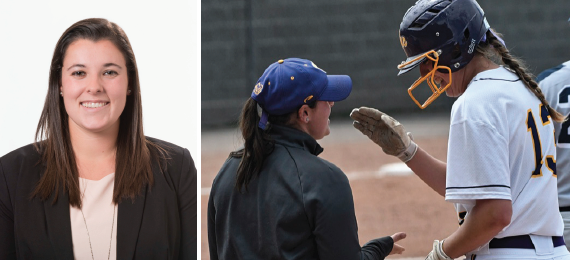 On Sept. 10, the Women's Sports Foundation (WSF) announced that the College was one of 10 schools receiving its Tara VanDerveer Fund grant. The $200,000 grant, which is designated for advancing and supporting women in coaching, will go to Mackenzie Keyes, assistant coach of softball.
According to the WSF website, this grant is part of the foundation's efforts to increase the presence of female coaches in college athletics. In 1970–71, 90 percent of all head coaches of women's college teams were women. By 2017, the rate had fallen to 40 percent.
WSF CEO Deborah Antoine noted the impact a coach can have on a young athlete's development. "A coach is often one of the most important adults in a young person's life, outside of their family, and the lack of female coaches and mentors has far-reaching consequences for the development of girls," she said on the foundation's website.
Softball head coach Kris Herman submitted the application for the fellowship on behalf of Keyes to WSF. "As a female coach who has been in the business for 35 years, I've seen a lot of ups and downs — mostly ups, frankly — in women's sports," Herman said. "One of the struggles has been in how we mentor and train coaches of both genders, and it's been [a] fact that more women than men are finding limited opportunities."
Herman hopes that the grant prompts the College to "have our assistant position be more well compensated and to have Coach Keyes be afforded the opportunities to be involved in WSF activities and work with more women coaches."
Keyes, who is in her third year of coaching at the College, is excited for the opportunities that being a fellow will grant her, such as attending professional development conferences and events arranged by the WSF. Such events include but are not limited to the annual Sports Advocacy Network meeting and Annual Salute to Women in Sports awards gala that will be held in October. "I will be able to meet a lot of people, network and just be empowered by this huge sports foundation," Keyes said, "Any time you're involved with something like that, it's really cool."
Keyes' role and presence in the College's athletic department have also grown since receiving the grant. "I am game manager for women's tennis in the fall, and then I'm going to help with game management for women's and men's basketball, and work in the weight room for a little bit, because that's also something I enjoy doing," she said.
With monetary and professional support from the fellowship, Keyes is not only able to focus on furthering her coaching career, but she also now has more freedom to pursue her personal goals as well. "I'm really looking forward to working in the weight room," she said. "I'm actually working to get my second master's degree right now [in] kinesiology, so it'll be cool to implement that in a way outside of softball."
While Keyes is enjoying the perks of being a Tara VanDerveer fellow, coaching remains her main focus. "I just love it," she said. "I just love the relationships you build every day with your boss and staff members, and the potential impact you have on young adults is really rewarding."