McGovern on government: Takeaways from New Hampshire's campaign trail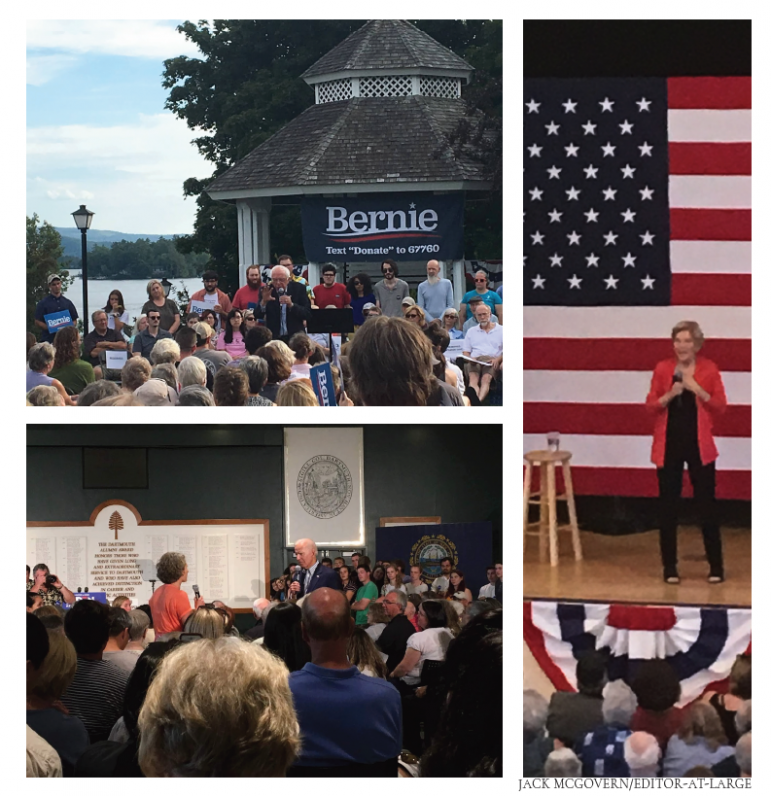 Only 50 miles from the College, in the neighboring state of New Hampshire, the 2020 presidential campaign is already in full swing. The two dozen Democrats and handful of Republicans in the race are meeting with voters in public libraries and church basements, holding rallies at local colleges and city parks and sitting for town halls in real-life, brick-and-mortar town halls.
With all the pomp and pageantry appropriate for the occasion, New Hampshire is the first state in the nation to contest its presidential primary every four years. And this summer, I was right there, in the middle of the action.
Thanks to the Russell H. Bostert Memorial Fellowship from the Office of Fellowships at the College, I spent eight weeks in New Hampshire on the campaign trail. I saw 21 candidates – 19 Democrats and two Republicans – in total and interviewed over 200 voters, activists and elected officials.
The campaign in the Granite State is unlike any other in American politics. Considered an early testing ground for hopeful candidates, New Hampshire is famous for its emphasis upon "retail politics" – face-to-face interactions between candidates and voters.
Yet what I heard from voters was not any special insight on whether President Donald Trump would win reelection or which Democratic candidate was best suited to defeat him, but a distaste for the food-fight debates that often dominated the primary this summer.
Voter after voter expressed dissatisfaction with the debates as made-for-television specials. They complained that candidates talked over each other and packed cheap shots into 60-second responses. "It's like a game show up there for me," one elderly supporter of Sen. Bernie Sanders (D-Vt.) told me after the first Democratic debates.
As the summer progressed, I saw first-hand the ways that the candidates are connecting with voters at in-person events. In their stump speeches, the White House hopefuls often began with a story about themselves, their family or their community before presenting a policy or a value shaped by that experience.
Former Vice President Joe Biden talked about finding purpose after the deaths of his wife and daughter in a 1972 automobile accident and, more recently, the passing of his son from brain cancer in 2015. He then proposed a new medical research agency to discover cures for chronic illnesses.
Sen. Elizabeth Warren (D-Mass.), who spends more time on the "twists and turns" of her biography than almost any other candidate, told her audience how she struggled to find child care after she went back to school to become a lawyer and only stayed in the profession because her Aunt Bee moved across the country to live with her family. She then segued into her proposal to subsidize a network of childcare facilities that would charge families based on their ability to pay.
The tandem of personal anecdotes and policy proposals is part of a formula that works: It humanizes the candidates and gets voters to think about how government affects their lives and sticks out more than anything else in their memories.
A college student at a Biden event, to call up an example, told me about the history of cancer and Alzheimer's in his family and praised the former vice president's proposal to invest in medical research.
An elementary school teacher found Warren and her struggles to obtain child care as a young mother "so relatable." She cited her universal childcare plan but corrected what she believed was an incomplete media narrative around the Massachusetts senator. "I can relate to her," she said. "It's not just the 'I have a plan.'"
Even candidates who have underachieved on the debate stage or underperformed in the polls inspired more confidence in person. An undecided voter described Sen. Kirsten Gillibrand (D-N.Y.), who has since dropped out of the race, as "a little bit jarring" at the debates, but ranked the senator in her top two after hearing her speak about the long line of power-player women in her family and her commitment to reproductive rights.
The little moments that happen off-camera mattered too. At the same event in a small-town chocolate shop, Gillibrand paused her remarks to help an elderly woman find her seat, a gesture that underlined her intergenerational brand of feminism. Her staff in the state was almost entirely female, an observation that another undecided voter noted to me.
When Sen. Kamala Harris (D-Calif.) asked how many audience members pay no taxes like Amazon, a child near the front raised their hand. "Bless your heart, honey! When you turn 18 you will," Harris said with a laugh. Undecided voters afterwards commended her "sense of humor."
Former Rep. John Delaney (D-Md.), who has spent millions of his own money but failed to qualify for the third debate, was one of several candidates to shake every hand at his event. The room went quiet as the former businessman walked around the room, looked each voter in the eye and repeated the person's first name.
As I heard positive feedback from voters at event after event – and mostly negative reactions to the debates – I began to think that all of those little things mattered: the detailed life stories, the back-and-forth banter with the crowd, the selfie lines and the handshakes. I thought that if New Hampshire is even a little less disillusioned with politics than the rest of the country, I understood why. They see a different side of the candidates — a better side — because they see them in person.
For now, that privilege remains mostly with New Hampshire, as well as with the other early voting states of Iowa and the much more racially diverse Nevada and South Carolina. But with the campaign heating up and the primaries nearing, the candidates are already holding more events nationwide. Warren, for example, spoke to 20,000 people in Washington Square Park in New York on Monday night.
So if you get the chance to see a candidate over winter or spring break, take that chance. And who knows? With such a crowded field, maybe a candidate will visit Williamstown, or at least North Adams, ahead of the March 3 Super Tuesday Massachusetts primary.