Sports captains train for their roles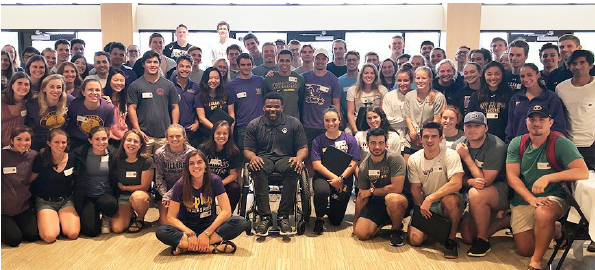 Before Eph athletics kicked into full gear this fall, 85 student leaders from the College's 30 varsity teams completed annual captain's training. The three-day program, run by Director of Student-Athlete Services Carolyn Miles, prepares team captains to fulfill their multi-faceted roles. The program centers around an understanding of captains as both role models and crucial parts of their teammates' support systems.
"It's an honor to be named captain, and it's a wonderful thing," Miles said. "But it's also a tremendous amount of responsibility. I think it's important for folks to remember how much they are giving of themselves."
The yearly training was formalized by Miles when she came to the College eight years ago. It is part of a bigger push in the Athletics Department to equip student athletes to be successful leaders on their teams, through programs like the Student Athletic Advisory Council and the Emerging Leaders discussions for sophomore athletes during Winter Study.
This year, the training began with a keynote speech by Timothy Alexander, the first paraplegic player in Div. I history. Alexander, who is now the character coach for the University of Alabama football team, spoke to the student-athletes about "magnetic leadership," or authentic leadership that motivates others in an inspiring and personable way.
"The talk by Timothy Alexander definitely changed my approach to being a captain," volleyball co-captain Daiana Takashima '20 said. "One of the quotes that I really took away was 'Be a quarterback and not the referee.' A captain is someone who motivates and inspires their teammates, instead of being someone who calls people out constantly on what they can do and cannot do. It really helped me change my mindset on how I want to proceed this season."
Over the next three days, captains attended sessions on different aspects of captainship, ranging from a session focused on Integrative Wellbeing Services to a discussion about sexual assault prevention. Captains were also given tools to help teammates who are struggling academically or with a health issue. "It's really about knowing what you can manage and who you can reach out to [for help]," Miles said.
Erin Denham '20, Takashima's co-captain, found these resources particularly helpful, as she strives to "play whatever role I need to so [that] our whole team can find success."
Captains also completed reflection sheets, detailing what they wanted their team cultures to look like and how they wanted to approach the season. For women's basketball co-captain Mikaela Topper '21, this prompted honest conversation with her co-captain, Katie Brule '20, about how to create a "winning culture" on the team in which all players feel confident in their performance and connected to each other. "I think we have all the pieces," she said. "It's just right there."
On the last day of training, captains participated in a joint training with this year's Junior Advisors (JAs) about how to best support first-year student-athletes as they transition to college life. College President Maud Mandel offered her thoughts on how the groups can lead in tandem in a talk that morning.
This was the most impactful aspect of the training for Topper, as it prompted the two groups to reflect on their common goal. "Meeting with the JAs was especially helpful because I have heard in the past that there has been some tension between captains and JAs," she said. "In reality, we all just want what's best for our frosh."
While the organized sessions are a crucial part of what Miles hopes captains take away from the training, it is also an opportunity for captains from different sports to create a network of others who are taking on the same leadership role. "One of the largest impacts that captains' training has on the individual is the ability to have met folks across sports and to realize that, with the human side of being a captain, it doesn't matter what sport you're playing," she explained. "We're all dealing with the same stuff."
About the Writer
Sofie Jones, Managing Editor
Sofie Jones '22 is an English major from Belmont, Mass. She is a managing editor and was previously an executive editor and section editor for sports.

Email:...