'Summer's Soldier' puts Berkshire stories onstage at WTF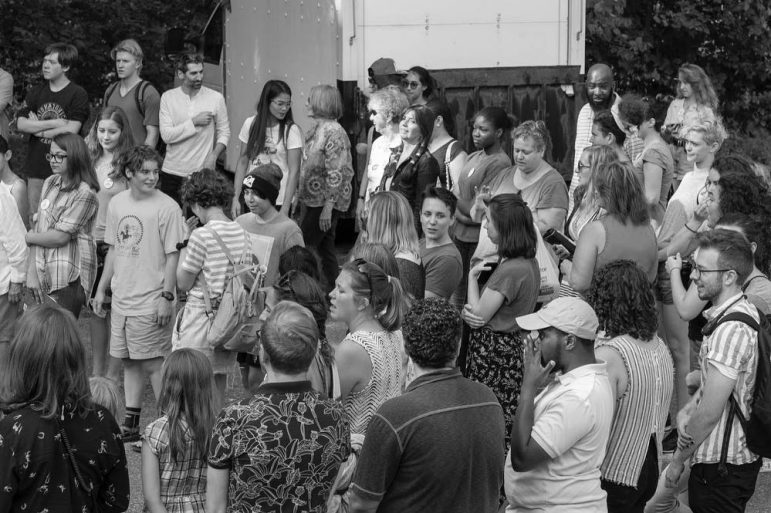 Standing in the exact spot where Uma Thurman had performed the night before, two pre-teen girls teased a melody out of twin violins. The sound wafted through the audience of the '62 Center for Theatre and Dance, where pockets of off-duty actors reclined munching home-made chocolate chip cookies. "Well, that just sounds wonderful!" an elderly man marveled. "They're sisters," replied a middle-aged woman, "and they wrote that piece themselves."
In a few days' time, both the man and woman would be backstage, awaiting curtain alongside the 73 other cast members of Summer's Soldier, a world-premiere musical presented through the William-stown Theatre Festival's Community Works program.
Community Works, founded in the summer of 2015, is a program that facilitates creative collaboration between artists affiliated with the Williamstown Theatre Festival (WTF) and residents of Berkshire County. Pooling the talents of visiting theatre-makers alongside local creatives, Community Works participants collectively generate a world-premiere play performed in, and featuring actors from, Berkshire County.
"We're the only program in the country doing community-engaged theatre that produces a new play," explained Hayley Sherwood, who has produced Community Works for the past three summers. "Most community-engaged theatres typically do Shakespeare, or myth, or a tale that has been told for centuries. We're definitely referencing that — our stories are always epic, to accommodate such a large cast – but all of them have been world-premiere plays and musicals."
Community Works has a large cast indeed — about 73 Berkshire area residents, ranging from ages 6 to 94, and festival-affiliated actors made up the cast of this year's musical. (The oldest cast member was beloved Williamstown resident and longtime festival usher Doris McNabb). Summer's Soldier (written by playwright Boo Killebrew, with music by Heather Christian and lyrics by Lucy Thurber with additional music and lyrics by Christine Bile) follows a seventh grader named Sam (12-year-old Lee resident Carter Marks) processing the loss of her father who has recently died in combat overseas. During a storytelling session around a campfire in the woods, Sam discovers a ghost story, "The Man in the Mountains," which helps her move past her grief.
In the story, a soldier from the Revolutionary War arrives home to find that his family, presuming him dead, has moved on without him. Instead of disturbing their peace, he travels up to the mountains to watch over them from on high.
"The Man in the Mountains" is in fact a Berkshire folk legend — Killebrew discovered it during the off season brainstorming sessions, or "story-circles," that the creative team behind Community Works conducts with local participants. In addition to collecting stories from Berkshire residents, Community Works also partners with 11 organizations, including Soldier On, a housing agency for previously homeless veterans, and BCArc, a center for adults with developmental disabilities, traumatic brain injuries and autism (members of the BCArc cast portrayed delightfully spooky mountain spirits).
Although Community Works brings cast members of radically different backgrounds together in the room, the program does not seek to solve the complexities of PTSD or class inequality. "We aren't social workers. We aren't activists," Sherwood explained. "Some of us may also be those things, but what we're doing here is making a play." But even though Community Works is not designed as a therapeutic program, it sometimes functions as one. "We had a veteran in the show last year, and he was able to tell us that having participated in the show did serious work on his fear of being in large groups of people – he had every reason to be afraid of that, but since this was such a positive group of people, he was feeling so much more confident going out into the world. He wasn't really talking about how it may have reminded him of past experiences, he was just able to navigate this one safely."
Community Works' journey to the MainStage reflects WTF's evolving relationship to community-engaged work. "The first year Community Works existed, it was held at Greylock Works [the event space on Route 2 entering North Adams]," said Sherwood. "That was exciting … but was literally away from the center of the festival. Its positionality was signifying, 'this is additional.'" Community Works' focus on the Berkshires also sets it apart from other shows in the festival, which tend to focus on dramas relevant to the lives of WTF's audiences — often, summer visitors to the Berkshires who can afford $60 tickets to the Mainstage and Nikos shows. One particular example was this season's Tell Me I'm Not Crazy, a tepid sitcom-esque dramedy about, to name a few plot-lines, an older man who is a liberal but buys a gun to prevent "illegals" from breaking into his home, a mother-in-law who wants to control her grandchild's preschool education, and a dad who feels like he's not fulfilling his role as a breadwinner since he's a struggling photographer – in the words of Berkshire Edge critic Dan Dwyer, "a kitchen sink of familiar, predictable White People Problems."
"Arts organizations in the United States primarily rely upon transactional relationships, which are contributing to the homogenous audience demographic we see in the American theatre," said Sherwood. "I do a lot of making friends with people and talking with them about why they may not go to the Williamstown Theatre Festival and the barriers associated with that. We're trying to create long term mutually beneficial relationships."
Community Works, which is always free of charge, has worked hard to bring new audiences to the Festival — 34 percent of Community Works audiences had never been to a show at the '62 Center MainStage before. Community Works also recruits local talent for its creative team — Lucy Thurber, who wrote lyrics for Summer's Soldier, grew up in rural Massachusetts; Becky Ahamad and Michael Obasohan, the choreographers for the show, are part of dysFUNK crew, a dance group composed of MCLA alums. "We're trying to chip away at the pipeline for access to world class theatre by saying that we will employ people who have not gotten here by network, but by merit," Sherwood stressed. "To participate in Community Works, you have to be your most generous self."
As I sat in the back row taking notes, watching middle schoolers talk to octogenarians, hearing the lighting designers cheer for wheelchair-bound cast members, I found myself moved to tears — not by the story, or the costumes, or the music (the twin girls had ceased their strings anyhow), but by the simple kindness with which the members of the room treated each other. Perhaps it's high time to liberate the phrase "generous gift" from the realm of "gold circle donors" and "season partners." The most generous gift is, of course, one's self.