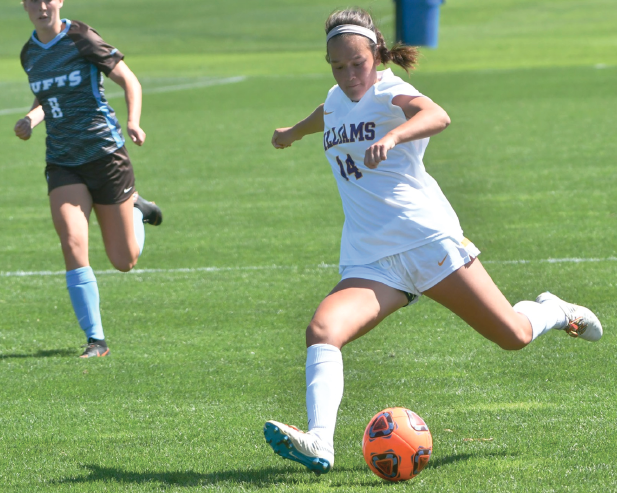 Women's soccer has taken home an NCAA championship trophy each of the past two seasons, but the team has more than just the national title on its mind this fall.
"We are trying, first and foremost to create the very best team experience possible: We call it the team experience championship," head coach Michelyne Pinard said. "That is the foundation off of which we work to go after other championships throughout the season, including the Little Three, NESCAC regular season, NESCAC tournament, NCAA regionals and NCAA championship. We call it 'winning all six.'"
That team-centric philosophy has been the key to 259 wins, eight NESCAC championships and three national titles for Pinard, who announced on July 29 that this will be her 18th and final season leading the program. Pinard will become athletic director at the Thacher School, a boarding school in Ojai, California, at the season's end. The College's Athletic Director Lisa Melendy, who coached women's soccer from 1985 to 2001, praised Pinard's accomplishments and legacy in a July interview with Sports Information.
"She has set a high standard of excellence and created a fellowship of women soccer players at Williams who will remember their time here fondly," she said. "She proved it is possible in college athletics to reach the highest levels of achievement on the field while still maintaining the highest level of commitment to intellectual and academic pursuits… I am hopeful others can learn from the example she set about what is possible in intercollegiate athletics when the students are put at the center of the enterprise and they are committed to pursuing excellence in all areas of their lives. That is the promise of college athletics, and Michelyne delivered on that promise."
But while players say the season has taken on added significance, the team's focus is no different than in any other soccer season.
"Knowing this is Michelyne's last season at Williams of course makes this year extra special," said tri-captain midfielder Erika Jung '20, "but we still have the same goal that we do every year – which is to win all six championships."
Both returning stars and new talent shined last week as No. 1 Williams (2–0–0, 2–0–0 in the NESCAC) kicked off its season with two conference victories, riding to a four-goal second half to a 4-2 comeback win over Hamilton last Wednesday and outlasting No. 22 Tufts 2-1 on Saturday.
Sarah Kelly '20, a Third Team All-American selection last year, is back to anchor the Ephs' back line. Forward Alison Lu '20, who led the Ephs with 12 goals in 2017, returns after spending last season injured.
Midfielder Victoria Laino '21, named NESCAC Player of the Week on Monday, notched two goals in the team's 4-2 win over the Continentals and assisted on the game-winning goal in the 2-1 victory over the Jumbos. Eight first-years saw the field in their first week of collegiate soccer, and Claire Tolliver '23 scored her first collegiate goal late in Wednesday's game. Tolliver, Avery Mohan '23 and Jaquelin Nordhoff '23 have started both the team's games so far.
"Hamilton and Tufts are both good teams, and I'm really proud of the way my team fought to [win both games]," Jung said. "And the first-years are a big reason why we were able to do so. They add so much talent, skill, and positive energy to this already deep team and we're very lucky to have each and every one of them this year."
"It's a lot of young players contributing, so the firepower is exciting," Pinard told Sports Information last Wednesday. "Now we need to start firing on all cylinders and really moving the ball a little more effectively through the middle third, and I think we'll be able to pull teams apart."
Howard Herman, a longtime sportswriter for The Berkshire Eagle, opines that Pinard will one day be elected to the United Soccer Coaches Hall of Fame. For now, though, Pinard is focusing on what she does best: helping a team fulfill its potential.
"I'm sure when it's over, I'll experience the gravity of my Williams career being over," she said. "But for now, I'm giving this team and every single member on this team everything I have in me. I feel the same thing coming back at me, and it is exciting to think of what this team is capable of creating."
The women travel to Middletown, Connecticut, on Saturday to take on Wesleyan at noon.
Sports Information writer Alli Norris '22 contributed to this story.