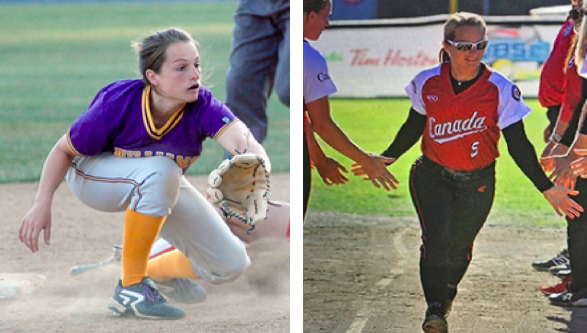 On September 1, Joey Lye '09 and her teammates on the Canadian National softball team defeated Brazil 7-0 in an Olympic qualifier, becoming the fifth team to earn a bid to the 2020 Olympic Games in Tokyo.
For Lye, who has been on the team for almost 10 years, it was a moment of intense gratification. "That's been our goal and focus," she said. "The whole purpose of this summer was leading up to that moment."
In the 2008 Beijing Games, the last time softball was included in the Olympics, Team Canada took fourth place. Lye joined the team two years later and is prepared to fight hard for a medal this time around. "Our team works really hard," she said. "The idea of having to get to a whole other level [for the Olympics], that really excites me."
An Ontario native, Lye, who earned a gold medal at the Pan American Games in 2015 and helped her team secure three bronze medals at the WBSC World Championships, is no stranger to the international spotlight.
This summer marked the first year of professional play for the Canadian Wild of Southern Illinois, a team composed of players from Canada's national team who are also part of the National Pro Fastpitch league. The team competed against teams from across the United States, ending the summer with an overall record of 21–19–1.
During her time at the College, Lye was a standout athlete on both the softball and women's hockey teams. Her .457 career batting average is the highest in program history, and she holds the record for the most career hits with 211. Her performance on the field earned her two All-American honors. "The experience I had as a player was challenging and enjoyable," she said. "I run towards those two things."
While Lye excelled on the field, she also found deep importance in her academics and in the campus community as a whole. These things, she says, have shaped her career. As a psychology major, Lye spent much of her time on campus learning about "dealing with and understanding people, [which] are the basics of psychology." She continued, "Relating to and understanding people are what coaching is. I feel like it works perfectly into each other."
Throughout her career, Lye has recognized the impact of every aspect of her time at the College. "People often ask me if I would go back and play Div. I sports," she said. "My answer is no. Williams was exactly what I needed and wanted. I don't think I'd give up any aspect of Williams to play Div. I."
After graduating in 2009, Lye returned to the College as an assistant softball and hockey coach. This experience opened her eyes to a new side of collegiate athletics. "I got hooked on coaching," Lye said.
She has coached at several colleges in the decade since. Currently, Lye is at Bucknell, where she became the head coach of the softball team in 2018. The balancing act of both playing professionally and coaching a Div. I team keeps Lye busy, she admits, but she wouldn't have it any other way. "I feel so fortunate to be able to coach and play at the same time," Lye said. "Coaching allows me to see the game through a different lens."
Lye is now back at Bucknell in Lewisburg, Pennsylvania, but will fly to meet up with her teammates throughout the fall to practice. In the spring of 2020, the team will gather in Canada in order to practice together vigorously in the months leading up to the Tokyo Games.
While Lye is trying to remain focused on the present, her excitement for next summer is building quickly, especially because of how popular softball is in Japan. "Japan has an unreal softball culture," she said. "It's going to be unreal."