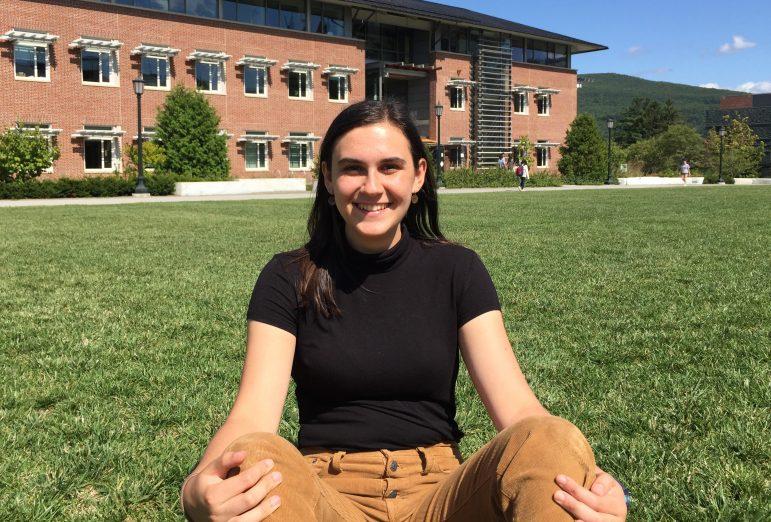 Each week, we randomly select a unix from a list of all current students at the College. So long as the owner of the selected unix is on campus, willing to be interviewed and not a member of the Record board, that person becomes the subject of that week's One in Two Thousand. This week, the computer (using a very simple script in R) chose Regina Fink '22.
NJ: What did you do over the summer?
RF: I was an intern at the Central Park Conservancy, where I mostly picked up trash. We killed a lot of native species, which is what they call "weeding" in the business. I felt terrible every time I pulled out the littlest plant, and then a bug would come looking for its home, and I'd be like, "I'm so sorry, man."
NJ: That's pretty rough.
RF: I realized that the corporate model is not a good way to run a nonprofit, and I will hopefully not work at a similar organization again. I don't think they're very interested in sustainable grassroots organizing like I am.
NJ: Funny that a park conservancy isn't interested in grass roots.
RF: Ba-dum-tss. Nigel Jaffe, ladies and gentlemen.
NJ: You're working this semester at Hopkins Memorial Forest, which seems like a similar line of work.
RF: Oh, yes, I'm going to be a Hopkins Forest Educator, and I'm so f—ing – excuse me! I'm going to be working with children, and I'm so very excited. I've been a camp counselor for many years, and it's my favorite thing in the world. That should be very fun.
NJ: What else are you doing this semester?
RF: Aside from being a shift leader for WRAPS [Williams Recovery of All Perishable Surplus], I started a club called BFAIR Buddies, where we go to special needs adults' houses in the area and do fun crafts and other activities. I'm also in the handbell choir, and this thing called P3 [Positive Pathways Partnership] where we go to the Berkshire House of Corrections every week and do a book club with inmates there. We mostly read poetry and talk about socialism and our feelings.
NJ: You're also one of the religious directors for WCJA [Williams College Jewish Association], and you led your first service Friday night.
RF: I thought my bat mitzvah went poorly, but at least I had an excuse then for my bad Hebrew — I was 13. I'm 19 now, and there's no justification. Rabbi Seth [Wax] is a real hero. He swooped in almost every single time we messed up and saved us, even though we made fools of ourselves with our lack of Jewish knowledge. With his guidance, we are slowly learning.
NJ: You've told me that your father, Larry, belongs to the world's oldest profession – the trade of fabric.
RF: He's a wholesale textile dealer, but he's technically retired. He's been all over the world selling fabric. He claims he's the last wholesale fabric dealer in the United States, but I would definitely fact-check that.
NJ: What kinds of fabrics does he sell?
RF: He sells a lot of cool fabrics, like –
NJ: Are there any cool fabrics?
RF: Flame retardant ones. I think his fabrics were used in the Green Lantern, that bad superhero movie that no one saw.
NJ: I saw it! With Ryan Reynolds – no, Gosling? Seacrest? Probably Reynolds.
RF: Who now plays Deadpool. That must have been a step up. Larry mostly sells to militaries, a lot of camouflage. Not too much anymore, since he's semi-retired. My parents are old as balls. They are the age of most people's grandparents.
NJ: Tell me about how you were conceived.
RF: I was made in a petri dish because my parents were really f—ing old. That's why I'm a twin – in the '90s, they used to put three eggs in and try them out because the success rate was far lower than it is now. My parents didn't want to pay for a do-over, so they were like, "Bada-bing, bada-boom."
NJ: How do you feel about male pattern baldness?
RF: That's one of the many reasons I don't want to have children myself. I do not want to pass that on. Larry went bald at, like, 20.
NJ: One of the many reasons?
RF: It's one of the worst things you can do to the environment.
NJ: Having a child? Or male pattern baldness?
RF: Having a child. And there are so many children who need homes. I'll just adopt one, and not destroy my body giving birth.
[Sneezes.]
Sorry, I sneeze like my father.
NJ: Thoughts on the marble blocks on this campus? There are 151 of those guys.
RF: Are you plugging your own article? I've had a couple nice naps on them, but I do think the money could have been spent in other ways. Even if they're relatively cheap for marble blocks, they're still marble blocks. You could have gotten concrete slabs, and I would have been like, "Well, all right."
NJ: Would you ever get a tattoo?
RF: Yes. But I'm not allowed to because of my religious customs. It's against the Jewish faith. But I like to rebel. If my parents are reading this, I do not plan to get a lizard on my left hip.
NJ: Chacos or Birkenstocks?
RF: Neither! Tevas, baby. The cheaper version of both. But they don't last as long, so maybe I should make a longer-term investment. Also, I think I'm having issues with my knees from wearing them, but that's a problem for future Regina. Juvenile arthritis runs in my family… though I guess I'm not a juvenile. It could just be arthritis. Another reason not to have kids.