Profiles of Presidents Past: Adam Falk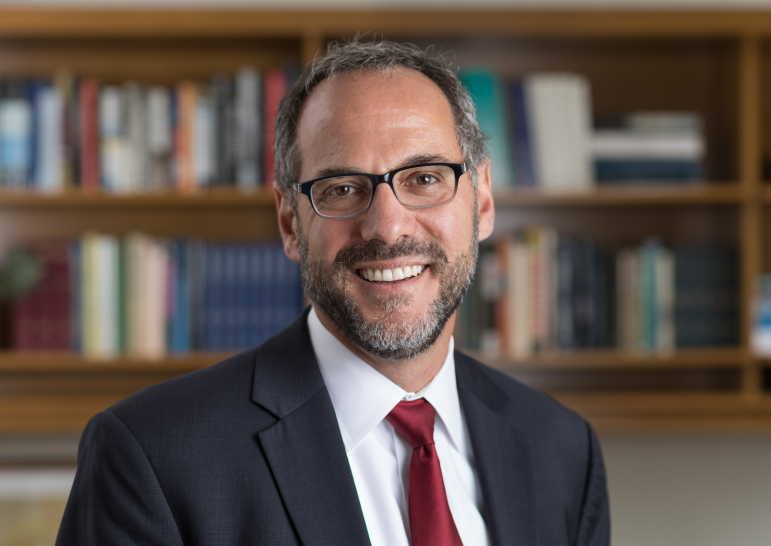 In 2010, Adam Falk, then dean of the Zanvyl Krieger School of Arts and Sciences at Johns Hopkins, had his video interview with Williams' presidential search committee. That same year, a swine flu pandemic broke out across the world.
"I was actually recovering from this flu epidemic and [was] kind of amazed that I was coherent," Falk said. Swine flu aside, the interview went well, and Falk became president later that year.
Before then, Falk had spent almost his entire life in academia. He grew up in North Carolina, attended the University of North Carolina–Chapel Hill as an undergraduate and received his doctorate in theoretical physics from Harvard. In 1994, he became a professor of physics at Johns Hopkins, where he later served as dean of the faculty and dean of the Krieger School.
After the Williams search committee approached him, Falk learned more about the College. He found himself drawn to its commitment to undergraduates and its academic strength.
"Plus, it's in a beautiful place, and it has great people, and all of that," he said.
On his first visit to the College, Falk took a tour of campus alongside prospective students and their families.
"I was a middle-aged man touring a campus with no high school student in tow," he said. "It could have seemed a little weird. And so, I had to come up with some story about what I was doing."
During his visit, he was struck by the College's emphasis on community.
"Williams isn't the only school that has it," he said. "But I think it has it in a very intentional way that people talk about, and I really sensed that on that tour when I was pretending to be the father of a prospective student who somehow, for some reason, wasn't there."
Falk noted that under his predecessor, Morton Schapiro, the College worked to recruit a much more diverse student body, one "that just looks much more like the country than it had in the past," as Falk put it.
"As is often the case, one of the things that happens when you change a student body in these very important and positive ways is that the institution has to change, too," he said. "When I arrived, we were realizing that there were ways in which we needed to attend to the quality of our community that we needed to be more intentional about."
His administration worked to bring junior advisors into closer contact with deans and mental health services and to "create more of a culture of prevention and support, including practices such as bystander intervention" regarding sexual misconduct, he said. He made clear that he believed that this work was far from complete.
"We still struggle with all of these issues of inclusion and safety," he said. "But what I'm proud of is that we made them really central to the work that we were doing at the College."
During Falk's presidential term, he oversaw the establishment of the Center for Learning in Action and campus facilities renovations. One of the most notable facilities projects under Falk's leadership was the construction of the new Sawyer Library. The concurrent landscaping project, designed by architectural firm STIMSON, brought dozens of marble blocks to Frosh Quad and the newly created Library Quad.
In their 2018 architectural guidebook, Williams College: The Campus Guide (for which Falk wrote the foreword), Professor Emeritus of Art E.J. Johnson '59 and Professor of Art Michael Lewis sum up the student body's reaction to the installation: "The landscape, with its infestation of marble slabs, variously dubbed 'Falkhenge' or 'Explosion in a Marble Quarry,' has caused considerable consternation on campus, partly for its cost and partly for its looks."
The marble blocks are a hallmark of both the College's architecture and student meme culture. The "Williams Memes for sun-dappled tweens" Facebook group, which has over 2,950 members, has featured two marble block–related memes in the last month, both of which bear captions that directly reference Falk.
Although Falk said he was not aware of the blocks' prominence in the meme group, he said he is well acquainted with the underlying sentiment. "People started assuming [the blocks] must have been expensive," he said. "I think they became, in ways that were unfortunate, a symbol of excess."
In reality, he said, the blocks are "scrap marble that wasn't really of any value," sourced from a quarry in Danby, Vermont. Senior Project Manager Bruce Decoteau said the total cost of the project — including material cost, fabrication, delivery and installation of the 151 pieces of marble — came to $676,480, which works out to $4480 per slab.
"I think people don't make the distinction between really nice Italian marble and scrap marble, and so the idea that there was marble everywhere got a kind of resonance with people, like this must be a very extravagant thing," Falk said. "They actually weren't a big part of that project … and that's a subtlety that doesn't show up in memes." Executive Director of Design and Construction Rita Coppola-Wallace estimated that 3 to 5 percent of the total landscaping budget for the quad was spent on the slabs. The alternative to the blocks would have been benches, Falk said, which are less durable than marble and which would have to be continually replaced.
A more serious controversy arose when Falk canceled a 2016 campus visit by conservative commentator John Derbyshire, who was fired from the National Review in 2012 after writing a racist column for online publication Taki's Magazine that included such lines as, "Do not attend events likely to draw a lot of blacks." Derbyshire had been invited as part of a speaker series sponsored by the student group Uncomfortable Learning.
Falk's cancellation of the event received coverage in The Washington Post and Time Magazine. It also became a topic of discussion in a Senate Judiciary Committee hearing on "The Assault on the First Amendment on College Campuses," in which U.S. Senator John Kennedy (R – LA) called for Falk's resignation.
Falk said he stands by his decision. "If [Derbyshire] said anything like that article [in Taki's Magazine], he was going to tell our students of color that they were inferior, that they were not human beings of the same type as white people and that they didn't belong on our campus or in our society," he said. "And I was not prepared to have someone with the imprimatur of a Williams speaker come and deliver that message to our campus, and certainly not deliver that message to our students of color."
He emphasized that the College, as a private institution, was under no First Amendment obligation to allow Derbyshire to speak.
"Somebody can go and say foully racist things in the middle of the town square," he said. "But they don't have to be invited to Williams College to say those things to our students."
Falk said he disagrees with the framing of the cancellation as an issue of freedom of speech. "It sets up a profoundly wrong idea that, for example, those on the political left are opposed to free speech and those on the political right for it," he said. "I don't think that students are opposed to free speech, but I think what they're hungry for is … a form of speech that is trying to be productive, and speech that goes with listening, and speech that can bring people to understand each other's point of view, not just to express how much they dislike each other's point of view."
In 2017, a search committee from the Alfred P. Sloan Foundation — a charitable foundation that funds research in science, technology and economics — contacted Falk about becoming president of the organization. Falk said he was drawn to the role in part because of the similarities it offered to what he liked best about the College.
"When I started talking to the people here at the Sloan Foundation, I found that it shared many of the values that I brought with me to Williams and that I take with me from Williams," he said. "It's a very collaborative kind of environment, a very academic environment, [with] a deep commitment to funding not only research in science and economics but the communities that support that research, and diversity, equity and inclusion in those fields."
Despite its many similarities to the College, the Sloan Foundation offers one major change for Falk: His time there marks his first foray outside of the world of academia. "I joke that when I came to the Sloan Foundation, it was the first time in my entire life I had not been in school since entering kindergarten," he said.
Falk said he felt "extraordinarily fortunate" to have been the president of the College.
"It's not easy to be in college; it's not easy to work at a college; it's not easy to run a college," he said. "But I hope that no one loses sight of really how extraordinary a place Williams is. I tell people without a hint of irony that there is no better place in this country to spend four years."