MCLA hosts discussion with Ta-Nehisi Coates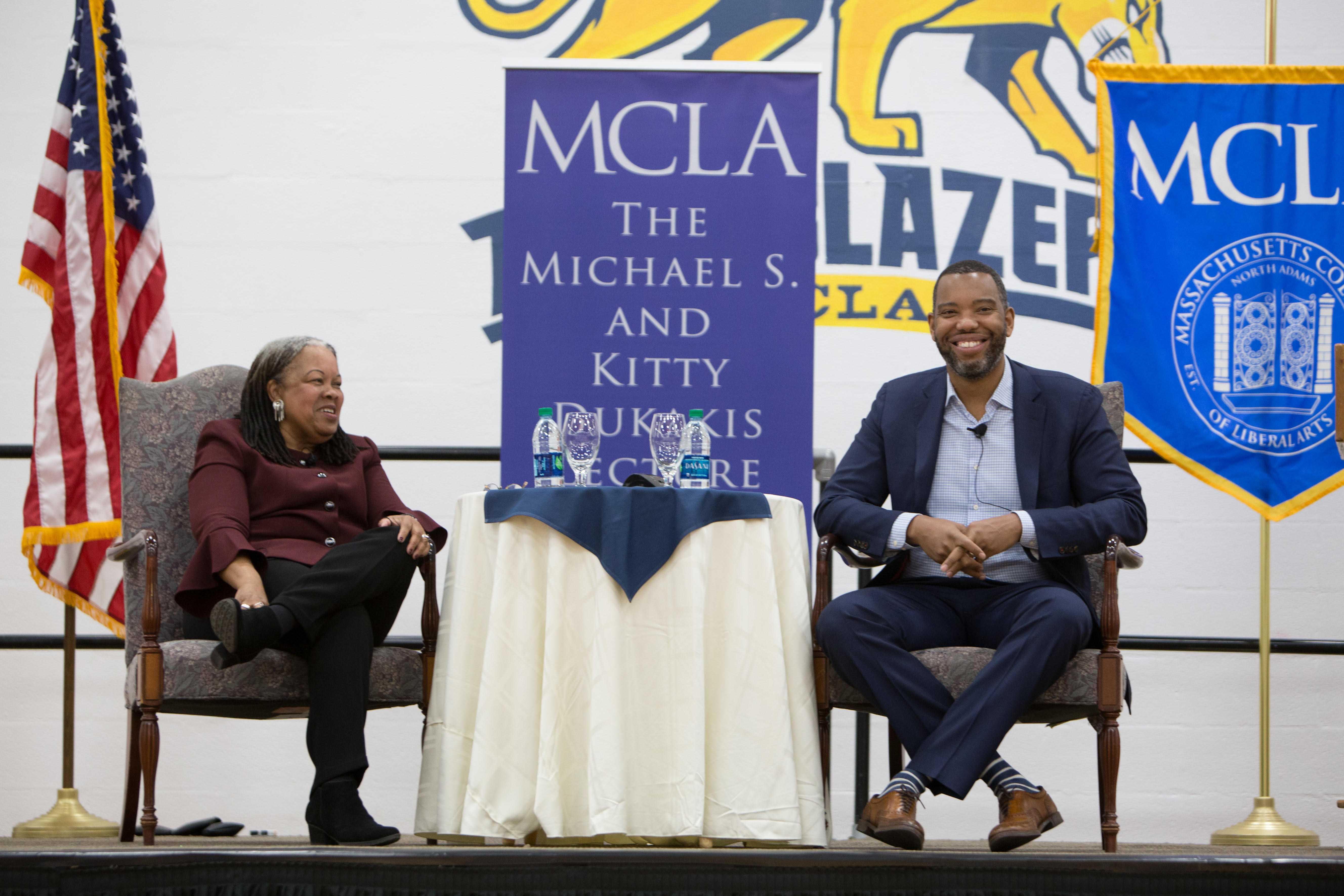 On Thursday night, acclaimed writer Ta-Nehisi Coates spoke at Massachusetts College of Liberal Arts (MCLA) in North Adams. Coates, a national correspondent for The Atlantic, is the author of the National Book Award-winning book Between the World and Me. His newest book, We Were Eight Years in Power: An American Tragedy, is a collection of his essays during the course of the Obama presidency. He also writes Marvel's Black Panther and Captain America graphic novel series.  
The event, which was part of MCLA's Michael S. and Kitty Dukakis Public Policy Lecture Series, featured a discussion moderated by MCLA Professor Emerita of History Frances Jones-Sneed, followed by a question and answer session. Coates began by expressing his gratitude for the invite and large turnout. "I never, ever in my wildest dreams expected to come all the way up to the Berkshires," he joked. "But I certainly never expected to come up here and find an audience like this." 
Jones-Sneed then asked Coates about his reactions to the 2018 midterm elections. Coates responded that he was struck by many of the hard-fought races this year, but wanted to highlight two candidates in particular. The first was Lucy McBath, who won a House of Representatives seat in Georgia's sixth district. McBath became politically active after her teenage son, Jordan Davis, was murdered in 2012, and Coates recalled interviewing her for an Atlantic article and including her story in Between the World and Me. The second candidate he recognized was Heidi Heitkamp, who lost her Senate seat in North Dakota after voting against the nomination of Brett Kavanaugh to the Supreme Court. Coates explained that he was struck by her decision to follow her moral compass despite knowing what the political repercussions would be. "Some victories are not worth having," he said. "So I think that the way that she lost was actually much more important and much more significant than the way that she would have had to win." 
Next, Jones-Sneed asked Coates about his many writings on reparations for slavery, which comes up in his books as well as his acclaimed 2014 Atlantic article "The Case for Reparations." Jones-Sneed asked specifically about criticisms that he has not presented an action plan for enacting reparations in America. Coates responded that we are unfortunately not there yet, because so many Americans have yet to actually recognize that reparations are even necessary. "The reason we don't have reparations in this country is not because there are no workable plans," he said. "It's because people don't believe you're owed." Coates claimed that awareness of the need for reparations must grow before being translated into action. 
Coates then talked about the process of writing Between the World and Me. The book's origins, he explained, go back to 2000, when his friend and classmate at Howard, Prince Jones, was fatally shot by a police officer. Jones' death, he said, consumed him with anger. "I can't tell you how fuming I was," he said. "This was happening all my life. And then it happened in 2000 to a young man who I thought was one of the most beautiful people I'd ever met." At the time, however, he didn't know how to express those feelings. It was not until the Black Lives Matter movement began to enter the mainstream, and Coates had developed his skills as a writer, that his long-suppressed anger about Jones' death finally found a voice in Between the World and Me. "Writing for me is a form of therapy, anger management. I write angry," he said. "You take all of that and you pull it together. And I felt like it was time to give vent to those feelings."
Perhaps the most powerful moment of the night came during the question and answer session, when an MCLA student asked Coates about his view on hope today. After a long silence, Coates replied, "I don't need hope – I have beauty." He explained that for him, literature is a site of inspiration and understanding rather than hope. He went on to say that today's political moment erases any possibility of hope. "For [Obama] to become president, he had to go to two Ivy League schools, he had to be much smarter than average, he had to be more publicly morally perfect than probably any president ever has been, he could not have a stain on his resume at all – that that was the height that one had to achieve in order to be president," he said. "And then to know that there are people who can walk through the world like Donald Trump and be president. And that's the truth of the world. I don't know how to draw hope out of that."
He continued, however, that one does not need hope to act. He cited the legacy of slavery in this country, and the black community in particular, and the responsibility that legacy thrusts upon him. "Those people got up every morning and they struggled. Where was the hope in that?" Coates asked. "And so for me, the very fact of me being here right now is rooted in the fact that they struggled. That's enough for me. That's enough to get me up out of bed."