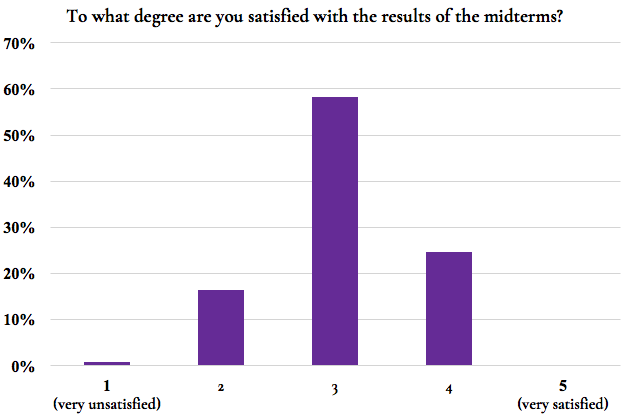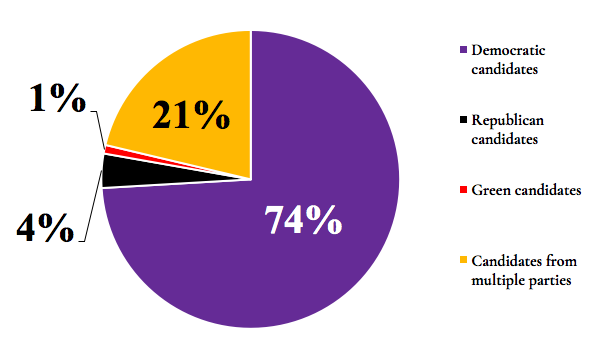 Last Tuesday, 113 million citizens voted in the 2018 midterm elections, setting a record in raw vote total for a non-presidential election.
Based on the 134 responses from a survey sent by the Record to 500 random unixes, students at the College have also involved themselves in the midterm elections, including discussing races with friends and professors, following day-by-day developments and voting. The survey shows that a majority of students were self-motivated to vote, voted based on their overwhelming disapproval of President Donald Trump and largely supported Democratic candidates.
Within the Record survey sample, 79 percent of students voted. Eleven percent of the respondents were ineligible to vote, but over 60 percent of those who were ineligible cited that they either missed the registration deadline or could not send or receive their absentee ballot on time. For 46 percent of those who did vote, this was the first time they were eligible to do so.
The survey shows that 74 percent of the student voters picked Democratic candidates. Twenty-two percent voted for candidates from various parties, and four percent voted for Republican candidates.
When all survey respondents, including nonvoters, were asked to rate how closely they followed the midterm election season from "1" (not closely at all) to "5" (very closely), 30 percent responded with "3," 30 with "4" and 21 with "5."
Students were asked to select sources of election information that they consulted. Fifty-four percent of students selected "newspapers and magazines,"  and 51 said "word of mouth, family, friends and professors." Forty-eight percent of students turned to social media. CNN and Fox News garnered 34 and seven percent of
votes, respectively.
Issues that mattered to the greatest number of students were immigration and health care; of various issues listed, 62 students selected at least one of the two topics in their response. Student self-identification based on pronouns seemed to influence the topics that mattered to students. For those who use "she/her/hers" pronouns, immigration received the most number of votes, while for those who use "he/him/his," health care received the most votes. Students who use "he/him/his" pronouns were more likely to say "the economy and jobs" mattered to them, at 40 percent, than those who use "she/her/hers" pronouns, at 28 percent.
Additionally, 63 of "she/her/hers" respondents selected "Sexual harassment / #MeToo movement" as an issue that mattered to them, while only 32 percent of "he/him/his" selected the same issue. Results based on those who use "they/them/theirs" were not statistically significant due to low response numbers in this category.
Additionally, most students had an unfavorable view of Trump's presidency, which, for those who voted, influenced who they checked off on the ballot. From a scale of  "1" (highly unfavorable) to "5" (highly favorable), only three percent of students gave him rating of "5," while 81 percent of students gave him a rating of "1." Sixty-nine percent of students also said that their disapproval or approval of Trump influenced how they voted. Furthermore, the same respondents who gave Trump's presidency rating a score of "1" also said that they were "very unlikely" to support candidates who were endorsed by Trump. 
This year's midterm elections was notable in that celebrities such as Taylor Swift promoted a surge of voter registration and turnout. According to The Atlantic, her Instagram post encouraging her followers to vote is believed to have contributed to over 100,000 young adults registering to vote at vote.org. Students at the College were not as encouraged by celebrities to vote, with an overwhelming 94 percent responding that celebrities did not influence their choice to vote.
Regarding how satisfied students were by the results of the election from a scale of "1" (very unsatisfied) to "5" (very satisfied), most students responded with "3" (58 percent), followed by "4" (25 percent) and "2" (16 percent). 
This could reflect the uncertainty in what Democratic control over the House and Republican control over the Senate might mean for the next two years. In a midterm elections panel hosted by the political science department on Thursday, Visiting Professor of American Foreign Policy Chris Gibson said that the House victory for Democrats could compel Trump to "find his inner Democrat" and pursue bipartisan collaboration on infrastructure. Jane Swift, the acting governor of Massachusetts from 2001 to 2003 and a former professor of political science at the College, said that the Republican party will have to consider more seriously how they will reach out to women and young voters in preparation for 2020.