Panelists discuss opioid epidemic in Berkshires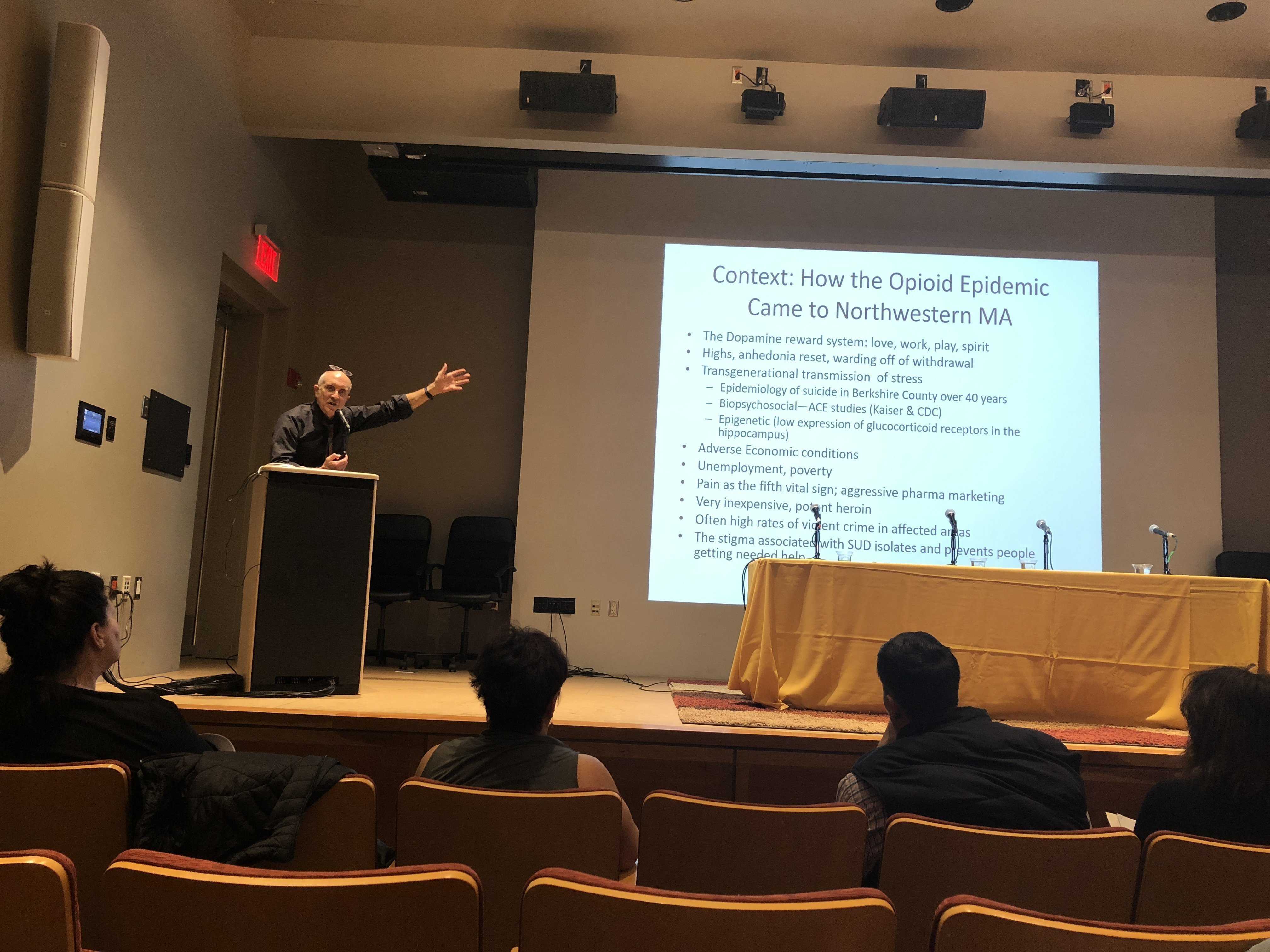 Last Wednesday, panelists Alex Sabo of Berkshire Medical Center, Wendy Penner of the Northern Berkshire Community Coalition and Kenna Waterman of the nonprofit Josh Bressette Commit to Save a Life addressed the opioid epidemic in northwestern Massachusetts as a part of this year's Williams
Reads initiative. 
Sing, Unburied, Sing by Jesmyn Ward – this year's Williams Reads book, which all incoming first-years read over the summer and discussed during First Days – deals with issues of racism, addiction and poverty. The program has extended beyond First Days, however, including a campus visit by Ward in October, a campus-wide installation titled "Complicated Love" this upcoming February and a panel on the opioid epidemic that was conducted this past week. 
"It's a program that invites faculty, students, staff and community members to gather together to have a shared reading experience and to be able to explore diversity and have critical, engaging discussions," Dean of the College Marlene Sandstrom explained at the panel.
Sabo, department chair of behavioral sciences and training director of the adult psychiatry residency program at Berkshire Medical Center, began the panel with a presentation giving context on how the opioid epidemic first came to northwestern Massachusetts and explaining the challenges that lie ahead for the region. "What happens is, if you're going to have a good life, you're going to have some balanced connections … in your reward system. But, if you get a powerful reinforcer like cocaine or opioid medications, the reward system downregulates the number of receptors to receive the dopamine stimulus," Sabo said. Because of this shift, things that used to provide joy have the potential to produce less and less pleasure. 
Economic trauma, inexpensive heroin and adverse childhood experiences are some of the many factors exacerbating the opioid epidemic, Sabo explained. Childhood trauma is part of what he described as transgenerational transmission of stress. This has also caused high suicide rates in Berkshire County over the past 40 years and epigenetic factors like "low expression of glucocorticoid receptors in the hippocampus."
In terms of future challenges, Sabo displayed graphs showing increasing mortality rates for poisoning, suicide and liver disease for white non-Hispanic Americans. "Every single five-year group [is] dying at increased rates for three things tracked together: poisoning by opioids or alcohol, suicide and liver diseases or cirrhosis," he said.
The other panelists' presentations focused on their attempts to address these challenges. Penner, the director of prevention and wellness at the Northern Berkshire Community Coalition, described her work. "About four years ago, I started working at the coalition," she said. "It's a com-munity-based non-profit … with the mission of empowering the Northern Berkshire region to enhance the quality of life through our efforts at connecting, convening and supporting all facets of the community." The coalition also provides access to treatment, harm reduction and recovery support.
"Since 2002, the coalition has been working on issues pertaining to addiction and substance use, and mostly that work has pertained to supporting prevention," Penner continued. "When we talk about substance use prevention, we talk about how we can keep our young people from experimenting with alcohol because what we know is that one in seven adults in the United States right now suffers from addiction, and we know that early use of alcohol as well as other drugs doesn't cause addiction, but it really elevates the risk of developing substance use disorder. Delaying that early use really reduces the likelihood of someone developing an addiction."
Waterman, the founder and president of a non-profit called Josh Bressette Commit to Save A Life, conveyed the personal side of this epidemic and her organization's fight against it. A mother of four, Waterman saw three of her children go through addiction and raised a grandchild because of the epidemic. She has a son in jail because of his addiction, a daughter she barely sees because coming back to the area would cause a relapse and a son who was murdered by his drug dealer. "The dealer, originally from the Bronx, moved here to set up a business selling drugs and resided right here in Williamstown. This town is where my children and their friends first came to buy heroin,"
she explained.
"How did it all start? From what I've learned, it all started out the same way, with prescription pain pills, and progressed to heroin," she said. Being so closely connected to the opioid epidemic, Waterman named her non-profit organization after her son who was murdered and committed her work to raising funds for and assisting people in recovery from opioid use. 
The panel ended with a question and answer segment, touching on the pros and cons of marijuana legalization in relation to the epidemic and the importance of aiding cocaine misuse, especially within communities of color. Throughout these questions and presentations, parallels were drawn to the experiences of the characters in Jesmyn Ward's Sing, Unburied, Sing and of so many people in the Berkshire community. The work of the panelists demonstrated that although difficult challenges remain, the hope for fighting this epidemic remains strong.