Austin Thomas '19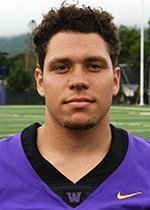 Team: Football
Hometown: Anaheim, Calif.
Residence: Meadow
Major: Economics and English
Snack bar order: Chicken patty, buffalo chips and honey bun
Why the College?
I chose Williams because I thought it would give me a great chance to get away from the environment I grew up in. Coming from Southern California to a rural area, I really liked the opportunity to expand my horizons and challenge myself academically, while still being able to play football and have fun with my friends. I also really liked the alumni base and all the connections.
When did you first start playing football?
I started playing football when I was five years old in kindergarten. So, I've played for sixteen years.
What was your high school football team like?
I went to a football powerhouse in Southern California. It was very competitive. I would play in front of a lot more fans in high school than in college. I played in Angel Stadium in front of 20,000 fans. It was an all-boys school, so that in itself created a certain culture and environment around sports. Sports were definitely the center with football being the premium sport. We had a lot of reporters at our school. It almost drowned out playing football for the love of it. It was almost like a business or a job.
What is your relationship with your head coach Mark Raymond?
I think Coach Raymond has done a good job coming in here and turning the program around. His first year here, we went 0-8, but I think that was largely due to the culture change. He did a good job of shifting the culture and bringing the team together. He instilled a winning environment and helped clean up some of the off-the-field issues we had when we first got there. He changed the image of us on campus.
What is your favorite thing about football?
There is nothing like football, especially the sense of camaraderie and brotherhood you feel with everyone. It is such a grueling sport but the rewards from winning, making a tackle or the time you are out there with your friends is unlike anything [else].
What it's like to be captain of a large group of athletes?
I really enjoyed it. Having a co-captain was great. There are definitely a lot of things that go on behind the scenes that you don't know until you are captain. When you are an underclassmen, you are taking care of yourself and getting through it. However as a captain, people look to you to set an example and there's a lot of administrative stuff, like planning practices in the off season.
What is your relationship like with co-captain Amyhr Barber '19?
We are super close. We were roommates last year and I consider him one of my closest friends. We are able to lean on each other in football and out of football.
What is your favorite part about the football team, specifically at the College?
The friendships I made from it. As a unit, I think the football team is very close and definitely forms lifelong friends. The thing I liked about it the most is that [the friendships] have been steady whether we are losing or winning. [The outcome of the games] haven't affected the friendships.
What are you going to miss most about playing for the College?
I think I will miss being with my friends [and] being with all my best friends all the time. That is something I won't ever have again. I won't miss the 6 a.m. workouts and all of that. So, [I will miss] all of the shared times with your friends and being on the field together.
What is your favorite memory in your football career?
Beating Amherst last year at homecoming, doing the walk and storming the field. We haven't beaten Amherst in seven years. A lot of the older alumni have never beaten Amherst. So, it was a really special experience with them all being there, continuing to do the walk and cutting each others hair. It was a blast. The walk is something the football team does if they beat Amherst or Wesleyan depending on which one is the homecoming game. After we win, the whole team marches up Spring St. together. There are always a bunch of fans around. Then we go straight to the barber shop and we cut each others hair. It builds camaraderie. Sometimes it is the eighth game. We shave the heads to get us fired up against the last game. It is kind of the finishing touch if we win.
Any post collegiate plans?
I will be moving to New York and joining Barclays as an investment banking analyst.
Any parting words for the first-year class?
The first-year class is a great group of guys. I am excited for the future they have in front of themselves. They came at a good time with a good culture. They have the chance to do some special things over their career. Definitely take advantage of all the opportunities given to you. The time goes fast, everyone says that. As I just finished my last season, I can truly say that it does move fast. Try to stay positive even in the downtimes.