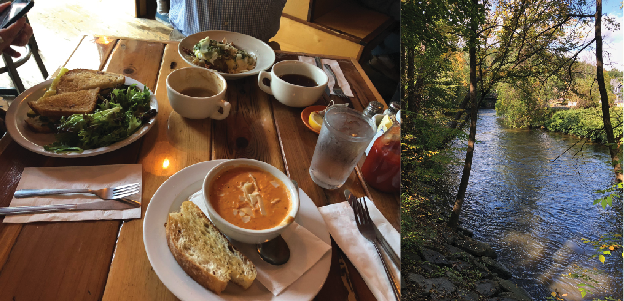 Continuing the Record's exploration of Berkshire County, we headed down to Great Barrington. While just over an hour drive south of Williamstown, the trek showcased the area's beautiful fall foliage. The Record's reporting team set out to see all the weird, wonderful and tasty sights of South County.
12:00 p.m. | GB Eats (282 Main St.)
We started off the day with brunch at GB Eats, warming up from the fall breeze with good coffee and tea. The toothsome food – polenta topped with pesto and eggs, tomato soup and melty grilled cheese – combined with GB Eats' lively atmosphere and great service made it a beatific brunch for this merry bunch.
1:30 p.m. | Shopping
We then hit the streets to explore Great Barrington's local businesses. We stopped into Rubiner's Cheesemongers and Grocers (264 Main St.) cheese shop and learned what the mysteriously labelled "smoked water" was. We also sampled a few cheeses on display, before realizing that perhaps this was not the place to find a collegiate price point.
Next, we explored Yellow House Books (252 Main St.), a small used bookstore located in a building as cute as its name. With its wide variety of genres, the store provides something for everyone, as long as you don't mind navigating around the cat that roams between the stacks.
After the bookstore, we went next door to Boho Exchange, which sold a mix of hidden gems and crazy clothing items. This zany shop offered a great opportunity to find some new attire.
3:30 p.m. | Housatonic River
We then headed down to the Housatonic River Walk, the entrance to which is somewhat confusingly tucked behind a Rite Aid (197 Main St.) – a wonderful set-up should you need to fill a prescription or pick up some snacks before heading down to the riverwalk. The riverwalk is a peaceful and gently meandering path next to the flowing Housatonic; the banks were blanketed with beautifully changing and stunningly sun-dappled fall foliage. We wound our way down to the end of the walk, where a new friend graciously offered to take our photo from her patio tucked away along the river.
4:00 p.m. | SoCo Creamery (5 Railroad St.)
It was now time to head to the famed SoCo Creamery, whose products are offered in Goodrich and Spring Street Market. A delicious scoop of black raspberry hit the spot for the perfect afternoon treat. It was also an excellent accompaniment for our walk along Railroad St. and Main St. to window shop. We peered in at cookware, artwork, antiques and toys on display. We were particularly intrigued by the Berkshire tourism-themed underwear on display in one window, though we could not suppress the requisite amount of shame to purchase it.
5:00 p.m. | W.E.B. Du Bois Boyhood Homesite (612 S Egremont Rd.)
A pivotal figure in the history of American civil rights activism,  W.E.B. Du Bois grew up in Great Barrington. At the Du Bois Boyhood Homesite, the foundation of the house remains. The site, maintained by the University of Massachusetts Amherst, features an informative and worthwhile interpretive trail chronicling Du Bois' life and work. The historic site  functions as both a memorial and a marker to Du Bois' expansive legacy. There are guided walking tours offered on summer Saturdays. We concluded our day by following one of the paths, and indeed, the quietude, late afternoon sunlight and gentle fall breeze immersed the trail with a peaceful character, a great way to conclude an exciting South County escape.