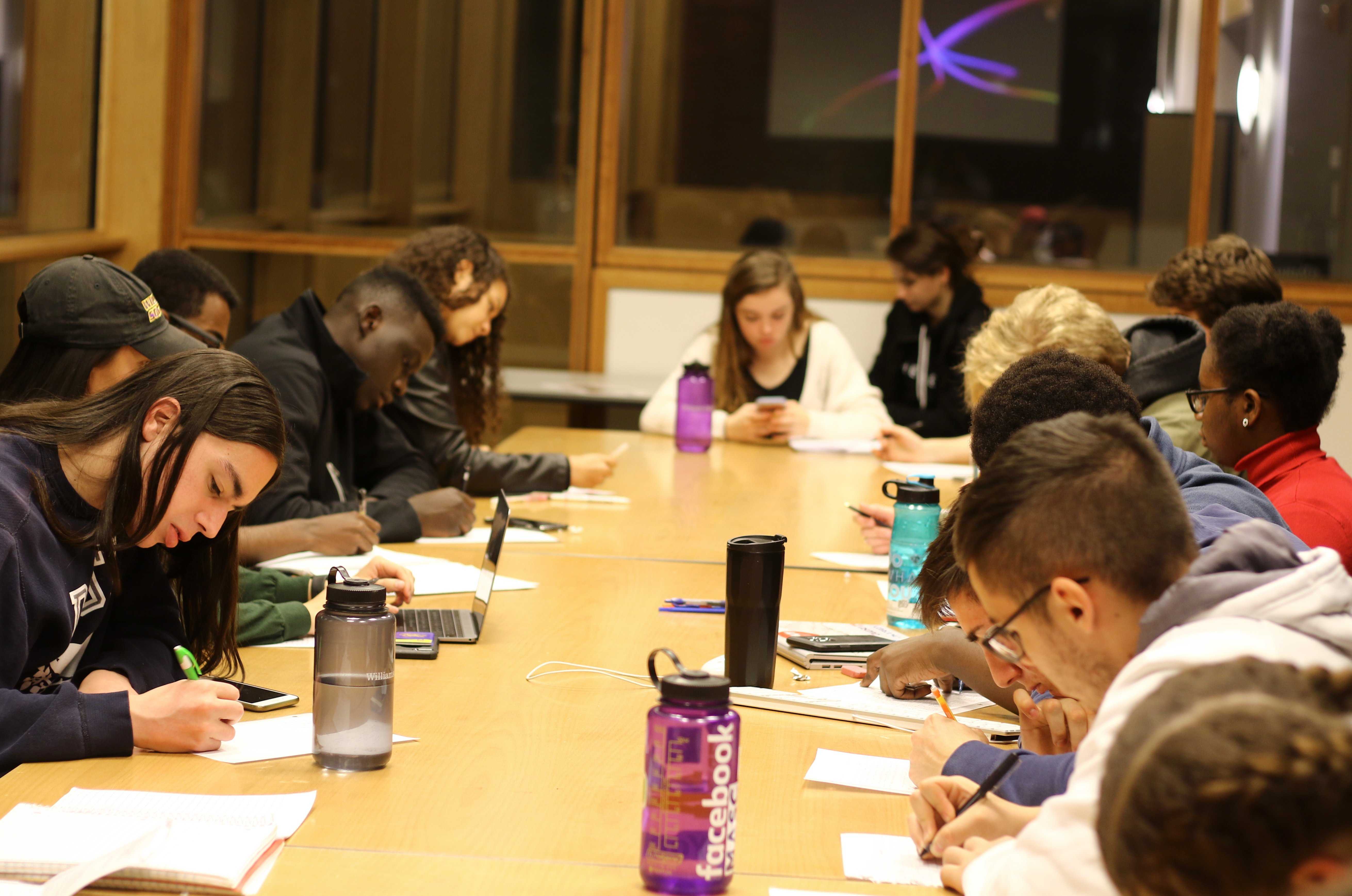 This past Thursday, students of Assistant Professor of English Ianna Hawkins Owen's "Black Writing To, From, and About Prison" class hosted a teach-in and card-making event wishing an early happy birthday to Michael Johnson. This event invited the College community to consider the ways in which literature and writing portray issues of racism in the justice system.
A gay, HIV-positive, black man, Johnson was sentenced to 30.5 years in prison in Missouri by a predominantly white and heterosexual jury in 2015 on counts of exposure, attempted exposure and transmission of HIV.
This event reflects the general aims of Owen's course, which seeks to focus on "letter writing instead of traditional term papers, allowing students to develop their capacity to connect with people and their lives over one of the most powerful and normalized institutions today," she said in an email interview. She hopes students will "read the work of incarcerated organizers, hold what they are asking for in terms of solidarity, think and invest time together" to "chart a path forward and through" the complicated world of the prison industrial complex.
Anika Brown '22 and Emily Marquis '22 presented on the case in front of a crowd while a photo of Johnson, standing, casual, unsmiling, was projected onto the screen. After Brown and Marquis finished describing his case, other students from the class distributed pens and paper to write to Johnson and wish him well for his upcoming birthday in December. They shared with the room some letter writing advice from Black and Pink, an organization that supports incarcerated LGBTQ and HIV-positive individuals. Black and Pink's website has pen pal guidelines that encourage whoever is writing a letter to not be afraid to open up, to be themselves, to be honest and to talk humanely.
Johnson's case brings to light the unfair treatment of those diagnosed with HIV in certain parts of the country, including Missouri. Individuals with HIV must disclose their status to their sexual partners under Missouri law. According to his accusers, Johnson claimed to be clean before engaging in unprotected sex. A gay black man, Johnson faced a jury of nine of his "peers" that included eight white people, six of whom believed homosexuality is a sin. His public defender failed to discuss crucial contradictions in the accusers' stories during cross-examinations and at one point stormed out of the courtroom in tears. The prosecution failed to present medical evidence that Johnson's strain of HIV was the same as the man he allegedly infected. Additionally, while awaiting sentencing, Johnson was held in solitary confinement for 23 hours a day, despite the well-documented psychological harm of this practice.
In Missouri, the average sentences for second-degree murder are 25.2 years and 28.2 years for rape with a weapon. In the words of one of Johnson's sexual partners, "It would have been better for him if he'd killed someone instead."
While disclosure of any sexually transmitted illness (STIs) is vital to obtaining consent, many HIV criminalization laws reflect an outdated understanding of the virus. HIV is no longer the death sentence it was in 1988, when Missouri made it a felony not to inform sexual partners of one's positive status. Some organizations, including the American Medical Association and HIV Medicine Association, argue against the effectiveness of these laws that specifically target HIV as opposed to other STIs. These measures may increase fear of medical testing and reinforce the myth that only individuals with the virus are responsible for containing its spread. A 2017 study in the journal AIDs found no correlation between criminal exposure laws and diagnosis rates over time. Additionally, Louisiana and Missouri both criminalize exposing others to HIV through biting and spitting, respectively, even though the virus cannot be transmitted through saliva.
Johnson's conviction was overturned in 2016 because of the prosecution's failure to share evidence with the defense in a timely fashion. Johnson accepted a ten-year plea deal rather than face another trial. He will be released on parole on Oct. 9, 2019.
The room was quiet as everyone began their letters. Some people wrote continuously while others had to pause and think. Many letters began with "Happy Birthday!" at the top and included colorful drawings, while others were written in plain black ink. A few people left with the intention to spend more time on it and return their letter to someone in the class. Almost everyone folded their paper in half before turning it in – these letters were not for anyone in the room to read. They were for Johnson.
"We decided to do letter writing to show him that people on the outside are supporting him and thinking of him," Marquis said.
Brown agreed and pointed to his inhumane treatment in solitary confinement. She hopes the letters will alleviate some of the pain he has endured and provide some measure of comfort.
Hallie Della-Volpe '21, another student in the class, described her desire to do something proactive for Johnson's case. "We learn a lot of things here –  a lot of things that are unfair – and now we have this knowledge but we're not really doing anything about it," she said. Informing others about Johnson's case was one thing, but to write him birthday cards felt like a tangible step in pressing against both the criminalization and marginalization of HIV-positive and LQBTQ+ individuals in a flawed incarceration system. When tabling for the teach-in, Della-Volpe said she would stop people and ask, "'Hey, what are you doing Thursday from 6 [p.m.] to 7 [p.m.]? I bet nothing more important than this."