Men's and women's cross country compete at NCAA New England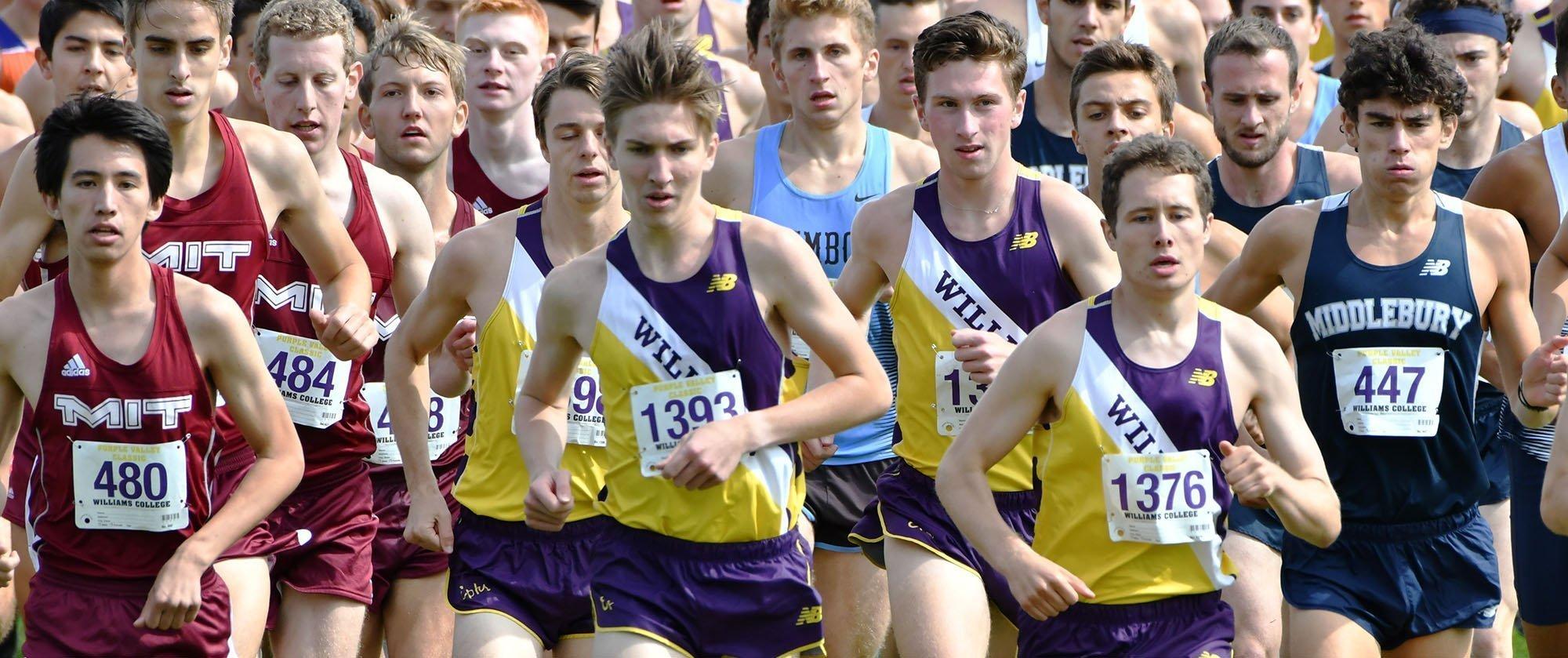 Last Saturday, men's cross country placed second and women's cross country placed third at the NCAA New England Regionals at Bowdoin.
On a chilly, windy, November morning, the women took on the spectacular 6k NCAA Div. III New England course. Several of New England's top teams, including those who the Ephs faced off against at NESCACs, met in Brunswick for fast running and fierce competition.
In the end, MIT won the women's meet with 87 points. They were followed by Middlebury who took second with 108 points. The Ephs finished only seven points behind the Panthers, placing third with a score of 115, a huge improvement from both NESCACs and the season. Head coach Pete Farwell '73  remarked that both MIT and Middlebury were tough competitors and he was impressed that the Ephs scored so closely to the top teams in the country.
Kaitlyn Mooney, from Coast Guard, won the 6k race in a time of 20:43. Emma Herrmann '20 was the first Eph to finish, taking 13th with a time of 22:20. Co-captain Emily Harris '19 placed 19th with a time of 22:28, and Audrey Rustad '20 followed just behind in 20th with a time of 22:29 to round out the top 20.
Sarah Tully '21 moved up throughout the race to finish 26th, running a time of 22:37. Farwell was particularly impressed with Tully's finish, remarking that "even after she lost a shoe, she was able to race incredibly well." Grace Dailey '22 followed behind soon after and ran 22:51 for 37th place, followed by Jaylan Fraser-Mines '21 eight seconds later for 41st place. Erica Barrett '21 finished in 92nd, wrapping up the Ephs top seven and running 23:48. The Ephs' top runners truly showed their depth: they all finished within 90 seconds of one another. "[The team] worked splendidly well together this year," Farwell remarked. "I'm excited to continue to see this team's progression."
Despite the stiff competition, the men held their own, finishing second by 21 points to Amherst. Amherst and Williams clinched automatic bids to the NCAA Championship. Middlebury and MIT finished third and fourth with 142 and 145 points, respectively.
Going into the meet, the men were ranked second in the region (behind Amherst, and ahead of Middlebury and MIT, in that order). Although the New England Region usually receives at least two at-large bids beyond the automatic bids that the top two teams earn, the Ephs wanted to leave nothing to chance and ensure their selection.
The race began aggressively and the Ephs ran smart races with only Ryan Cox '20 and Aidan Ryan '21 among the top pack in the early miles. Behind those two, William McGovern '20 continually moved up, keying off of a runner in Amherst's scoring five. As they ran at NESCACs, the pack of Elias Lindgren '22, Tristan Colaizzi '20, Sam Wischnewsky '20 and Lucas Estrada '20 worked well together, moving up throughout the race, each taking the brunt of the work at different times. Ryan and Cox moved in tandem to the lead halfway through the race, surging together to ensure a higher finish for both. The race ended up coming down to a kick with athletes, who are seeking individual bids to NCAAs, battling it out for top honors. Cox and Ryan finished close behind the leaders in fifth and sixth with times of 25:01.8 and 25:05.6, respectively. Behind those two, McGovern finished 20th in 25:43.3, followed in short order by Lindgren in 25:48.5 and Colaizzi in 25:51.3. Wischnewsky and Estrada rounded out the top seven for the Ephs, each finishing before the fifth runner from any other team except Amherst.
Farwell and assistant coach Jamie Norton were each pleased with how the team performed. "I thought we had a really positive day for our team," Norton said. "When you look at where our guys finished, we essentially replicated our NESCAC places in a field of 400, not 150. That shows we've made great strides from two weekends ago, and we're still gaining momentum as we head into NCAAs."
Farwell, meanwhile, touted the individual performances of his athletes. "Aidan had a super day, running with Ryan again and showing himself that a patient approach, both with recovering from mild injuries and to racing, pays dividends," Farwell said. "Will McGovern is cutting down the gaps to the top two and within the pack of four that showed themselves at NESCACs. We had Elias and Tristan doing great to pick up the slack. Our guys looked happy, healthy and strong, and I'm excited for them to be their best runners at NCAAs next week."