Football trampled by Amherst Mammoths in season finale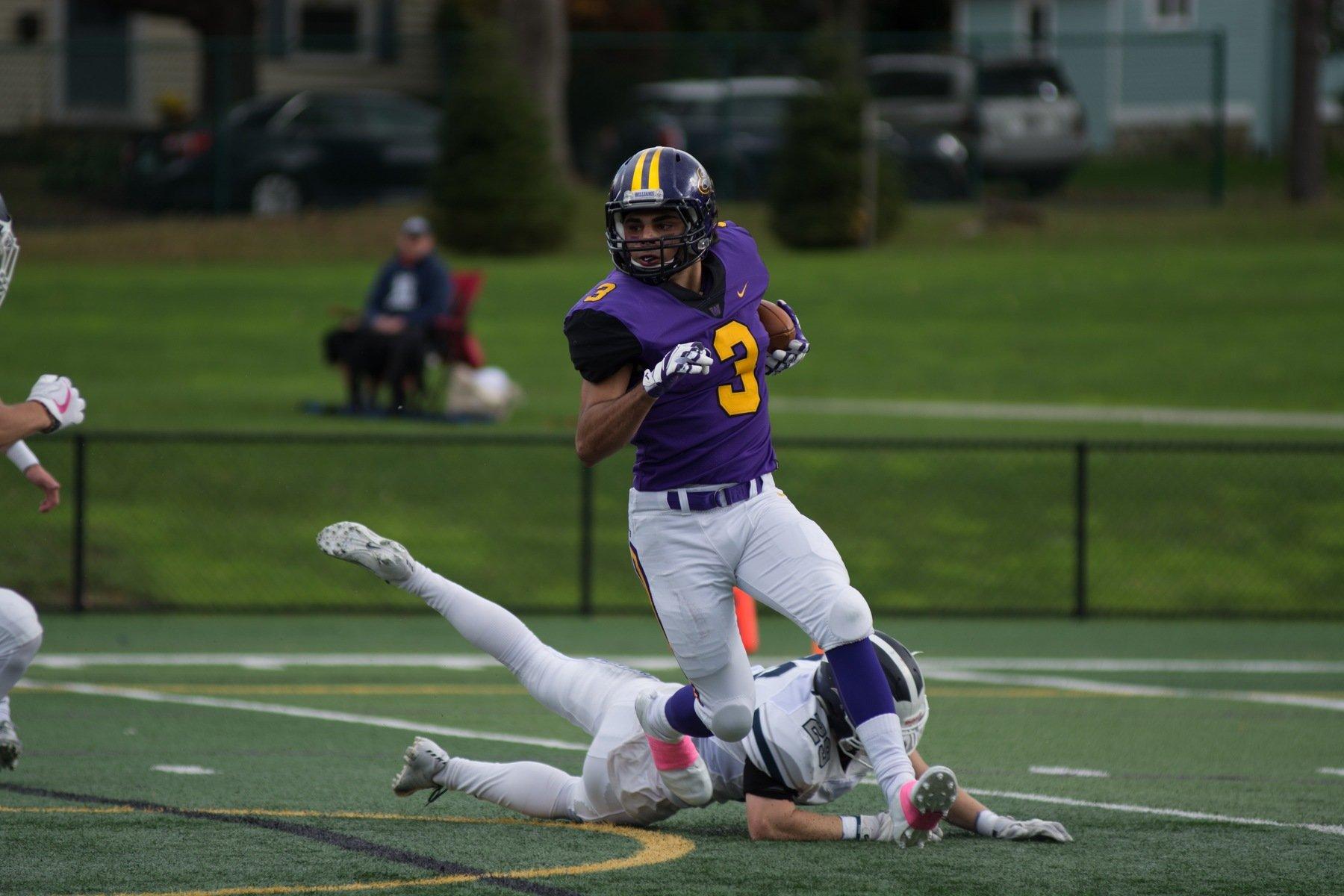 In the 133rd annual "Biggest Little Game in America", Amherst opened up a 17-point halftime lead and never looked back, defeating Williams (5-4, 5-4 in the NESCAC) 14-45.
The Ephs and Mammoths played an exciting first quarter in which both offenses were able to move the ball effectively. Within three minutes, Amherst had taken a 7-0 lead on a drive sparked by a 45-yard, tackle-breaking catch by tight end James O'Regan and a one-yard quarterback sneak by Amherst quarterback Ollie Eberth on third-and-goal. Williams' next drive ended in a missed field goal, but after forcing an Amherst punt, the Ephs were able to tie the game on a 19-yard touchdown pass from Jackson Bischoping '22 to wide receiver Frank Stola '21.
On fourth-and-two from the Williams three-yard line, defensive end Jameson DeMarco '19 batted Eberth's pass at the line of scrimmage, finishing an impressive goal-line stand by the Ephs. But three plays later, Bischoping was intercepted by Amherst's John Callahan deep in Williams territory. On the very next play, Amherst running back Jack Hickey ran it in from eight yards out to give the Mammoths a 14-7 lead they wouldn't relinquish.
After Bischoping's interception from deep in his own territory, the Mammoths dominated the quarter. The Williams offense didn't pick up a single first down for the rest of the half, and Amherst added ten more points on a second quarterback sneak touchdown by Eberth and a 31-yard field goal by kicker Andrew Ferrero. The Mammoths took a 24-7 lead into halftime.
In the third quarter, Bischoping started Williams' first drive with a 20-yard pass over the middle to tight end Justin Burke '21. But on the next play, a fumble by Carter Begel '22 was recovered by Amherst at the 50-yard line and returned all the way for a touchdown to put the Mammoths up 31-7. After Bischoping was a sacked on a desperate fourth-and-10 play, Eberth found O'Regan for a 24-yard score to make it 38-7.
A fourth-down conversion from Eberth to O'Regan followed by Eberth's third rushing touchdown of the day increased Amherst's lead to 45-7 in the fourth quarter. A second touchdown from Bischoping to Stola – the duo's fourth touchdown connection in two weeks – finished up the scoring with under three minutes to go.
Eberth briefly left the game due to an injury in the middle of the second quarter, but returned for the second half. He threw just 15 passes, but those throws went for 218 yards (an impressive 14.6 yards per attempt) and a touchdown. Eberth also added three more scores on the ground. Hickey paced the Amherst offense with 125 yards on 26 carries (4.8 yards-per-carry) and a score. Eight different Mammoths logged a rushing attempt in an impressive 177-yard effort. The Mammoths' defense was equally impressive, limiting the Ephs to just 31 rushing yards, forcing two Bischoping interceptions, and holding Williams to two-for-11 (18.2%) on third and fourth down.
Playing in place of injured quarterback Bobby Maimaron '21, Bischoping wasn't afraid to throw the deep ball and made some pinpoint throws downfield in his second start. He finished 19-of-36 passing for 188 yards, two interceptions and two touchdowns, both of which went to Stola. Begel logged 11 rushes and six receptions, but those 17 touches went for just 42 yards as the Amherst defensive line dominated the line of scrimmage. Stola had yet another standout performance with five catches for 88 yards and two touchdowns.
"I'm proud of my guys," head coach Mark Raymond said after the game, reflecting on the Ephs' season. "We came up a little short today, and there are a lot of things to fix. But with their work ethic, they'll get it fixed."
With an 8-1 record, Amherst finished second in the NESCAC to Trinity, as the Bantams hold the head-to-head tiebreaker. Williams, at 5-4, finished tied for fourth with Wesleyan and Middlebury.